King Creek Ridge - Strenuous Hike/Easy Scramble (OT5)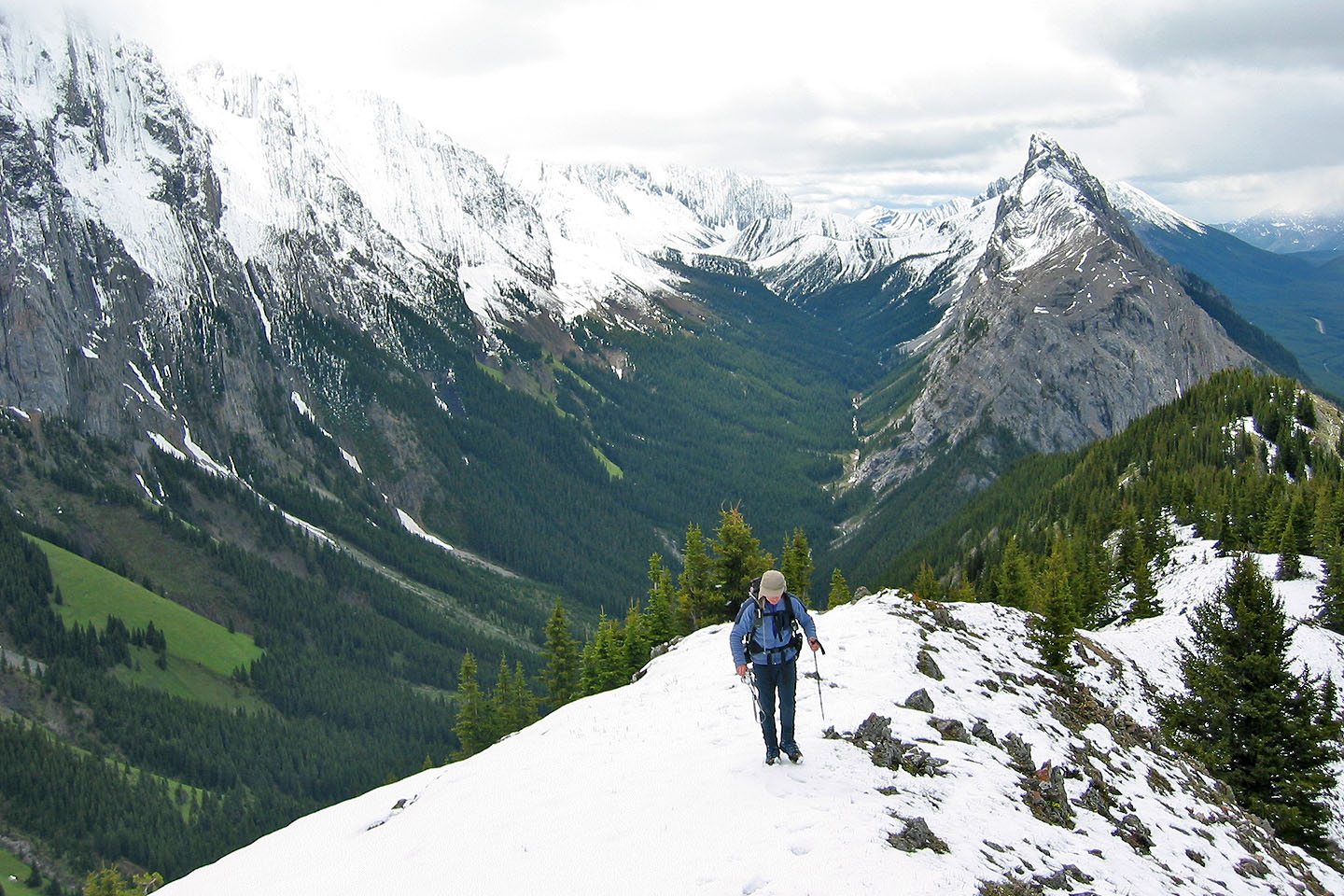 Photo complements of Bob Spirko: http://bobspirko.ca/Hiking/Kananaskis/KingCreekRidge/KingCreekRidge.html
The ridge north of King Creek, also called Kiska the Iyarhe, or "Goat Mountain" by the Stoneys, is a strenuous climb on a trail to a fantastic viewpoint.
Distance: 3.5 Km to summit

Elevation: 2423 m

Height Gain: 731 m

Time: 5 - 6 hours at a moderate pace

Location: Hwy. 40 (Kananaskis Trail) at King Creek day-use area.
The route ascends from King's Creek along a scree trail from the south slope to the ridge top. It is a short but VERY STEEP hike and may require some scrambling and route finding. This is NOT a hike for beginners.
Additional Trail Information: http://www.trailpeak.com/trail-King-s-Creek-Ridge-near-Canmore-AB-11527
Required Gear: Microspikes, water, lunch/snacks, multiple clothing layers, personal first aid kit.
Suggested Gear: Hiking poles, gaiters
Suggested Gas Fee Contribution: $20.00 per passenger.
Details of this event are subject to undergo a change at any point in time, with or without warning. Your participation is at the discretion of your Event Host.
Following the hike if participants wish we will stop for a bowl of soup etc.
WAIVER: You must sign our club waiver before you are allowed to go on this trip and you shall arrive prepared with an emergency name and phone number to be recorded on the waiver. You are required to read the Slow and Steady Hiker Club Waiver: http://www.meetup.com/Slow-and-Steady-Hikers/pages/OUR_NEW_WAIVER/
Disclaimer: You are fully aware that your hosts are volunteers and not trained guides and you assume all responsibility for your own safety and well-being. All participants are responsible for assessing the current road conditions, current weather conditions, your current physical condition, current trail conditions and current avalanche conditions for the trip and you are responsible for your safety and well-being. You are fully prepared with proper gear and you're physically fit to do this hike with the group