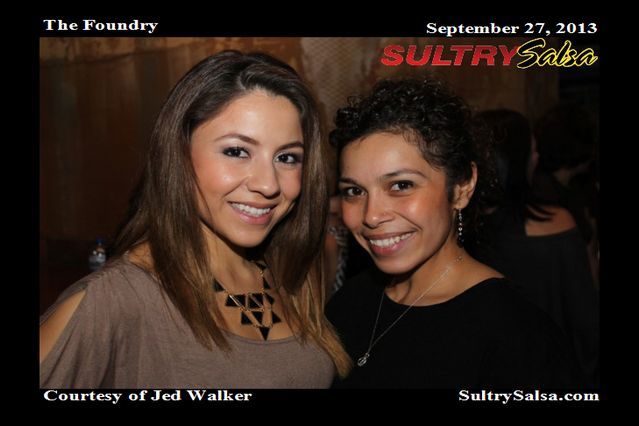 Dance with us this week and maybe you will be our cover photo next week!
Sultry Salsa Fridays!
Dance Salsa, Bachata, Cumbia, Merengue, & Cha Cha Cha to the hottest Latin music DJ in the suburbs, DJ Jose M. Porras playing his best Salsa, Bachata, Cumbia, Merengue, and Cha Cha Cha for your dancing pleasure!

---
---
I hope you will join us for the fun!

Jed
TIME TO PARTY, SULTRY SALSA STYLE!

The Foundry is THE place to dance on Friday nights.
---
Celebrate your birthday at The Foundry!
We will reserve a table for you and your guests where you can enjoy your free personalized birthday cake and a birthday dance with everybody! AND if you have 8 or more of your friends coming to celebrate with you, we will even buy you a bottle of champagne for a birthday toast!
To reserve your birthday party at The Foundry
with the date you wish to enjoy your birthday celebration at The Foundry and the estimated number of guests.
Join our Birthday Club and you will receive our latest special offers at least one week prior to your birthday celebration in order that you and your friends may enjoy a Sultry Salsa birthday!
Just click and fill in your birthday to join!
---
FRIDAY, OCTOBER 4th
COME HELP HILDA
AND SONIA
CELEBRATE THEIR BIRTHDAYS FRIDAY
WITH A SULTRY SALSA BIRTHDAY DANCE!
---
LET'S DANCE! Dancing until 2:00 am at The Foundry.
The fun starts at 9:15 pm with a COMPLIMENTARY Salsa lesson with Chicago International, and Detroit World, Salsa Congress instructor Jed Walker. Exciting new dance moves that you can use every day taught every week. Learn and improve your Salsa with this fantastic, fun and entertaining dance instructor.

NO PARTNER IS NECESSARY as we rotate partners throughout the lesson so by the time the dancing starts you already know a lot of people.

LET'S DANCE! Dancing until 2:00 am at The Foundry.

Dress for Photos. 21 to enter.
Huge, Free Parking Lot. $10.00 Cover Charge.
---
2 nights of Salsa and Bachata every week in the beautiful Trio Room at The Foundry, Tuesday and Friday!
---
I am looking forward to seeing you there.

Thanks for coming,
THANK YOU SO MUCH FOR YOUR PARTICIPATION AND SUPPORT OF SULTRY SALSA FRIDAYS IN THE SUBURBS!
---
Location
The Foundry
85 Executive Drive
Aurora, Illinois 60504
---
AS A MEMBER OF SULTRY SALSA, YOU WILL ALWAYS BE "IN THE KNOW" IN REGARDS ALL THE CURRENT SALSA HAPPENINGS AND EVENTS.
PLEASE FORWARD THIS EMAIL TO ALL OF YOUR FRIENDS.
NOTIFICATION OF LATIN CLUBS, CONCERTS AND EVENTS IN CHICAGOLAND.
---
Sponsors and Co-Promotional Friends