Photos of 12/31/13 Sultry Salsa's Annual New Year's Eve Salsa Party with El Barón Jed Walker. Tomorrow, your chance to WIN CASH by coming to dance with us at The Foundry!
| | |
| --- | --- |
| From: | Jed W. |
| Sent on: | Monday, January 6, 2014 12:06 PM |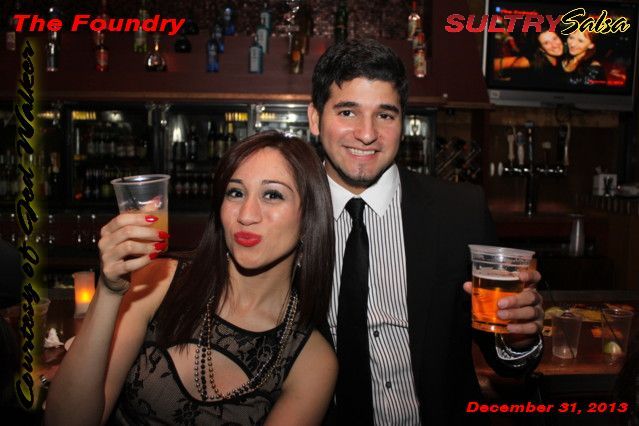 Dance with us this week and maybe you will be our cover photo next week!
Sultry Salsa Tuesdays
Sultry Salsa in the Suburbs!
WOW! What a GREAT night of fun, friends and dancing we had last Tuesday night on Sultry Salsa Tuesdays at The Foundry!
TOMORROW IS GOING TO BE A SUPER FANTASTIC SALSA PARTY! AN ABSOLUTELY AWESOME CROWD OF FUN, FRIENDLY DANCERS ARE COMING TO DANCE WITH YOU!
Join us on Sultry Salsa Tuesdays, January 7th for YOUR chance to win $100. cash!
What do you need to do to win? Just show up and be present when we draw the winning ticket. Everybody will receive a free ticket when they come to dance with us on Tuesday, January 7th!
---
The fun starts at 8:15 pm with a COMPLIMENTARY beginner Salsa lesson with Chicago International Salsa Congress instructor Jed Walker PLUS an intermediate level Salsa lesson at 8:45 pm until 9:30 pm. Exciting new dance moves that you can use every day taught every week. Learn and improve your Salsa with this fantastic, fun and entertaining dance instructor.

NO PARTNER IS NECESSARY as we rotate partners throughout the lesson so by the time the dancing starts you already know lots of people.
Dress for Photos. Huge, Free Parking Lot.
21 and over to Enter. $7.00 Cover Charge.
Dance Salsa, Merengue, Bachata, Cumbia & Cha Cha Cha to music by the fabulous Latin music DJ until 1:00 am!
I look forward to seeing you there!
El Barón, Jed Walker
THANK YOU SO MUCH FOR YOUR PARTICIPATION AND SUPPORT OF SULTRY SALSA IN THE SUBURBS!
---
Location
The Foundry
85 Executive Drive
Aurora, Illinois 60504
---
AS A MEMBER OF SULTRY SALSA, YOU WILL ALWAYS BE "IN THE KNOW" IN REGARDS ALL THE CURRENT SALSA HAPPENINGS AND EVENTS. PLEASE FORWARD THIS EMAIL TO ALL OF YOUR FRIENDS. TELL THEM TO VISIT SULTRY SALSA AND SIGN UP TO RECEIVE NOTIFICATION OF LATIN CLUBS, CONCERTS AND EVENTS IN CHICAGOLAND.
---
Sponsors and Co-Promotional Friends
You have received this advertisement and/or solicitation because you have signed up on my mailing list, or have either inquired, enrolled, or participated in one of my classes, lessons, or events. Or, you may have been referred by a friend to receive these emails because they feel you would be interested. Email addresses are not for sale. The identities and addresses of the people receiving this email are strictly confidential. If you no longer want to receive these emails, please reply to
[address removed]
with "Please remove me from the email list" in the subject line. Thank you.
---
Jed Walker | 389 Plum St | Aurora | IL | 60506
This email message originally included an attachment.