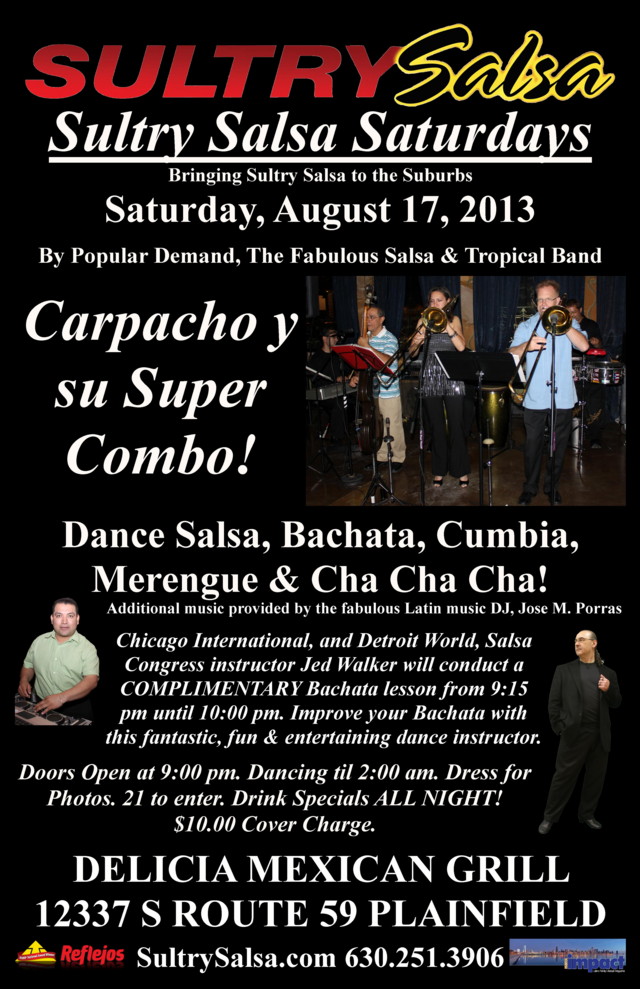 SultrySalsa Saturdays!
GRAND OPENING OF
SULTRY SALSA SATURDAYS
AT DELICIA MEXICAN GRILL
WITH EL BARÓN, JED WALKER

Colombian Salsa Artist Carpacho y su Super Combo will be performing Salsa, Bachata, Merengue, Cumbia and Cha Cha Cha LIVE! for your dancing pleasure.
Only a limited number of tickets are available for this fabulous Grand Opening event! Once we sell out there will not be any more tickets available for the opening night of Sultry Salsa Saturdays at Delicia Mexican Grill.

Saturday, August 17th, is going to be a great Salsa party!
EVERYBODY WILL BE THERE! YOU SHOULD BE TOO!

Don't miss out! Purchase your tickets here TODAY!
Just click the link below to purchase your tickets on SultrySalsa.com!
---
Dance Salsa, Bachata, Cumbia, Merengue & Cha Cha Cha to the music brought to you by the fabulous Latin music DJ,
DJ Jose M. Porras until 2:00 AM!



The fun starts at 9:15 pm with a COMPLIMENTARY Salsa lesson with Chicago International, and Detroit World, Salsa Congress instructor Jed Walker. Exciting new dance moves that you can use every day taught every week. Learn and improve your Salsa with this fantastic, fun and entertaining dance instructor.

NO PARTNER IS NECESSARY as we rotate partners throughout the lesson so by the time the dancing starts you already know a lot of people.

LET'S DANCE!

Dancing until 2:00 am at Delicia Mexican Grill.


Dress for Photos. 21 to enter.

Huge, Free Parking Lot. $10.00 Cover Charge.

Thanks so much,
El Barón, Jed Walker

THANK YOU SO MUCH FOR YOUR PARTICIPATION AND SUPPORT OF SULTRY SALSA SATURDAYS IN THE SUBURBS!
---
Location
Delicia Mexican Grill
12337 S Route 59
Plainfield, Illinois 60585
---
AS A MEMBER OF SULTRY SALSA, YOU WILL ALWAYS BE "IN THE KNOW" IN REGARDS ALL THE CURRENT SALSA HAPPENINGS AND EVENTS.
PLEASE FORWARD THIS EMAIL TO ALL OF YOUR FRIENDS.
NOTIFICATION OF LATIN CLUBS, CONCERTS AND EVENTS IN CHICAGOLAND.