Well we read the book for a meetup, and we watched the classic for a meetup, so might as well catch the new one as well: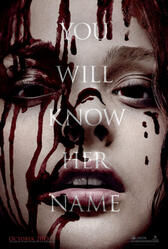 Stephen King's Carrie gets a new life in this remake starring Chloë Grace Moretz as a teenager who discovers that she has the extraordinary ability to move objects with the power of her mind, which eventually leads to mayhem and horror at her high-school prom.
We haven't been at the Regal on 42nd street in a while so for a change of pace that is where we will catch the flick. We'll do the 8:30 PM show. We'll meet up outside the theater doors.