NOTE: As we speak we are planning to add one more speaker to the line-up. Stay tuned!
~~~

At the time of writing of this meetup-announcement, Google revealed its Google Home 'voice assistent'. And it is being received with just as much excitement as hesitation. Are we ready to invite these kind of connected objects – and the services they represent – into our homes? Does a polished user experience negate undesirable aspects?

During this Salon we'll discuss what makes a desirable IoT for consumers, citizens, but is equally an arena to do business. How should we think about privacy? What is the user experience for consent? And how do we create a smart city that works for everybody?
Expect a Salon where we will discuss ethics in a pragmatic manner, where we learn from each other and foremost work towards a more responsible way to create IoT products.
~~~~~~~~~~~~~~~~~~~~~~~~~~~~~~~~~~~~~~~~~~~~~~~~~~
Please note: this is the page to register for the talks that starts at 17:30. If you also want to attend the workshop, please register for this event AND at the other event-page.
~~~~~~~~~~~~~~~~~~~~~~~~~~~~~~~~~~~~~~~~~~~~~~~~~~
TALKS
For this event we have invited three speakers, that are deeply involved in shaping the discourse around what makes a desirable IoT. Both Peter and Michelle are involved in the Good Home project (thegoodhome.org) and many other initiatives around the exploration of the IoT we want.
Peter Bihr (The Good Home project, the Waving Cat, @peterbihr)
Peter Bihr explores the impact of emerging technologies. He founded The Waving Cat to help apply the insights through consulting, R&D, conferences and publications.
As a strategy advisor, he helps organizations large and small excel in an environment shaped by digitization, connectedness and rapid change.
He has co-founded and chaired many acclaimed emerging technology conferences including ThingsCon, UIKonf and Cognitive Cities Conference, and serves as co-chair of Interaction16.
Michelle Thorne (Mozilla Foundation, @thornet)

Michelle wants to challenge the power structures of the past by making and teaching technology differently. She explores the web of things at the annual Mozilla Festival, in a co-authored blog with Jon Rogers and by facilitating workshops.
As Mozilla's Director of Web Literacy Programs, Michelle creates volunteer-led programs that cultivate leaders who teach and advocate for the web. Through a network of local learning clubs, grassroots teaching campaigns and annual leadership development events, she's served thousands of professional educators and activists.
Michelle has a dedicated interest in open practices and design, contributing to Open Design Now, curating Berlin's DMY Maker Lab and co-authoring the book An Open Web.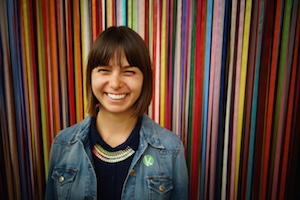 Tijmen Schep (SETUP medialab)
Tijmen Schep of the SETUP medialab, playfully challenges us to think deeper about technology. Tijmen (1981) has spent the last two years creating projects that challenge society to ask difficult questions about the future of privacy, surveillance and power.
Tijmen Schep helps a wider audience recognize the complex ethical questions behind the hypes and hopes that surround new technologies. He has a background as both maker and a critical mediatheorist, and actively works to bridge startup, hacker, policy, theoretical and public perceptions. He recently wrote a book about privacy design for the internet of things called "Design my Privacy".
~~~~~~~~~~~~~~~~~~~~~~~~~~~~~~~~~~~~~~~~~~~~~~~~~~
Start: 17:30, end: 21:00
~~~~~~~~~~~~~~~~~~~~~~~~~~~~~~~~~~~~~~~~~~~~~~~~~~
Interested in the results of the workshop?
Presentations of workshop results: 17:00 - 17:30