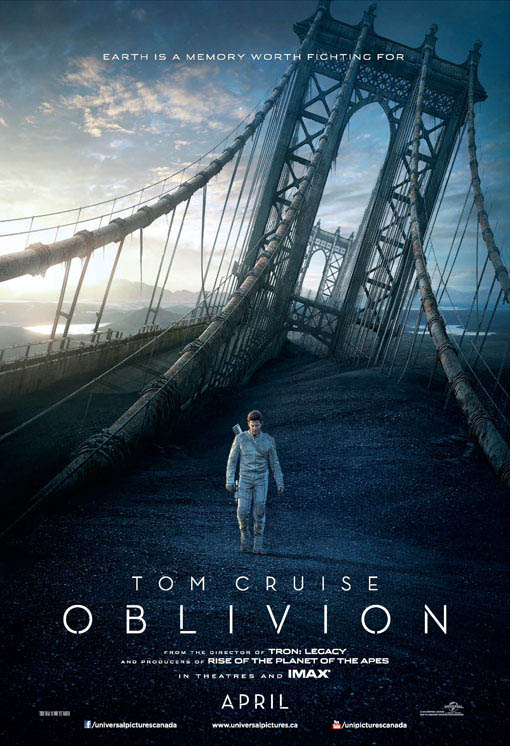 Mathew is the organizer for this meetup. If you need to contact him, please post a message on the wall, or email him at [masked]m
Don't forget about joining a few of our other groups
Facebook group @ http://www.facebook.com/groups/502945113062739/
Scenetourage group where you can get 50points when you go with another member go to - https://www.scene.ca/SCENETourage/Group.aspx?GID=13945
Scene card: A Scene card helps you to collect movie points at Cineplex movie theatres. After 1000 points or 10 moives your 11th movie is free. If you love to see movies then this is a must have card. Go to - https://www.scene.ca to get your card today!

Oblivion
Who would like this movie?: Those that like Minority Report and Action!
Synopsis:
After decades of war with a terrifying threat known as the Scavs, drone repairmen were stationed on Earth to extract vital resources. Jack Harper (Tom Cruise), one of the repairmen, has almost completed his mission.
While patrolling the breathtaking skies from thousands of feet above, his soaring existence is brought crashing down when he rescues a beautiful stranger from a downed spacecraft. Her arrival triggers a chain of events that forces him to question everything he knows and puts the fate of humanity in his hands.
When you RSVP 'yes' to a Meetup it means that your meetup organizer will be expecting you. If you can no longer make it to the Meetup, please be courteous and change your RSVP to 'no' as early as possible before the meetup date and time. Thank you!




***Also, please keep an eye out for any changes in venue or movie time up to the day of the event.

------------------------------------------------------------

Movie

Meetup Location: I will wait by ticket machines on the 2nd floor on the right hand side and  I will be wearing my MOOSE HAT

Movie meetup time: 4:00pm...I will only wait 5mins!


The movie start time: 4:25pm


Movie Running Time: 2h

Cost of movie:$13


----------------------------------------------

After the movie: More to come.


I look forward to seeing you there!!