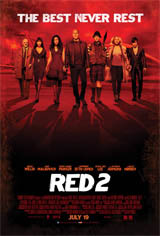 Mathew is the organizer for this meetup. If you need to contact him, please post a message on the wall, or email him at [masked]
100% Sign Up Rule
When you sign up for an event it means that you are 100% sure that you can make it. RSVPING does not mean that you "LIKE" an event but you will be showing up. This means that you have not signed up for any other Meetups the same day and that you can make it (you will be in the city). It also means that if you are working that same day you will not be held up at work or asked to stay later. If you also UNRSVP 24hrs before the event you will also earn a NO SHOW.
Meetup Details

NOTE: All movies are subject to change.
Meetup Location: Right beside the ticket machines, I will be wearing my MOOSE hat.
Movie meetup time: 6:30pm....I will only wait 5mins

The movie start time: 6:50pm.

Movie Running Time:1h56m
Cost of movie:$9 - This movie might be sold out, it would be a good idea to buy your ticket online as soon as times are posted.

----------------------------------------------
After the movie: More to come

I look forward to seeing you there!!
RED 2

Synopsis:
In RED 2, the high-octane action-comedy sequel to the worldwide sleeper hit, retired black-ops CIA agent Frank Moses (Bruce Willis) reunites his unlikely team of elite operatives for a global quest to track down a missing portable nuclear device.
To succeed, they'll need to survive an army of relentless assassins, ruthless terrorists and power-crazed government officials, all eager to get their hands on the next-generation weapon. The mission takes Frank and his motley crew to Paris, London and Moscow. Outgunned and outmanned, they have only their cunning wits, their old-school skills, and each other to rely on as they try to save the world—and stay alive in the process.
Trailer:
When you RSVP 'yes' to a Meetup it means that your meetup organizer will be expecting you. If you can no longer make it to the Meetup, please be courteous and change your RSVP to 'no' as early as possible before the meetup date and time. Thank you!