For more details, see the full listing:http://www.meetup.com/Twin-Cities-Fishing-Fanatics/events/61149292/­When: Friday, October 19, 2012 12:00 PMWhere: Private Lakehome0000 Lakeshore Drive Glenwood, MN 56334
Great opportunity to fish the 13th largest Minnesota lake, known for Walley to Crappies, Sunfish, Bass and Northern, I have been here many times and caught then all. You do not have to fish however, to enjoy this beautiful lake, lovely area and all it has to offer. We will be renting a pontoon to cruise & fish or simply relxax and enjoy the scenery for Saturday, and possibley Sunday also ..... if not everyone wants to pontoon on Sunday, there are also fishing boats to rent for 2 or 3 people that day. Private lake home on Lake Minnewaska in Glenwood, MN. Excellent lake for swimming, fishing, boating, sailing, beautiful sunsets, 3 Golf courses within 5 miles, biking trails ... private swim & fishing area, fire pit, and horseshoes. Relax, eat, unwind, take in nature, read a few good books or put your camera and binoculars to good use ....Bring your own boat as there is a dock and lift for our use, included in the rental, or bring  a canoe or kayak, bike, and whatever lawn games you might have got for some fun with outdoor games ....Located approximately 2 hours drive northwest of Minneapolis/St. Paul and 15 miles south of Alexandria. Located on a quiet, dead-end road by other privatehomes
. No Hwy. noise.This 4 bedroom/2 bath (jacuzzi bath) has all the comforts of home...normally rents for $220/day, but we got a HUGE after the Labor Day Holiday deal!! 2 decks overlooking lake. Gas stove, fridge, microwave, coffee pot, dishes, utensils, spice rack, etc.(extra frdige in basement) 50' dock & bench, manual boat lift (up to 18'/3,000lbs) & boat bumpers, Gas grill (propane provided), 8 person picnic table,extra folding tables & chairs. Washing machine/dryer. Firewood provided free of charge - Bring matches!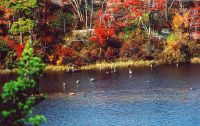 Lake Minnewaska State Park
Sleeping quarters are 1st come, 1st serve - based on order of RSVP and deposit status. There are 3 Queen beds that can sleep 2 each and 2 Full beds that sleep 1 or 2 persons each. Couples are welcome.
Bedroom choices so far, (there are 4) with a double bed foldout downstairs. If someone has a cot and wants to put that downstairs and sleep, we can do that.


BJ - Queen Br

Terri - Queen Br

Beth - Queen Br

Don G - Full Bdrm

- Full Foldout

Cot/ (your own, or sleeping bag)

Cot/ (your own, or sleeping bag) can also pitch a tent in the yard.

Cost for accomodations is
$75.00 pp for 3 nights.
We need a minimum of 5 people. With 5 persons, we would each have our own bed and pay $75 each.
If anyone is willing to share a bed, please note that in your RSVP . If we do get more than 5 people, the cost will go down for everyone.
Check-in on Friday and Check-out on Monday when you like.
There will also be add'l cost of approx $35 - $45 pp per day for pontoon rental for cruising around the lake, fishing, sun & fun! (Fri/Sat). boat rental from Hunt's Resort n earby
The owners require a deposit of 1/2 the rental amount, so I need you to jot down my address when you RSVP and send me a check for $40.00 promptly!
Note: As this lakehome is meant to sleep 10, that is based on sharing beds - if you are willing to share your queen or full bedroom/bed - please note that on your RSVP!There is also plenty of room to accomodate a couple of cots with sleeping bags, or just the sleeping bags on the floor if you want to do that. In the event we do have more than 5 people, sharing rooms or or sleeping bags, the cost will go down for everyone.
RSVP limit: 8 "Yes" RSVPs
If the changes affect your plans to attend, please take a moment to update your RSVP. (You can RSVP "No" or "Yes".)
You can always get in touch with me through my
group profile
on Meetup.
I'm very interested, but I'll have to talk to my other half about it, maybe I can get her to come too...