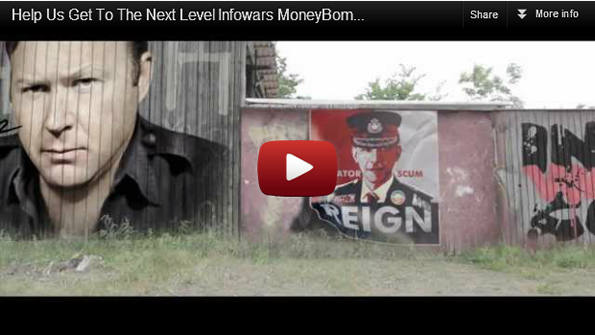 Over the past few years, Infowars has grown from a crew of less than ten members to more than 50 thanks to the support of our loyal listeners. Now that we have a number of experienced and talented reporters on board, we are finishing up required expansion of our studios and will move to deliver our shows to cable systems and satellite platforms over the next six months to a year.
That's where you come in.
Infowars needs your support more than ever as the globalists tighten their grasp and turn up the heat through war and economic manipulation. The bottom line is that we are financed by listeners and viewers who buy products or donate directly through money bomb campaigns.
Beginning October 18, you will have a chance to participate in the struggle to unmask the globalists and expose their propaganda and lies. Go to infowarsmoneybomb.com or infowars.com/moneybomb for the latest updated lineup of guests, hosts, and special reports. Help us bring the truth to millions more. Tell your friends to tune in to PrisonPlanet.tv where, during the special 48-hour transmission, we'll be streaming LIVE and FREE.
If you were forwarded this email and want to keep receiving future issues, sign up for free here