Day Camp Week of June 24 – June 28, 2013 at McCollum Park in Mill Creek with transportation from Seattle, Bellevue, Mercer Island, Issaquah, Kirkland, Woodinville, Shoreline, Everett, Snohomish & Monroe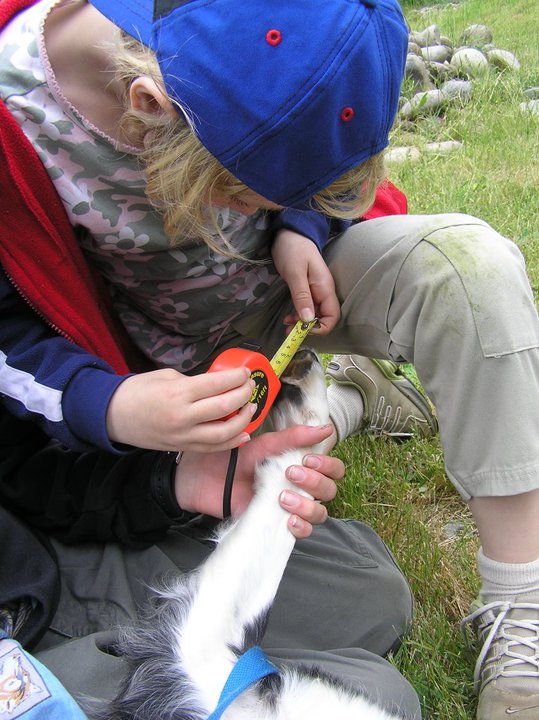 Day camper measures Skye Dog's foot to compare with wild dog tracks.
Wildlife Search & Rescue celebrates its 16th year this summer with a cool new name and a field trip to our nearest wildlife rescue sanctuary. You'll also be learning from professional Search & Rescue volunteers on our staff how to navigate in the wilderness, then track and rescue lost people!
We'll also head into the field every day for great wildlife tracking which is how you can learn everything about the maker of tracks. You'll discover what it's really like to be a bird or other animal, using sensory awareness to know everything that's going on around you, and especially by learning the language of the birds.
We'll work together to plaster casts of favorite animals, craft tracking sticks, safely move through the woods, and investigate trails, lays, larders, and other signs of life all around. This camp is full of exciting, interactive, challenging and cooperative games, as campers learn to work as a team to develop skills of leadership, cooperation, patience, orienteering, dexterity, fun.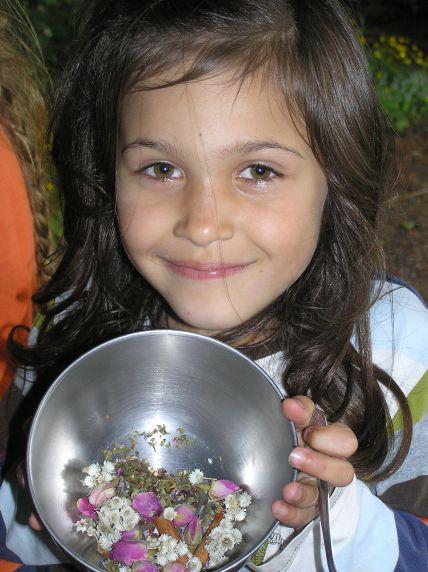 Day camper displays flowers for herbal sachet
Wild Chefs & Herbology celebrates 12th year this summer. Explore the fields, forests, prairies, streams, ponds, bogs, seashores, and backyards of our beautiful region to discover wild foods and medicines growing everywhere. Campers will work with more than even the Top 10 Most Important Plants of their area, and be able to identify their look-alikes.
We wish parents could watch the unfolding of this camp week, because the journey for these young chefs and healers is amazing. From discovering wild foods and medicine, to investigating their properties, to fully utilizing their gifts, and finally being able to tell their true stories, campers develop more real skill than you might imagine.
The kids will also learn to start and use a fire safely, cook with ancient and modern methods, spin natural rope, purify drinking water, and come home with oils and creams they blended with herbs to heal common ailments, among other accomplishments.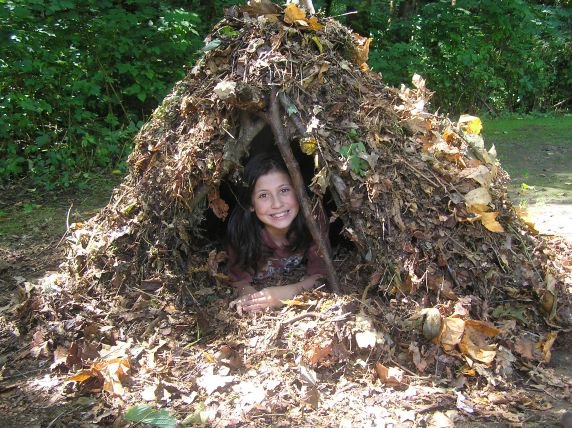 Day camper peeks out from Debris Hut
Future Survivors Fun celebrates its 15th year this summer. Re-create a traditional way of life, honoring the gifts of wood, stone, fire and water. We'll follow theCritical Order of Survival, practicing emergency response scenarios, building warm shelter, purifying drinking water, making safe fire, and using the most important plants for survival.
Campers will also witness bow drill fire by friction and then work with a team to practice it themselves. They will learn aidless navigation for lostproofing, and craft tools of stone, including a course knife. They will make "rabbit sticks" and other honorable hunting implements, learning that all life – plant, animal and mineral – is sacred to be respected.
Pickup/Dropoff & Van Transportation
Instruction runs Mon-Fri 9:30-3:30. If you would like to drop off directly at McCollum Park in Mill Creek,[masked]th St SE, Everett, WA 98208, arrive between 9:15-9:30 and pick up between 3:30-3:45. All times Mon-Fri except Friday afternoon when families are invited to attend camper presentations from 3:30-5:00 at the park.
Transportation From:
• Vans from Renton – Seattle – Shoreline
• Vans from Issaquah – Mercer Island – Bellevue – Kirkland – Bothell
• Vans from Monroe – Snohomish – Everett
SEATTLE ROUTE on I-5:
Vans are driven by our lead instructors who average 35 years old, and are accompanied by assistant instructors averaging 21 years old. All times Mon-Fri except Friday afternoon when families are invited to attend camper presentations from 3:30-5:00 at the park.
($35/wk) Renton – Southcenter departing at 8:15 and returning at 4:45 (in the southeast corner of the Bahama Breeze Restaurant Parking Lot near Nordstrom)
($30/wk) Seattle – Serving West Seattle & Beacon Hill at Jefferson Park departing at 8:30 and returning at 4:30 (in the gravel parking lot of the Citywide Horticulture Center, 1600 S. Dakota St. off S. Columbian Way near I-5 Spokane St. exit 163 opposite the West Seattle Bridge)
($25/wk) Seattle – UW at Montlake departing at 8:40 and returning at 4:20 (Hop-In Grocery Parking Lot at[masked]nd Avenue East 98112 the corner of Montlake Blvd. by the Hwy. 520 exit)
($20/wk) Seattle – Green Lake at Roosevelt departing at 8:50 and returning at 4:10 (Safeway at the corner of Roosevelt & NE 75th St.)
($15/wk) Shoreline – Ballinger departing at 9:05 and returning at 3:55 (Ballinger Thriftway off Moutlake Terrace I-5 Hwy 104 Exit)
EASTSIDE ROUTE on I-405:
($30/wk) Issaquah also serving Samammish & North Bend departing at 8:30 and returning at 4:45 (I-90 Exit 15 at the Starbucks, 1460 Northwest Gilman Blvd., Issaquah 98027)
($25/wk) Bellevue also serving Mercer Island: departing at 8:45 and returning at 4:30 (I-90 Exit 9 at the South Bellevue Park-n-Ride, 2700 Bellevue Way SE, Bellevue WA 98004) with additional afternoon drop-off option at the Downtown Bellevue Boys & Girls Club returning at 4:15 [masked]th Ave NE, Bellevue WA 98004)
($20/wk) Kirkland also serving Redmond departing at 9:00 and returning at 4:00 (I-405 Exit 18 off NE 85th St / Redmond Way, meeting at the 76 gas station, 11848 Northeast 85th St., Kirkland, on the corner of 120th Ave NE)
($15/wk) Bothell also serving Woodinville: departing at 9:15 and returning at 3:45 (I-405 Exit 26 in the Phillips Medical Systems parking lot south off 220th St. SE at 22100 Bothell Everett Highway, 98021)
SNOHOMISH COUNTY Route:
($25/wk) Monroe/Freylands departing at 8:30 and returning at 4:30 (at Tye Lake Park next to the school)
($20/wk) Snohomish departing at 8:45 and returning at 4:15 at the Farmers Co-op & True Value, 168 Lincoln Ave. off 2nd St.)
($15/wk) Everett departing at 9:00 and returning at 4:00 (in the Group Health parking lot behind the Denny's Restaurant on Pacific Ave, just off I-5 and Hwy. 2)
Cost & Registration:
For a limited time only in celebration of our 15 Year Anniversary, receive $50 off any Summer Day Camp cost which normally costs $300 plus optional van transportation fee. To reserve your spot and lock in this limited time $250 price, Register For Day Camps with a $75 deposit (plus $10 to reserve space in one of our optional pickup/dropoff vans) or call us at  [masked] with a credit card. Your balance will be due on the first day of camp.