THIS EVENT IS NOW CLOSED TO NEW RSVP'S:
THERE IS NO WAIT LIST ON THIS TRIP
IF YOUR INTERESTED PLEASE EMAIL THE
ORGANIZER OF THIS EVENT, SUE COLLINS
ADIRONDACK BALLOON FESTIVAL
LAKE GEORGE, NEW YORK
PLEASE NOTE $100 IS DEPOSIT ONLY AND NOT COST OF ENTIRE TRIP. FOR FULL COST OF EVENT PLEASE READ ENTIRE LISTING, THANK YOU!
THIS EVENT IS ALSO BEING POSTED UNDER ON THE ROAD BUS TRIPS, WHICH IS A MIXED GROUP, WE HAVE ONE LADY BRINGING HER MALE FRIEND, SO FAR THE REMAINDER GOING ARE FEMALE.  IF MY OTHER MEETUPS DON'T FILL BUS THEN BUS MAY BE FILLED AT THE DISCREATION OF THE TOUR OPERATOR (MALE/FEMALE, WHOMEVER).
ON THE ROAD BUS TRIPS
LAKE GEORGE, NEW YORK
FRIDAY-SUNDAY~ SEPTEMBER 20-22, 2013
(FRIDAY DEPARTURE: 7AM, RETURN ON SUNDAY 8PM)
Times above are approximate, closer to date firm times will be announced.
PICK-UP/RETURN: TBA Woburn/Wilmington, MA area,  we will also be adding a south shore pickup location if we hit 15 interested (we are close at 10 already)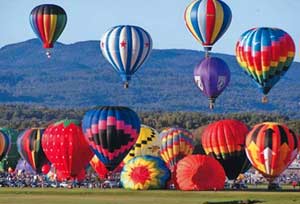 One of the American Bus Associations top 100 destinations is the Balloon Festival in Lake George. The festival is 41 years old this year. Early morning and late afternoon lift offs! You will be amazed by the number of hot air balloons that will fill the sky. Last year over 125 balloons went up. Did you ever see a birthday cake as a balloon? See Mickey Mouse as he fills up and searches the sky over your head. You'll enjoy a visit to the Saratoga Casino and Raceway, a local tour of Lake George and Saratoga. A fun filled weekend.
YOUR TWO-NIGHT GET-A-WAY INCLUDES:
· ROUND TRIP MOTORCOACH TRANSPORTATION
· 2 nights accommodations - Tiki Hut Hotel, LAKE GEORGE, MA
· 2 breakfasts, 2 dinners - BREAKFAST AT HOTEL, DINNERS: HOTEL/RACETRACK
Racecino/Sarasota
· Lake Geoge lunch cruise - Le Sacrement Steamboat/buffet lunch
Ride to Prospect Mountain, enjoy a fantastic view of mountain region and Lake George,
and beautiful views right up into Canada!
· Local touring - Walk on guide, tour through Saratoga Springs, visit a natural water
spring, local mansion/with tour of rose garden and more!
· Raceway casino & track visit - harnessed racing, last year they saved front row for the
group! Includes a buffet dinner, try your luck at the Racecino - full casino with slots &
tables.
Saturday morning we will board the bus at 4AM to travel over to the airport to the balloon festival, last year over 125 balloons were observed. If you want to take a balloon ride we can arrange that for you, at an additional charge (TBD), either Friday night or Saturday/Sunday morning, weather permitting. Morning rides are better chances weather wise. They do offer rides from one side of the airport to the other, which is very short. We will try to get our members that are interested the longer ride (1-1.5 hours) at an off site location. This is all arranged on trip not prior too, which for hot air ballooning is the way to do it, so much is riding on the weather, wind speeds or lack of.
*$369.00 pp/double *$349.00/triple
*$499.00/single
If you need a roommate, we will assist you in finding one, those that RSVP first will be paired up first. Snorers, please note your area a snorer so we can find you another snorer. If we do not have a roommate to match you with you may be subject to the higher single rate.
What's not included: Gambling is own your own, Balloon ride is extra, Tips and gratuities for driver and escort - $2.50/each, per day, housekeeping gratuity, Lunch on way up and lunch in town on Saturday.
An Insurance waiver is available MUST BE PAID WITH DEPOSIT ONLY!!! $39.00 MEDICAL REASONS ONLY - 48 HOUR NOTICE - MUST BE VERIFYABLE WITH A NOTE FROM PHYSICIAN.
INSURANCE CANNOT BE ADDED AFTER DEPOSIT IS MADE.
Space is VERY limited for this event, first come first serve:
The first 44 members to RSVP with a secured deposit payment of $104.00, (which includes Paypal Fees), will be eligible to attend. You can also pay via check, contact me for info.
FINAL PAYMENT IS DUE ON July 30, 2013
DUE TO VARYING ROOMING OCCUPANY CHOICES THE FINAL PAYMENT WILL BE DIFFERENT DEPENDING ON YOUR CHOICE. I WILL EMAIL MY PAYPAL ADDRESS IN EARLY AUGUST FOR FINAL PAYMENTS.
Cancellation Policy: NON REFUNDABLE, unless you have purchased the insurance, 48 hours notice and it is a medical reason, verified by a doctor.
IF we do not get a total of 44 members, we may be sharing the remainder of the open seats with another group.   Unless we fill up an entire bus of 44 people. Sharing the bus has worked well in the past.
All bus trips are subject to itinerary change due to unforseeable conditions (weather, other).