Date: Saturday, July 14, 2012
Time: 12:30 to 4:30 p.m.
Location: 88 5th Street, SF
The Old Mint, which opened in 1874, and survived the 1906 earthquake and fire, was turned over to the City by the U.S. Treasury in 2003 and has been used only sporadically for private events while the City tries to raise funds for a history museum.
This is a rare chance to gain access to the Mint's gorgeous and ornate interior while participating in a unique tasting "Romancing the Rhones"
http://www.meetup.com/Bay-Area-Wine-Society/events/72670142/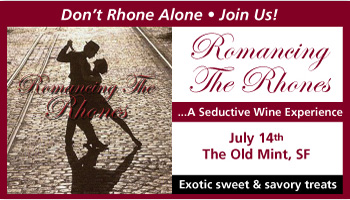 Share in a delicious Rhone experience this coming Saturday.  Blind taste 40 top wines from the 2012 Rhone Shootout. Pit your palate against the experts and vote for your favorites! Enjoy sassy Rhone-friendly foods from local artisans. Sample amazing Rhone wines from California, Oregon and beyond. Learn something new about Rhone varietals. Discover new favorites to take home!
Affairs of the Vine has extended a special discount to the members and guests of the SF Brainiac Singles. Buy tickets by July 12th Receive VIP Status with the Magic Ticket Upgrade Code: BAWS
Romancing the Rhones:
Explore 100+ amazing Rhone wines from 40+ Rhone producers
VIP Barrel Tasting in the historic Vaults (Silver Dollar Tickets, normally $65, but included in our discount)
Blind Taste top-scoring wines from the Rhone Shootout
Sample Rhone-friendly food
On-site Bottle Booth – take home your new favorites!
Meetup reduced price tickets  $39
Buy Tickets Online Upgrade Code: BAWS Purchase the Rhone Lover's ticket ( $39) and be upgraded to Silver Dollar VIP status, a savings of $26. Includes Early Admission to the Blind Tasting, access to the Barrel Tasting at 12:30 PM, and extra time to explore the Old Mint and enjoy this Rhone lover's event.
http://affairsofthevine.com/shop/index.php?route=product/product&product_id=69