Sunday, November 15th at 3 p.m. at Cinematheque
La Dolce Vita (1960)
(La Douceur de Vivre, The Sweet Life)
Genre: Drama, Comedy
Director: Federico Fellini
Cast: Marcello Mastroianni, Anita Ekberg, Anouk Aimee, and Yvonne Furneaux
Italy, Running Time: 180 Minutes – 3 hours
In Italian, French & German with Subtitles, Black & White
High Historical Importance
La Dolce Vita (Italian for "The Sweet Life") is a 1960 film by the critically acclaimed director Federico Fellini. The film is a story of a passive journalist's week in Rome, and his search for both happiness and love that will never come. Cited as the film that signals the split between Fellini's earlier neo-realist films and his later art films, it is considered as one of the great achievements in world cinema. It scores a 98 percent on the infamous Tomatometer.
Marcello (Marcello Mastroianni) is a journalist in Rome in the 1950s covering tabloid news: movie stars, religious visions and the decadent aristocracy.
The film covers seven days of Marcello's life. Marcello lives with Emma (Yvonne Furneaux), a woman who loves him. Marcello resists her possessive, motherly attitude towards love and her conventional perspective of life, while Emma ignores Marcello's inarticulate search for value and meaning. He encounters numerous women throughout the movie, including Maddalena (Anouk Aimée), a beautiful, wealthy and jaded lover, and Sylvia (Anita Ekberg), a Swedish-American movie star whom he desires. He reunites with his old friend Steiner (Alain Cuny) and his father.
3 p.m. La Dolce Vita – Cinematheque
Meet in the Lobby 10 minutes ahead of time or look for the group inside the theater. We'll try to save seats in the first two rows of the upper section, center. The flick is 3 hours, so expect to be out around 6 p.m. Seats at this venue are somewhat hard so you may want to bring a stadium cushion.
6:15 p.m. After Film Discussion/Dinner – the After-Party @ Ristorante La Dolce Vita
Since film ends early, we'll head over to Little Italy's Ristorante La Dolce Vita , 12112 Mayfield Road,[masked], for discussion, drinks and perhaps dinner. Parking may be a challenge, but patience will result in a spot nearby on the street. Ristorante La Dolce Vita is named after the wonderful film we saw earlier. The theme is carried out in the restaurant décor, themes and menu.
Owner Terry Tarantino has promised a special treat for Indie Meet Up members attending the after-party at Ristorante La Dolce Vita. You may select a complementary appetizer or a wonderful desert from the menu with each entrée purchased. This is a Members Only! benefit.

We will have a reserved table so you must indicate "dinner on your RSVP to have a seat! Please let us know your dinner plans on your RSVP so that we can reserve a seat for you at the "Movie Group" table. We have requested separate checks but due to the size of our group, you can expect a standard gratuity to be added. If circumstances force you to cancel, please try to notify the organizer as early as possible. It's best to pay your check in cash to streamline the process. If you don't see us when you walk in, ask to be seated with Bill Johnson or the Indie Movie Group.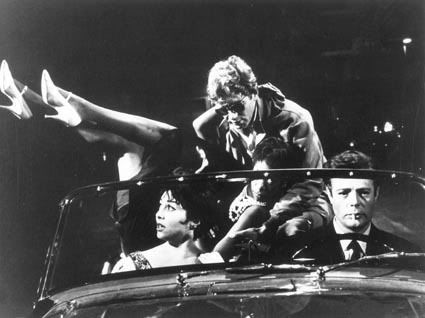 Plot – Synopsis
In the film's opening sequence, a plaster statue of Christ, suspended by cables from a helicopter, flies past the ruins of an ancient Roman aqueduct. The statue is being taken to the Pope at the Vatican. Journalist Marcello and a photographer named Paparazzo (Walter Santesso) follow in a second helicopter. The symbolism of Christ, arms outstretched as if blessing all of Rome as it flies overhead, is soon replaced by the profane lifestyle and neo-modern architecture of the "new" Rome founded on the economic miracle of the late 1950s. (Much of this was actually filmed in Cinecittà or in EUR, the Mussolini-style area south of Rome.) Marcello's helicopter is sidetracked by a group of bikini-clad women sunbathing on a rooftop; hovering above, he tries but fails to elicit a phone number from them. He laughingly shrugs off his failure and continues on.
The delivery of the statue is the first of many recurring scenes placing religious icons in the midst of characters demonstrating their "modern" morality influenced by the booming economy and the emerging mass-consumer lifestyle.
Perceived by the Catholic Church as a parody of Christ's second coming, the scene and the entire film were condemned by the Vatican newspaper L'Osservatore Romano in 1960. Subject to widespread censorship, the film was banned in Spain until 1975 after the death of Franco.
Some Fellini Trivia: The character of Paparazzo, the news photographer (played by Walter Santesso) who works with Marcello, is the origin of the word paparazzi used in many languages to describe intrusive photographers. As to the origin of the character's name itself, Fellini scholar Peter Bondanella argues that although "it is indeed an Italian family name, the word is probably a corruption of the word papataceo, a large and bothersome mosquito. Ennio Flaiano, the film's co-screenwriter and creator of Paparazzo, reports that he took the name from a character in a novel by George Gissing." Gissing's character, Signor Paparazzo, is found in his travel book, By the Ionian Sea (1901).
Production
Although critics have often commented on the extravagant costumes used throughout Fellini's films, few realized that the origin behind La dolce vita was the sack dress, introduced by the designer Balenciaga in 1957. In various interviews, Fellini claimed that the film's initial inspiration was in fact this particular style. Brunello Rondi, Fellini's co-screenwriter and long-time collaborator, confirmed this view explaining that "the fashion of women's sack dresses which possessed that sense of luxurious butterflying out around a body that might be physically beautiful but not morally so; these sack dresses struck Fellini because they rendered a woman very gorgeous who could, instead, be a skeleton of squalor and solitude inside."
Credit for the creation of Steiner (played by Alain Cuny), the intellectual who commits suicide after shooting his two children, goes to co-screenwriter, Tullio Pinelli. Having gone to school with Cesare Pavese, the Italian novelist, Pinelli had closely followed the writer's career and felt that his over-intellectualism had become emotionally sterile, leading to his suicide in Turin in 1950. This idea of a "burnt out existence" is carried over to Steiner in the party episode where the sounds of nature are not to be experienced first-hand by himself and his guests but in the virtual world of tape recordings.
Most (but not all) of the film was shot at the Cinecittà Studios in Rome. Set designer Piero Gherardi created over eighty locations, including the Via Veneto, the dome of Saint Peter's with the staircase leading up to it, and various nightclubs. However, other sequences were shot on location such as the party at the aristocrats' castle filmed in the real Bassano di Sutri palace north of Rome. (Some of the servants, waiters, and guests were played by real aristocrats.) Fellini combined constructed sets with location shots, depending on script requirements—a real location often "gave birth to the modified scene and, consequently, the newly constructed set." The film's famous last scenes where the monster fish is pulled out of the sea and Marcello waves goodbye to Paola (the teenage "Umbrian angel") were shot on location at Passo Oscuro, a small resort town situated on the Italian coast 30 kilometers north of Rome.


Fellini scrapped a major scene that would have involved the relationship of Marcello with an older writer living in a tower, to be played by 1930s Academy Award-winning actress Luise Rainer. After many difficult dealings with Rainer, Fellini abandoned the scene.
The famous scene in the Trevi Fountain was shot over a week in winter: in March according to the BBC, in late January according to Anita Ekberg. Fellini claimed that Ekberg stood in the cold water in her dress for hours without any trouble while Mastroianni had to wear a wetsuit beneath his clothes - to no avail. It was only after "he polished off a bottle of vodka" that Fellini could shoot the scene with a drunk Mastroianni.
La Dolce Vita won several awards, including a New York Film Critics Circle award for Best Foreign Film and the Palme d'Or at the Cannes Film Festival
FEE
Goes toward charges incurred for using the MeetUp website. You can access PayPal or pay your fee to the Organizer at the event.
*************************************************
MOVIE LINKS:
Cinemateque, Cleveland Institute of Art, 11141 East Blvd. http://www.cia.edu/ac...
PARKING: They have a free parking lot.