Post #: 158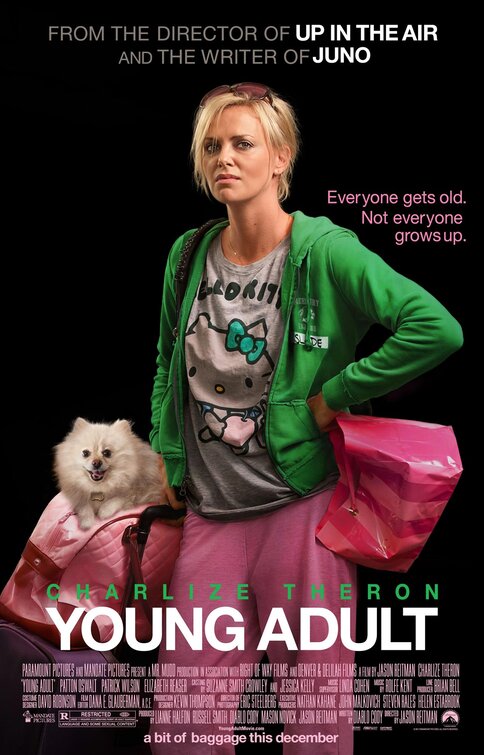 My IMDB review for
Young Adult
- opening Dec. 16
The Film Authority
on
Young Adult
Summary:
Theron is not just a pretty face; shows depth and compassion
This film really drags through the first 45 minutes. The story line is boring mostly and quite dark. But then our human existence is ofttimes like that. Is it worth spending 45 minutes looking at Charlize Theron who doesn't always look beautiful and is often drunk? Of course its worthwhile! Critics have already forecast that her role may result in a second Oscar for the beautiful South African.
If you can persevere through the first half of the film without walking out, you will be treated to an amazing performance by Theron! In a confrontation with family, friends and ex-boyfriend, a drunk Theron screams her regret and pain for having an abortion 20 years earlier. Angst that she has held inside for 20 years has essentially stunted her emotional growth. It's a masterful job of acting and brings us into the depths of her soul and regret at destroying her unborn son. surprising message from Hollywood that has so long been dominated by progressive/liberal/permissives.
it is a rare occasion when Hollywood allows such an accurate yet painful depiction of such a controversial subject. I congratulate and thank the writers, director and producer for putting it all out there. it's about time we started dealing with the truth in these matters and stop the cover-up.
Film is from the director and writer combo who brought you
Juno
, Jason Reitman and Diablo Cody. And thank you Charlize for such an intense and realistic performance!
I couldn't agree less. I love the way Cody's mind works and most of the dialogue she writes but she seems to have phoned a lot of this one in. The entire script is practically on one level and doesn't come close to the meat that Juno had. Theron's performance is great, as always (she is one of the world's finest talents), but her character is so unsympathetic it's difficult to care what happens to her. She's so often despicable that I just kept wishing she'd leave town. The story culminates in her finally coming clean— not much of a climax and extremely expected. It is rare that a film with these credential is so shallow and predictable.

I thought Reitman's direction was, at times, sophomoric, which might be the audience they're going for. Most of the already predictable plot was telegraphed as if it would have been too subtle for the audience.

If you want to see Theron's genius, rent Monster; don't waste your time on Young Adult.

By the way, Theron's character did not have an abortion as stated above. The details of that might have been more interesting. She had a miscarriage which is an entirely different, and less dramatic, dynamic. Whoever wrote this review needs to get his/her facts straight, but thanks for posting it.