Uncorked Denver Members:
Our next patio wine party is on Wednesday June 13, 2012! The wines have been posted.
http://uncorked-avv.eventbrite.com/
This is our premier event for 2012, with Alexander Valley Vineyards highly rated wines and Winemaker Kevin Hall
Inverness Golf Course Resort Location-On The Patio

90+ rated wines.  We will have 6 wines, food pairings including the prestigious "Cyrus".

One of the top winemakers in the US visiting our group as he comes to Denver prior to the prestigious Aspen Wine Festival.  Just for our group!

PLEASE NOTE: THIS IS A WINE TASTING SOCIAL MIXER FOR YOUNG PROFESSIONALS. THIS EVENT IS NOT A BUSINESS NETWORKING EVENT. THANKS

100 attendees expected and we will cap the event at 100.
WSign up now and confirm with payment on eventbrite. We do not sell tickets at the door and this event will sell out.
Payment Link:
http://uncorked-avv.eventbrite.com/
Scroll down below for all the good stuff on the wine party and upcoming events!
Regards,
Stacey
--------------------------------------------------------------------------------------------------------------------------------------------------------------------
What: Premier Winemaker Event with Kevin Hall, Alexander Valley Vineyards Winemaker at the Inverness Resort
UncorkedDenver.com, Denver's largest wine group for Young Professionals invites you to meet Kevin Hall, the award winning winemaker for Alexander Valley Vineyards  for a wine and food pairing event featuring their highly rated estate wines and Cyrus.    Mr. Hall will  answer questions, and discuss specific characteristics of each of his hand crafted wines.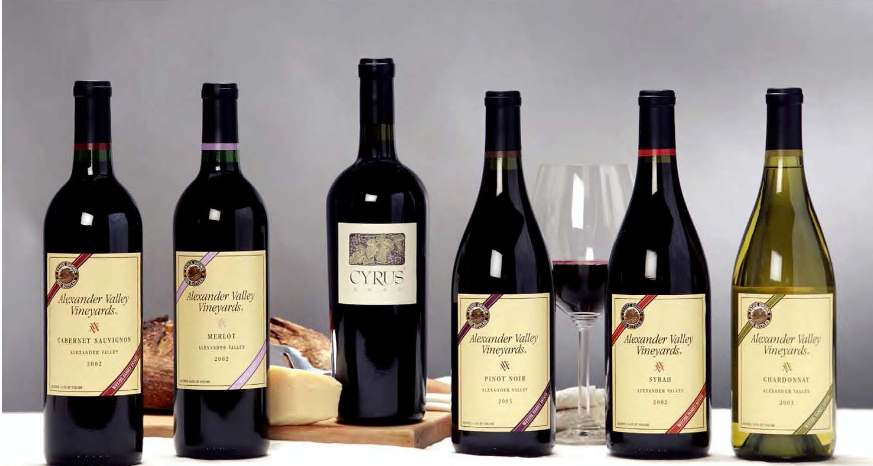 When: Wednesday June 13, 2012 at 6:00 PM
Where: Inverness Resort Denver Tech Center on the Patio overlooking the Golf Course (if weather is inclement we will be in one of the fabulous banquet rooms overlooking the golf course)
Address: 200 Inverness Drive West Englewood, Colorado 80112
Crowd: Mostly Young/Mid Professionals late 20's through 40's/early 50's (we will split tickets for females, males and couples to have a balanced social mix).  Once a ticket type sells out, please get on the waitlist.
Dress: Business/Dressy Casual to Business/Dress to Impress
Cost: $29.99  includes tax and tip (Wine Party Only)
http://uncorked-avv.eventbrite.com/

Directions and Parking: I-25 to Dry Creek exit, East on Dry Creek, turn right on Inverness Drive (outer road). The restaurant has FREE parking in front of the hotel and is a few blocks from the Light Rail to the Dry Creek Station (take the walkway over the I-25)
Wines and Food Pairing (food pairing coming soon!)
Apertif/Reception Gewurz 2011 2011 Gewurztaminer is harvested exclusively from two small "organically certified" vineyards in Mendocino County  Prior Vintages: 92 Points - Best Buy - Gold Medal: Beverage Testing Institute
With Food Pairings:

2010 Estate Chardonnay Double Gold - 2010 Sonoma Harvest Fair

2009 Sin Zin Sin Zin is one of the most recognizable wines in the country. From the beginning Sin Zin was an elegant style of Zinfandel due to the region and winemaking style. AVV harvest sgrapes from throughout the Alexander Valley   Prior Accolades:  93 points - BTI "A great, hedonistic and seamlessly balanced Zin for every occasion."   Gold Medal - 2010 Sonoma Harvest Fair,
Gold Medal - 2011 San Francisco Chronicle International Wine Competition, Gold Medal - 2011 Finger Lakes International Wine Competition

2009 Alexander Valley Vineyards Estate Merlot 91 points Beverage Testing Institute March 2012
Cabernet Sauvignon (estate Cab or Reserve Cab?)
2010 Estate Cabernet Sauvignon 2009 vintage had 90 points & Editors Choice Wine Enthusiast
CYRUS 2007 3 lots of Cabernet Sauvignon with exceptional concentration, purity & lush texture, two lots of Cabernet Franc with finesse & depth and one lot each of Merlot & Petit Verdot for vivid color and richness. After blending, the wine was aged for 12 months in French oak to meld the flavors. Once bottled the wine was aged for an additional 14 months to develop into a seamless blend. 95 Points - Gold Medal - Best of Appellation California State Fair 2011, 91 Points - Wine Enthusiast, 93 Points - Gold Medal Los Angeles International Wine Competition 2011, 93 Points - Gold Medal Cellar Selection Beverage Testing Institute 2011, 91 Points Two Puffs Connoisseurs Guide to California Wines  (this wine will have a smaller pour).
Please Note: NO TICKETS WILL BE SOLD AT THE DOOR/NO WALK UPS!....sorry but we will have to turn away anyone who doesn't have an advance ticket as wine and food has been allotted based on the ticketed attendees and we do not handle money at the door. We are limiting this event to 100 attendees with a winemaker due to capacity of the room. Our events sell out quick!
About Alexander Valley Vineyards "Appellation": Established in 1984, the Alexander Valley is one of Sonoma County's most distinguished wine-growing regions or AVAs (American Viticultural Areas). Situated in the northeastern corner of Sonoma County, the Alexander Valley runs 22 miles long and averages about 4 miles wide, effectively hosting 15,000 acres of quality grapes   http://www.avvwine.com/
Alexander Valley Vineyards produces 100,000 cases annually, 17 varietal wines and proprietary blends. Seventy-five percent of AVV's production is red wine. Chardonnay, Merlot and Cabernet Sauvignon constitute roughly half of total production. Other varietals include Pinot Noir, Zinfandel, Gewurztraminer, Syrah, Sangiovese, Viognier, and Cabernet Franc.

CYRUS, a limited production, proprietary red wine, named in honor of the pioneer Cyrus Alexander, is AVV's benchmark, honoring the past while signaling the future. Hank Wetzel explains, "Cyrus is a statement, our ultimate achievement. With this wine, we express our history, tradition, and excellence."
About Kevin Hall, Winemaker: http://www.avvwine.com/about_hall.html
About UncorkedDenver.com http://www.uncorkeddenver.com   UncorkedDenver.com/Denver Wine Meetup is Denver's largest wine group for Young Professionals with over 1400 members.  The group hosts monthly wine and food pairing "wine social events" for young professionals 20′s through 40′s at upscale restaurants. Our group is very friendly and it's easy to make new friends!
See photos from previous events: http://www.meetup.com/denverwine/photos/8157222/
Get on the email list by going to http://www.denverwinesocial.com and joining the group
Eventbrite utilizes paypal for payment which is SSL secured.  You can use any credit card and there is an echeck option.  You do not have to have a paypal account.  We do not see your credit card info, it's encrypted. Please see the Denver Wine Meetup for the refund policy located on the event and the ABOUT page. Refunds are processed up to 2 days prior to an event for any reason.   99% of advance refunds have been processed for this group!
About our events: Denver Wine Meetup/UncorkedDenver.com events are a unique opportunity to socialize with other young/mid professionals and make new friends over at a wine and food pairing, with select wines paired with appetizers, sometimes with the winemaker visiting.
Our events differ from the many "happy hours" in a bar groups around Denver and high priced wine organizations, distributor/ festival type events as the events are a wine social with the opportunity to meet a winemaker or wine manager and focus on learning about a winery and/or a varietal.  Our events provide members a unique wine and culinary pairing event with the aspect of a social mixer at an affordable price.
Refund Policy http://www.meetup.com/denverwine/pages/Payment_and_Refund_Policy/
Event Terms and Conditions: http://www.meetup.com/denverwine/pages/Terms/
Assumption of Risk: http://www.meetup.com/denverwine/pages/ASSUMPTION_OF_RISK_-_WAIVER_AGREEMENT/