Please go to Payment Link: http://www.uncorkedmichaeldavid.eventbrite.com
This event is with Denver Wine Meetup and other meetups. See photos from Hess Collection Napa Wine Party with Winemaker Dave Guffy Jan 26: http://www.meetup.com/denverwine/photos/1239730/
Please go to Payment Link: http://www.uncorkedmichaeldavid.eventbrite.com to confirm with payment! We will not sell tickets at the door. Please note, an RSVP on the meetup is not a paid ticket. 2/8/10 90% of the tickets have been sold....we have 2 ladies for every one man who has signed up....If you are waiting on the weather report before confirming the storm will have passed through by Tuesday...Thursday's forecast is "sunny".

What: Winemaker's Event with Michael and David Winery winemaker and production manager Jeff Farthing

Winery Link: http://www.michaeldavidwinery.com/wines/
Straight from the Zinfandel capital of the world, Lodi California in the northern portion of California's central valley....our winemaker will be bringing "sinfully delicious" wines from their well known portfolio of wines. 7 Deadly Zins, Incognito and others
Crowd: Moslty GenX Young/Mid Professionals mid/late 20's through 40's/early 50's (please see the "about" section of this meetup.

When: Thursday February 10, 2011 at 6:00 PM Please be prompt as we will be serving each wine and appetizer paired followed by dinner for members who stay for dinner.
Where: Bauer's (historic) Restaurant 1512 Curtis St. Denver, CO We'll be in the spacious Ventian Room at Baur's.

Cost: $ 29.99 includes tax and tip (Wine Party Only) Payment Link: http://www.uncorkedmichaeldavid.eventbrite.com
Dress: Business/Dressy Casual to Business/Dress to Impress
Please Note: NO TICKETS WILL BE SOLD AT THE DOOR/NO WALK UPS!....sorry but we will have to turn away anyone who doesn't have an advance ticket as wine and food has been allotted based on the ticketed attendees and we do not handle money at the door for wine and food pairing events We expect over 100 attendees with a winemaker flying in and it's difficult to check folks in and handle money. Our events sell out quick! Please see the Denver Wine Meetup for the refund policy.
Parking: Light Rail to the convention center and walk two blocks There is a garage next to Rialto that is $5.00 if you don't take the light rail. http://maps.google.com/maps?q=1512+Curtis+St%2C+Denver%2C+CO+80202.  
There is a parking garage directly across the street from Rialto Café which is next door to Baur's. The entrance to the 16th Center Parking garage is located on Champa street between 16th and 17th on the right hand side. The price is $6.00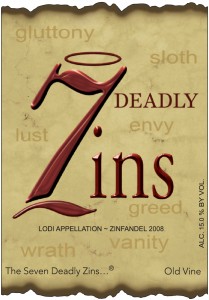 Wine and Food Pairing:
Incognito Red - Mini beef wellingtons
Incognito White - Macadamia crusted chicken skewer with sweet chili sauce
7 Deadly Zins - Lamb chop with mint demi glace
MDV Sauv. Blanc - Jumbo lump crab cake with roasted corn relish and red pepper aioli
6th Sense Syrah - Buffalo short rib with chocolate espresso demi glace
Petite Petit - Duck con fit on crostini with vanilla duck jus
(one of the above apps is going to have a vegetarian app in its place so we have one vegetarian on the menu.)
About the Wines that we will be pouring:
-Incognito Red(Rouge) A tango of Mourvedre, Syrah, Petite Sirah, Cinsault, Carignane, Tannat, & Pinot Noir
-Incognito White Rhone-style blend: 58% Viognier, 19% Chardonnay, 9% Malvasia Bianca, 7% Roussanne, 4% Sauvignon Blanc, & 3% Symphony. Fans of Conundrum and Gerz will love this wine. Michael and David's first "Best of Class" award of the 2011 wine competition season. The newly recrafted Incognito White 2009 was a standout at the 2011 San Francisco Chronicle wine competitions Rhone White Varietals and blends category. With over 5000 entries from 23 states this competition continues to claim itself as the "Largest Wine Competition of American Wines in the World
-7 Deadly Zins-Zinfandel- Looking to their past, the two Phillips brothers quickly related the Seven Sins from their Catholic school upbringing to the seven Old Vine Zinfandels blended in their wine.
-MDV Sauv. Blanc Sauvignon Blanc with small amounts of Semillon and Muscat Canelli
-6th Sense Syrah Primarily syrah blended with a touch of petite sirah.
-Petite Petit blend of Petite Sirah (85%) and Petit Verdot (15%)-Robert Parker 89 Points
About the Michael and David Winery http://www.michaeldavidwinery.com Though not certified organic, Michael~David Winery strives to use all natural methods including integrated pest management, beneficial insects for pest control, trellising, leaf pulling and natural mined sulfur for mildew control.
Dinner after the wine tasting (This is seperate from the wine party!): We usually have 50-60% of the group stay for dinner after the event. It's a great way to continue the conversation with new friends. Bauers will be offering a prix fix menu for 5280 Dinner Deal! $26.40 a person plus tax/tip pre-Restaurant week (we'll have the menu first!). There is a place on eventbrite to RSVP for dinner afterwards. For those of you new to restaurant week, it's a madhouse....difficult to get reservations, especially for a group. So it's really nice of Baur's to offer our group the 5280 dinner deal, a 3 course meal for $26.30 a person 3 weeks before restaurant week for our group. It's one of the best menus compared with other restaurants who don't offer the number of choices Baur's has added to this lovely menu.
First Course
Choice of:
Calamari Frita ~ Crisp fried calamari rings tossed with kalamata olives and pepperoncinis, served over a spicy tomato coulis
Flaming Saganaki ~ Kasseri cheese, flamed tableside with Ouzo, served with warm pita points
Soup of the Day
Baby Iceberg Wedge ~ Crisp iceberg lettuce, praline bacon, roasted tomatoes, crisp shallots, topped with a buttermilk bleu cheese dressing
Baur's Caesar ~ Petite romaine hearts tossed in a classic Caesar dressing, topped with three- cheese croutons, shaved parmesan cheese and white anchovies
Baur's House Salad ~ Mixed baby greens and slivered red onions tossed in a roasted shallot vinaigrette, topped with chèvre cheese, toasted almonds and finished with blood orange purée
Second Course
Choice of:
5-oz. Bacon Wrapped Filet Mignon ~ Whipped potatoes,seasonal vegetables and veal demi glace
10-oz. Roasted Prime Rib Of Beef ~ Served with seasonal vegetables and baked Idaho
Alfredo Di Mare con Fungi ~ Sautéed sea scallops, shrimp and wild mushrooms in a rich parmesan cream sauce, served over linguini
Pasta Primavera Alfredo ~ Sautéed garden vegetables and Alfredo sauce over linguine pasta
Herb Roasted Half Chicken ~ Red Bird Farms chicken, oven roasted with herbs and seasonings, served with a sage pan gravy and paella rice
Almond Dijon Crusted Mahi-Mahi ~ Grilled Mahi-Mahi filet with an almond dijon crust, served with wild rice blend and red pepper coulis
Colorado Rack of Lamb ~ Two center cut chops finished with mint cabernet demi glace, served with roasted fingerling potatoes and seasonal vegetable melange
Stout Braised Buffalo Short Ribs ~ Finished with dark chocolate espresso demi glace, served with garlic whipped potatoes and seasonal vegetables
Add a Lobster Tail ~ Add an 8-oz. lobster tail to your meal for $20 additional
Third Course
Choice of:
Baur's Famous Mija Pie ~ Shortbread, English toffee, chocolate pudding, caramel sauce
Baur's Famous Wine Sundae ~ Red wine reduction over vanilla bean ice cream, garnished with sugared grapes
Bananas Foster or Cherries Jubilee for Two ~ Prepared tableside and served over vanilla ice cream
Event Terms and Conditions http://www.meetup.com/denverwine/pages/Terms/
Assumption of Risk:http://www.meetup.com/denverwine/pages/ASSUMPTION_OF_RISK_-_WAIVER_AGREEMENT/