NEW!!!
Monday night drop-in!!!
There are usually over 80 players that attend on Friday, Saturday, and Sunday, and now starting this week, there is Monday night drop-in. Skill levels are from expert to beginners.

Recreational players should play on the two nets in the right back corner from the entrance. You are considered a 'recreational player' if you like to hit the ball over the net in less than three hits and/or don't know who should be taking the second touch of the ball. There is nothing wrong with being a recreational player...we were all one at one time.

The highest level net is just to the left of the entrance. You should know 6/2, 5/1, and other configurations at a A level skill level. Just because you can hit the ball hard doesn't make you a A level player. If you hit the ball hard into the wall or into the net most of the time, then you're a recreational level player.
If you try to play on a net above your skill levels expect the other players to try to keep you from the ball so you don't lose the game for the team. Teams are usually made up randomly.

If you want to play with your recreational level player buddy, then play on the recreational level nets. Same with other level nets. Don't bring your buddy to a level of net that they don't qualify for. They will be called for all of their lifts, throws, and other illegal touches. But very little is called on the recreational nets, so don't feel that because you're a beginneer, that is not s place for you, as it is.
Entrance has been moved to the far north back side.

https://calendar.google.com/calendar/embed?mode=WEEK&height=600&wkst=1&bgcolor=%23ccccff&src=jn36u8ca3a8lb2l8r4jkum8ljs@group.calendar.google.com&color=%238C500B&ctz=America/Denver

http://www.divevolleyball.com/schedule.htm

It is usually is cool at this facility in the winter, and hot in summer, so dress appropriately.
The floors are plastic, so I don't usually wear my usual indoor volleyball shoes, but instead wear shoes that have better traction.

There are no showers available, but there are restrooms and snacks available.

Most people don't RSVP on this website, as they aren't meetup members.
$5 per admission charge at the door. (this drop-in is run by another volleyball organization, so there is a $5 charge for everyone. )

We've got a great group of friendly, social players. Come join us! This is a COED game, so both male and female players are welcome. You must be 18 or older to play with us!
WE HAVE FIVE TO SEVEN COURTS OF VOLLEYBALL ACTION FOR YOU!
Currently, volleyball stratifies to two BB/A courts and two recreational courts. The upper level court is solid play, but not intimidating.
As before, I always like to remind people of the following:
This is a FUN, RECREATIONAL game. If you want to be the super-competitive player while ruining everyone else's fun, find another game. Even on our intermediate or advanced courts, if you can't practice competition with sportsmanship, you will be asked to leave. The games will be self-refereed.

The facility, Dive Volleyball, has PLENTY of FREE PARKING. Please check out the parking map and directions here.
You must wear proper athletic shoes. Failing to do so, will prevent you from playing.
The Dive has drop-in volleyball four nights a week. Friday, Saturday, Sunday, and Monday.
Call the Dive to see if there is any change of times of play or check the link to the schedule below.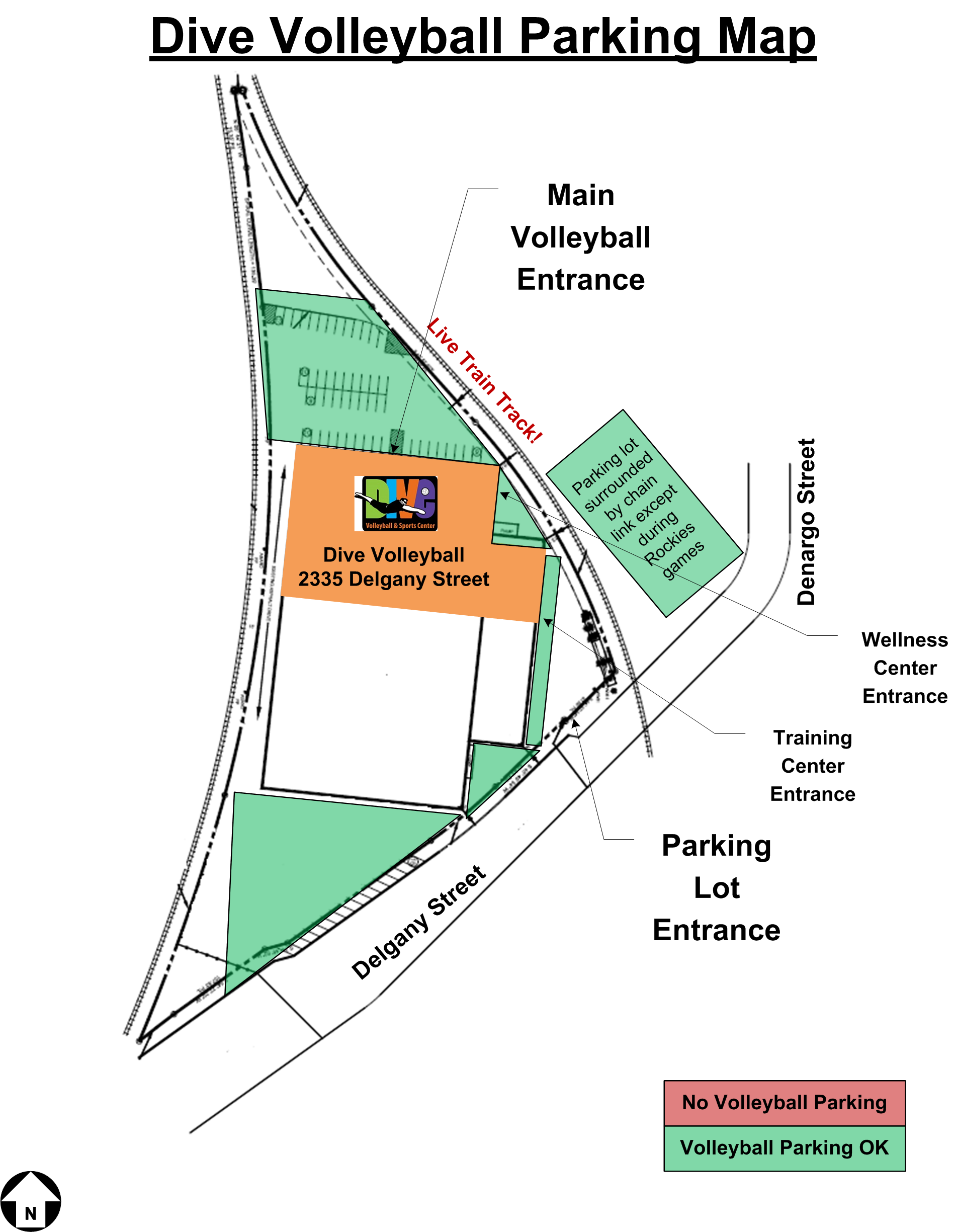 To get to Dive from I-25, take Park Avenue east to Delgany and turn left (north). From downtown, take Park Avenue west to Delgany and turn right (north). The facility is at the bottom of the ramp on the left side just before the railroad tracks

Free parking is available immediately in front of the Dive facility (to the right of the Dive entrance), in the parking lot along the right (north) side of the building, or on Delgany, as shown below . Please do NOT park in front of Delgado's or Speedy, in the driveway, or interfering with the LIVE north railroad track.


A ping pong table has been added at the front of the facility, so you'll now have something else to entertain you!

Lots of nets to jump on,....you don't have to know anyone. Net 2 has a sign up list on the judges stand to play on the court, as should the other courts. Grab a score card to keep track if the players are not keeping track of points. Stay off the courts above your level. Remember that if you don't know whom is suppose to set the ball and you are not committed to trying to have three hits per side, then you should be on the recreational nets in the right back corner. If you want to learn how to above the recreational net, ask a more skilled player (s) for pointers. If there is a empty court, we could use it for practice on whatever you what to work on.