RESERVE YOUR FREE TICKET BEFORE RSVPing.  While ticket is free--parking is $10 after 5PM.
Artist Ed Ruscha is featured in a conversation with Madeleine Brand of KCET (and formerly KPCC) and Los Angeles Times columnist Steve Lopez. Complements the exhibition In Focus: Ed Ruscha.

Harold M. Williams Auditorium, Getty Center
Edward Joseph Ruscha IV is an American artist associated with the Pop art movement. He has worked in the media of painting, printmaking, drawing, photography, and film. Ruscha lives and works in Culver City, California
In Focus: Ed Ruscha
Ed Ruscha's art is characterized by graphic simplicity, playful humor, and a keen interest in the vernacular as it applies to both language and architecture. This exhibition explores his photography, including well-known photo-based book projects.

Ruscha moved to Los Angeles in 1956 to study design at Chouinard Art Institute. Throughout a career of more than fifty years, he has produced paintings, photographs, prints, drawings, and films that often reflect on the city's vernacular architecture, urban landscape, and car culture. Photography has always been central to his artistic practice, most notably for the slender, pocket-sized volumes that he began publishing in 1963 and his extensive documentation of Los Angeles streets, beginning with Sunset Boulevard in 1965. Several of the photographs that appeared in these publications became source material for works of art that he would realize in other media, either at the same time or years later—for example, the photograph of Standard Station, Amarillo, Texas, published in Twentysix Gasoline Stations and later abstracted in a well-known painting now in the Hood Museum of Art, Dartmouth College.

The works in this show are drawn from recent acquisitions of vintage prints by the Getty Museum and of Ruscha's Streets of Los Angeles Archive by the Getty Research Institute.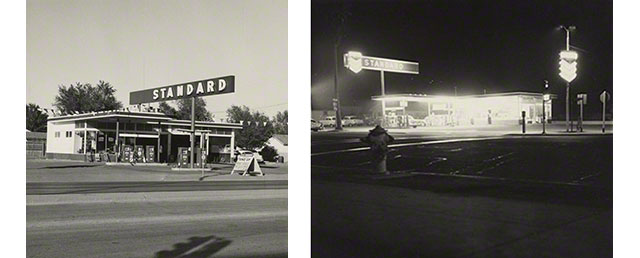 Left: Standard, Amarillo, Texas, 1962, Ed Ruscha, gelatin silver print. The J. Paul Getty Museum, 2011.54.9. © Ed Ruscha. Right: Standard, Figueroa Street, Los Angeles, 1962, Ed Ruscha, gelatin silver print. The J. Paul Getty Museum, 2011.54.13. © Ed Ruscha


See more of his work here:
https://www.google.com/search?safe=active&q=ed%20ruscha&um=1&ie=UTF-8&hl=en&tbm=isch&source=og&sa=N&tab=wi&ei=jMl2UZPVPOLE2wXi5YGQDw&biw=1366&bih=595&sei=msl2UfzkN4qw2wXJooDQCQ
The auditorium is behind and up one flight from the tram stop.  I will be at the tables right outside the entrance door. 
Tickets are free but you must reserve them here:
http://tickets.getty.edu/auto_choose_ga.asp?area=1
While ticket is free--parking is $10 after 5PM.  Use public transportation to avoid this.
Remember, attendance rules apply.
HOPE TO SEE YOU THERE!