Hi All,
We announced our third (and supposedly final) speaker last week...but we changed our mind and added a fourth for tomorrow nights FuckUp Nights May edition on Tuesday May 2nd, being presented as part of Melbourne Knowledge Week- the City of Melbourne's unique annual festival for a smart and innovative city, where the future city is bought to life, today.
Our fourth (and definitely final) speaker is Omar De Silva, CEO and Co-Founder of The Plato Project!
Get your FREE tickets here: http://mkw.melbourne.vic.gov.au/fup-nights/­Speaker 4: Omar De Silva - CEO and Co-Founder, The Plato Project
Omar has a proven track record of venture development and investment through a variety of sectors, including education, property and professional services. Most recently Omar's focus has been on education and the entrepreneurial eco-system of Australia. In 2014–15, working with education startup Ducere, Omar developed and launched Australia's first degrees in Applied Entrepreneurship and Applied Social Entrepreneurship, which gave students the chance to build their own businesses with every assignment.
In 2015 Omar became an ambassador of the G20 Global Entrepreneurship Week and in 2016 is working as a Sherpa with the G20 Australian Young Entrepreneur Alliance. Omar continues to work closely with the board of The Snowdome Foundation (a preeminent blood cancer charity), is on the senior committee of his childhood cricket club and serves as an advisor to many burgeoning start-up organisations and entrepreneurs.
Follow Omar on Twitter here: @omardesilva
Omar joins our already announced 3 speakers in Merrilee McCoy, Camilla Peffer and James Gallichio on this outstanding event, definitely one of our biggest events ever!
Speaker 3: Merrilee McCoy - Producer, Melbourne StorySLAMs | The Moth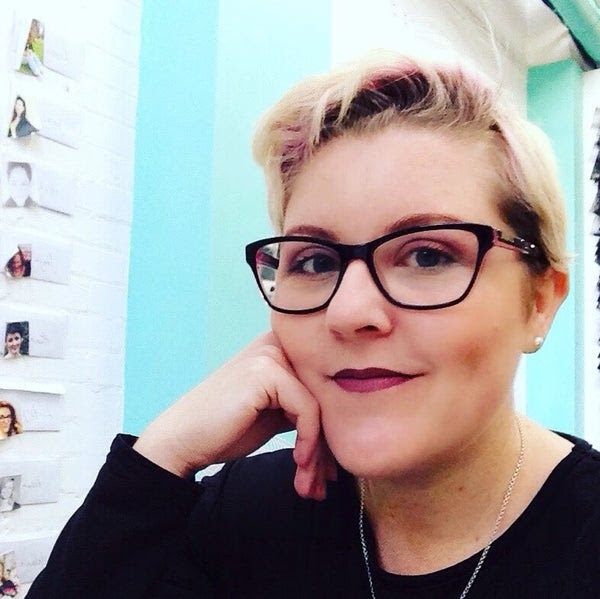 Merrilee McCoy is a 'multipotentialite' with over 10 years experience in the creative industries both on and off stage. She's trained in narrative long-form improvisation and has both performed and taught in Australia, NZ, and USA. Behind the scenes, Merrilee's worked as a producer, marketer, and administrator, and with a number of pan-artform festivals under her belt.
Merrilee's currently bringing her colourful experience:
• to produce locally for NYC's storytelling sensation The Moth,
• as General Manager for creative start up, Trash Puppets,
• and also helping people shape their stories through her own creative consultancy.
Follow Merrilee on Twitter here: @mezzamacSpeaker 2: Camilla Peffer
Camilla Peffer is the host and editor of All We Cannot Say. She has a tertiary and professional background in copywriting, marketing and journalism, and has a keen interest in psychology, sexual health, mental health and the human heart. Although a professional fashion and SEO copywriter by trade, she has found podcasting to be the ideal medium to explore modern relationships, love, sex and emotional intelligence. Through her interviews with industry experts and enthusiastic storytellers, All We Cannot Say has transformed from being a personal, mental library into a multi-channel container of meaning.
Camilla currently resides in Melbourne. Her OKCupid profile says she is 'aggressive' and 'friendly'.
Follow Camilla on Twitter here: @camillapefferSpeaker 1: James Gallichio
James has a background in psychology, and has been working to help develop businesses in fashion, tech and design since 2009.
In 2011 he co-founded a major Australian conference - that has recently been controversially featured on ABC's Q&A as well as Triple J's Hack.
From unsigned and broken contracts, to working with the wrong cofounders, to a $250,000 debt that bankrupted them, James will be telling the story of this company, and the many, many, many fuck-ups that were involved.
Follow James on Twitter here: @jvgee
At the end of each person's story, you'll have a chance to ask questions- nothing too cheeky, but feel free to dig around.You'll hear stories and advice you won't get elsewhere - and these stories will (hopefully) put you in good stead to not make the same fuckups. Attendance is free, but we do ask you to register in advance.
When
: Tuesday May 2nd, 6:00 PM - 8:00 PM
Where
: Inspire9
1/41 Stewart St, Richmond, VIC 3121
Get your FREE tickets here: http://mkw.melbourne.vic.gov.au/fup-nights/­Organised in collaboration with our partners KJR, General Assembly Melbourne and Inspire9.
Thanks all- looking forward to seeing everyone at this next huge event!
Cheers,
Josh & Garry- FuckUp Nights Melbou­rne crew
Find out more at: 
https://www.facebook.com/FUNMelb/
­
If the changes affect your plans to attend, please take a moment to update your RSVP. (You can RSVP "No" or "Yes".)
You can always get in touch with me through my
group profile
on Meetup.