Announcing a new Meetup for The Evanston Social Networking Meetup!
What: ¡Fiesta Salsa! El Barón, Jed Walker's Birthday Bash Latin Dance Party
When: August 8, 2009 7:30 PM
Price: $10.00 per person
Where:
Ballroom City
207 S. Villa Avenue, Suite 250
Villa Park, IL 60181
Meet New People! Make New Friends!

Dance to Salsa, Merengue, Bachata and Cha Cha Cha!

We are celebrating El Barón, Jed Walker's Birthday! Join us for friendship, fun, dancing and CAKE!

You will meet dancers, singles and night life enthusiasts interested in dancing from 12 groups at 7:30 pm to get acquainted.

For the beginner, enjoy a Sultry Salsa dance lesson at 8:00 pm. At 8:45 pm we will have a Blazing Bachata dance lesson. Then, at 9:30 pm we will challenge you with an intermediate Sizzling, Sultry Salsa lesson all by Official Chicago International Salsa Congress dance instructor El Barón, Jed Walker and his lovely wife, La Baronesa Narce, known as "...the most inspirational dance couple on the scene...".

Dance to Salsa, Merengue, Bachata and Cha Cha Cha from 10:00 pm until you can't dance anymore!

Special dance performance by Luciana and Merrick demonstrating their recent competition winning Bachata.

DJ CARLOS WILL BE PLAYING HIS BEST SALSA, MERENGUE, BACHATA AND CHA CHA CHA FOR US!

Door Prizes and Giveaways! We will be giving away Eddie Santiago at The Meadows Club dance concert tickets and having a prize drawing for a tanning session!

WANT NEW DANCE SHOES?
Browse and try on our huge new selection on display on the party!

Want to check out some new dance wear? We will have our entire inventory of Tosca Fashions dance wear on display and ON SALE. EVERY ITEM OF DANCE WEAR IS AT LEAST 50% OFF! MAKE AN OFFER! NO REASONABLE OFFER REFUSED. GET A NEW DANCE OUTFIT TONIGHT.

DRESS FOR PHOTOS. ALL AGES WELCOME. B.Y.O.B. NO ATHLETIC WEAR.

Walk-ins welcome but we expect this event to sell out so advance ticketing is STRONGLY ADVISED!
Online Advance Purchase Only $10.00 per person. $15.00 per person at the door. In person tickets will be available by contacting Jed Walker by email at thebaron@sultrysalsa.com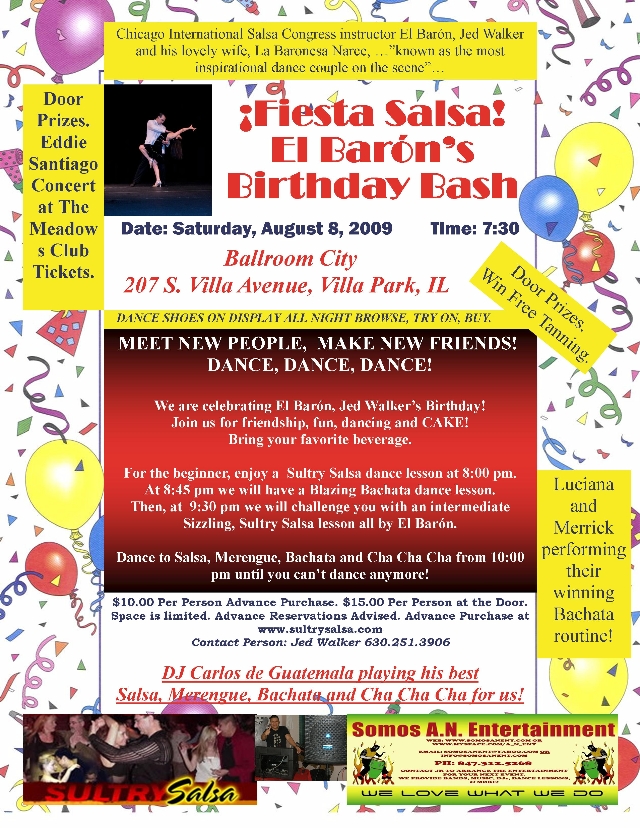 Location
Ballroom City
207 S Villa Avenue
Villa Park, Illinois 60181
630.251.3906


You DO NOT need a paypal account to pay your event fee. You may use Visa, Mastercard, American Express, Discover or an E-Check.
Click on (
Pay with PayPal
) under the price at the top of the event description. Change the amount to include any guests you are bringing with you.
Check the "I've read and understand the information above" box and click NEXT. At Don't have a PayPal account? Use your credit card or bank account and Click on "Continue" on the left side of the screen to continue without a paypal account. Fill out the form on the next page to complete your transaction.
Learn more here:
http://socialnetwork....
­