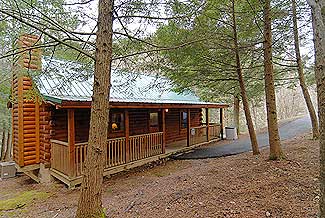 Friday October 18th 3:30 pm to Monday, October 21st 10 am
Join us at Potomac Appalachian Trail Club's recently renovated Little Cove Cabin in Pennsylvanie for 3 nights lodging and hiking or whatever.  The 160 acre property consists of a picturesque mountain valley with a stream flowing through and a ridge on either side.  Little Cove has a capacity of 10 and says it has beds for 8.  Sleeping quarters may be in one or more rooms.  The cabin includes an electric range, refrigerator, baseboard & fireplace heating, lights, microwave, water heater, indoor sink, toilet, & shower.   
COSTS: Pay your $30 immediately after you RSVP.  Go to www.paypal.com "buy" tab then "make a payment". My email  is [masked].
In the past some have quickly RSVPed but not paid.  Others then thought the event was full so did not sign up.  If you do not pay immediately after you RSVP, I will relunctantly change your RSVP to "no" so paying hikers may join.
#1 Jayne has paid and is confirmed.
#2 Jeff has paid and is confirmed.
#3 Cathy has paid and is confirmed.
#4 Ashley has paid and is confirmed.
#5 Becca has paid and is confirmed.
#6 Stella has paid and is confirmed.
#7  Maria has paid and is confirmed.
#8 Jeff has paid and is confirmed.
#9 Holly has paid and is confirmed.
#10 Ed has paid and is confirmed.
REFUNDS   are complicated.  A refund is unlikely if you change your RSVP and another hiker does not send me payment for your spot.  A small service charge is collected by Paypal.
HIKING: You are welcome to hike with me and/or create your own activities.
Tuscarora Trail
The blue blazed Tuscarora Trail, via the Hearth Trail outside our front door , is an official side-trail of the Applachian Trail  252 miles long.  It was built further west in a more wild corridor, as a speculative alternative route for the Appalachian Trail.  It was feared that development would force closure of the AT before the Federal effort to conserve that trail.  This trail will eventually become a component of the Great Eastern Trail extending from Alabama to New York.
Buchanan's Birthplace State Park
Dedicated in honor of the 15th president of the United States, this narrow, peaceful hollow is the site of James Buchanan's birthplace.  A stone pyramid monument surrounded by majestic conifers stands on the site of the original cabin where he was born.  Nestled in a gap of the Tuscarora Mountain, this 18.5 acre park offers an abundance of beauty throughout the year.
Cowen's Gap State Park
Cowans Gap State Park is a 1,085-acre park with trails which vary in difficulty from flat to very steep.  For example: Standing Stone is 72 miles of difficult hiking.  Starting near the Cowans Gap Beach Area, this trail goes north to join Greenwood Furnace State Park. Part of the Great Eastern Trail system, this trail offers beautiful vistas and a challenging experience to the seasoned hiker. This trail connects to the Mid State Trail, Tuscarora Trail and the Appalachian Trail. Lakeside Trail is a 1.5 mile very pleasant, nearly level, scenic trail encircling Cowans Gap Lake - the most popular lake in the park.
FOOD: In general meals, snacks, liquids etc. are each hiker's responsibility. 
For Friday, Oct 18th I'll bring Costco rotisserie chicken, lettuce, dressing, vegetable for all.  Since I'm not a cook, I'll probably go out to eat dinners but others may want to coordinate dinner at the cabin.
SLEEPING ARRANGEMENTS:  I suggest you bring an air mattress, sleeping bag, sheets, pillow, towel, soap and ear plugs. We will observe quiet hours from 10pm - 6am.
DRIVING:  Detailed directions will be sent to those attending.  Little Cove is about 90 minutes from the beltway up I-270. Use meet up postings or email hikers directly to form carpools.  If carpooling, please provide your driver $7 for gas to/from cabin plus $.08 a mile to/from hiking, restaurants, etc.
SAFETY: When hiking, I carry my phone, driver's license, medical insurance card, credit card, cash, headlamp, whistle, first aid items.
HIKING SHOES OR BOOTS are important.
HIKING POLES are helpful.
CAMERA: Of course!!
HUMOR: An absolute must
PETS: NOT allowed
Call[masked] (# blocked if you are not signed in to meet up) before 9pm or email [masked] with your questions.
Jayne