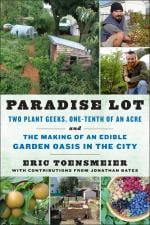 Please join us for a half-day presentation and workshop with special guest Jonathan Bates of Food Forest Farm and the Permaculture Plant Nursery in Holyoke MA.  Jonathan is a contributor to the recently published Paradise Lot by Eric Toensmeier (and many of us have met Jonathan on field trips to his place and during his visits here to Maine).  Jonathan is also the energy behind the Permaculture Plant Nursery at Food Forest Farm, helping to propagate and distribute many of the exciting edible and useful plants that permaculturists have been trialing in our region.
For this half-day session (followed by a potluck lunch and plant pickup*), Jonathan will draw from the stories of his own life and some of those relayed in the book to share how the permaculture ethics and principles go beyond the design of a landscape and how they can actually inform the design of one's life and livelihood. Prepare to come away with a renewed sense of how you might start to reconfigure your life, by design and in alignment with your permaculture principles.
Beyond that, Jonathan will dig more deeply into the nuts and bolts of how we might leverage our permaculture knowledge/plant resources into the more deliberate creation of community-based plant nurseries as part of our own livelihoods.  What are the best resources for learning plant propagation techniques?  What tools and equipment does the basic community plant nursery need? What are some options for sales, trade and distribution of plant material and what lessons has Jonathan learned along the way?  As permaculture design and implementation continue to gain ground in our region, it behooves our community to gain experience with these plants and become resources for creating edible, durable landscapes into the future.
Preliminary Itinerary
9:00 Doors open, coffee, tea, etc.
9:30 Workshop with short break halfway through
12:30 Potluck Lunch (bring a dish to share and your own potluck kit/bowl/utensils/cup/napkin)
1:00 Open Plant Pickup for anyone who pre-ordered
More about Jonathan:
Jonathan Bates owns Food Forest Farm Permaculture Nursery, a nursery specializing in educational services and useful/edible plant sales. He has been studying, creating, and working with rural and urban gardens in the Connecticut River Valley for over a decade. With a bachelor's degree in biology, and an MA in social ecology from the Institute for Social Ecology, Jonathan loves wild crafting with friends, and working with folks to better the world we live in. He cofounded and is a board member of the Apios Institute, is a teacher at the Yestermorrow Design/Build School, and is a farmer with Nuestras Raices, Inc. He lives in Holyoke, Massachusetts.
*This is will also be the plant pickup location for anyone in our group who has pre-ordered plants with Jonathan.  Delivery will be no charge as long as you can come and collect your plants on this day.  Visit the ordering page here.