GRIMM UP NORTH HOST THE MANCHESTER PREMIERE OF MANIAC STARRING ELIJAH WOOD ALONGSIDE THE UK PREMIERE OF 247°F .
READ ON TO FIND OUT HOW YOU COULD WIN THE EXCLUSIVE LIMITED EDITION MANIAC CINEMA POSTER, JUST BY COMING TO THE SCREENING!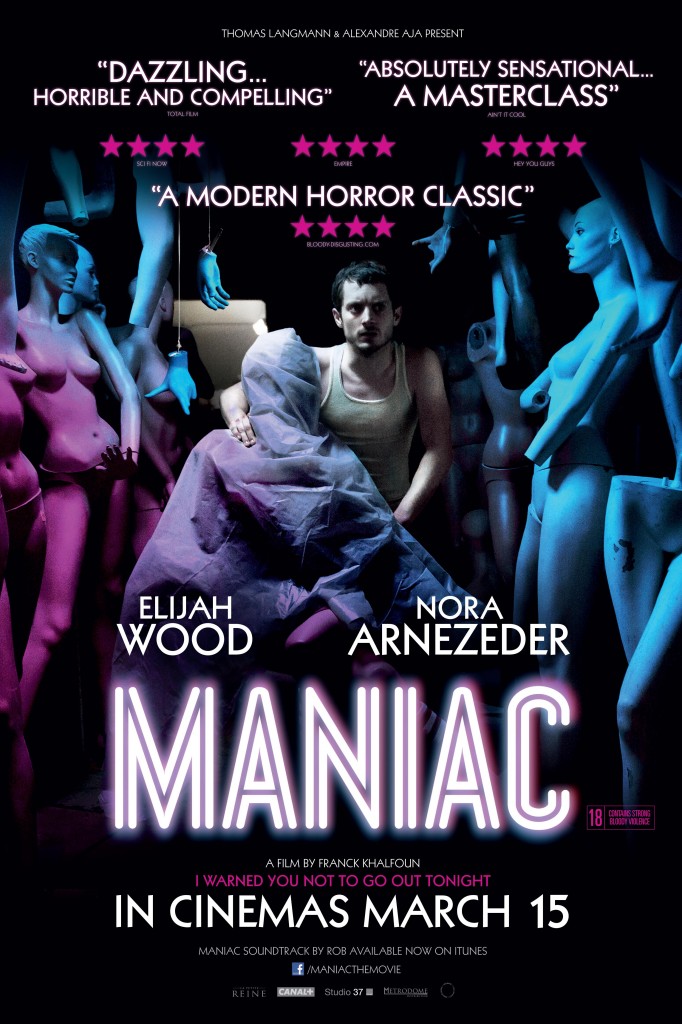 The hotly anticipated, and highly controversial, new horror movie, featuring a career-redefining performance from Lord of the Rings star Elijah Wood.
Some might think Woods' transformation from cute, wide-eyed hobbit to hateful serial killer a little hard to take, but the film has been garnering amazing reviews and festival kudos around the world.
"a modern horror classic" Bloodydisgusting.com
"a film that will challenge you, shock you, and disturb and repel you" Dreadcentral.com,
"absolutely sensational… a master-class" Aintitcoolnews, with
Starburst Magazine hail the casting of Wood as"a masterstroke" and
Dread Central praising his performance as "frighteningly real".
This is your chance to see this extraordinary film weeks before its general release.
And that's just one half of the double bill. We'll also have the UK Premiere of the blistering, claustrophobic thriller 247°F. Four young friends travel to an isolated lakeside cabin for a weekend of partying, including hot times in a sauna. Only problem is, things start to get a little too hot.
So that's two movie premieres on the same night, and for just £8 a head. Tickets are available now. The first 40 people who pre-book 2 or more tickets will get a limited edition exclusive Cinema Quad poster of MANIAC (You won't find these in the shops!), a copy of STARBURST Sci-fi and Horror Magazine and free entry to the after party at Fab Cafe.
Why not join us? Click here to get your tickets. Come along and feel the fear.