This is my favourite ride in Melbourne. It's almost all on bike trails (paved) and is an easy grade that follows rivers, creeks & former railway lines.
We will meet Flemington Bridge Railway Station 9am, at the end of the ramp on the north side next to the bike path. This station is on the Upfield line. Bikes are permitted on trains, and the train wont be crowded on Saturday. If you get there early grab a snack or $1coffee from 7eleven cnr Racecourse rd & Boundary rd.
A very scenic ride starting at Flemington Bridge Railway Station, east along Capital City trail, around the Zoo, past Royal Park station around top end of Optus Oval (former railway line parallel to park st.) Rushall station (Epping line) & past Clifton hill station (Hurstbridge & Epping line) following Merri creek under Eastern freeway & the Yarra river, past Abbotsford Covert & Collingwood Children's Farm. Over the foot bridge to corner of Burnley & Victoria St. to Victoria Gardens Shopping Centre Richmond (and brunch stop 10:30am). head along the Main Yarra trail, all the way past Birrarung Marr park, to Federation square, Flinders walk past Flinders st station & footbridge over the Yarra river, Southbank promenade, Polly Woodside sailing ship, South Wharf, north over Yarra at Webb bridge, passing Docklands marina & stadium, emerging at the Melbourne Star cnr footscray rd, going under city link via the capital city trail, past Macaulay station, along Moonee Ponds Creek, finishing at Flemington Bridge Railway Station (40 km) 3.5 hours later (12:30pm).

Here's a link to the route map I prepared.
http://i135.photobucket.com/albums/q138/AndrewB7881/BikeMapFlemmingtonRichmond.jpg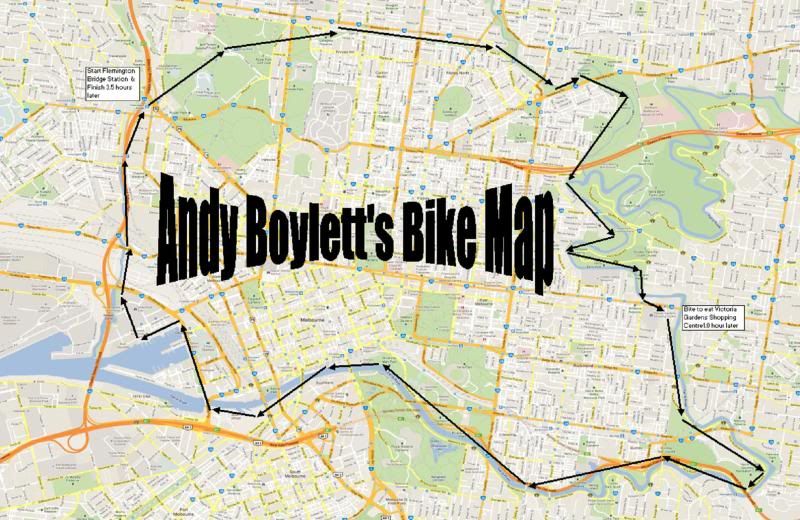 Along the way we will pass "Ikea", at Victoria Gardens Shopping Centre Richmond, which has bistro which serves a hot breakfast of bacon, sausages, hashbrowns, scrambled eggs & grilled tomato for under $3. Vegetarian options are avaiable as is pancakes, $1 hot dogs & unlimitted coffee. There's vegetarian options & pancakes. I plan on stopping there for brunch.
The entire ride should be about 3.5 hours, depending on our speed and taking into account stopping for lunch.
Ikea Bistro Victoria Gardens Shopping Centre Richmond
http://www.ikea.com/ms/en_AU/customer_service/ikea_food_service/IFS_restaurant_fruehstueck.html
Flemington Bridge Railway Station,
Racecourse Rd / Boundary Rd North Melbourne
Upfield Railway Line,
http://www.metlinkmelbourne.com.au/stop/view/19971
From city 8:34 8:54 am
To city 8:27 8:47 am
Don't forget to SMS me where I'll be meeting you & pack a spare tyre tube/ puncture repair kit
Andy[masked]
PS: I'm also encouraging anyone that would like to Co-host this ride with me on a one off or ongoing basis. Fresh faces help sporn new ideas - has anyone played bike bingo before?