830 members!
See more stats
Check out the new Meetup Video!
The Deph Chinese Dancers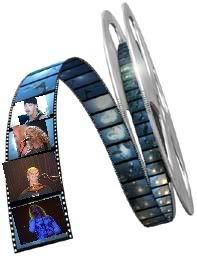 ~~This is an Official Miami Bellydance Meetup Event~~
This Meetup has been postponed.
Check back for new date!
Summer Movie FEST
Dig out your most favorite DVDs/VHS tapes
and we will vote on which one to watch for this Summer Movie Fest!
JULY 21TST | 7:30PM | JOHN MARTINS
postpond
~~This was an Official Miami Bellydance Meetup Event~~
Moms & Daughters that Dance
Thank you Karisma, Vivian and Ricky
for being our May guest speakers!
MAY 19TH | 7:30PM | JOHN MARTINS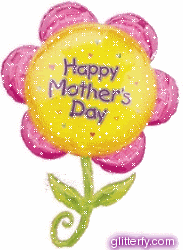 Click to Post your comments here for this Main Meetup!
~~This was an Official Miami Bellydance Meetup Event~~
GET ON THE BALL WITH ANIAS
Thank you Anias!!!!!
MARCH 18TH | 7:30PM | AT JJs DINER


VIRGINIA | TRIUMPS AND TRIBULATIONS | AND MORE!
FEBRUARY 25, 2008 | 7:30PM | AT JOHN MARTINS
Miami Bellydance Meetup would like to send out a HUGE THANK YOU to Virginia for being our February Guest Speaker! It was like being right there as she shared some amazing and helpful stories and facts. Thank you again Virginia and good luck with everything you do!!!

Thank you also to our vendors, Noora, Alexandra and Denise and to all the members that came out for a wonderful evening
Click to the photos!
Language of Life. This is why we dance!
In our obscure community, there lives a police officer and a poet, a nurse and a bohemian barista, two very different army sergeants, a tattoo artist and a mother of two?just to name a few. We are of varied age, gender, nationality, religion, social position, shape and temperament, yet there is one element that connects and unites us all: the language we choose to speak?
The Miami Bellydance January Main Meetup
TAMALYN DALLAL | JANUARY 28, 2008 @ JOHN MARTIN'S | COARL GABLES
click to see the photos now!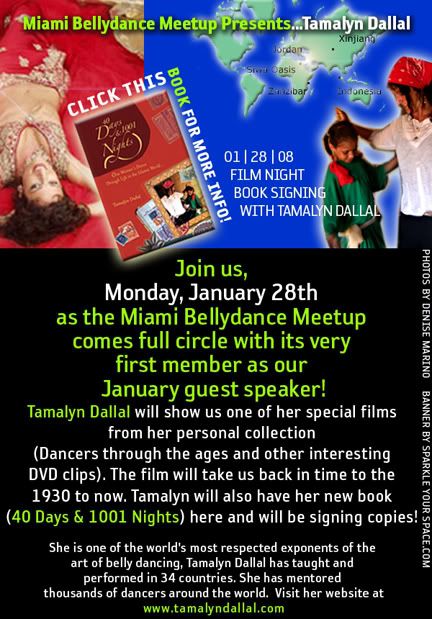 Night of the Nile Raks Carnivale video
CLICK TO see the photos
NOVEMBER 12, 2007 Thank you Denise for a great presentation
and performers: Roshana, Marilyn and Marilyns group!









Click on the gems to go to the desired page.

Pearls!
The VaultSurvival Guide for Our New Members!
Click here to find out what happened TODAY in history!
http://www.history.co...
The Miami Bellydance Meetup Presents:

SEPTEMBER 18, 2007 @ UVA | CORAL GABLES | 7:30PM

Thank you
Poonam and Babloo for
Sponsoring July's Meetup!
They also sponsored our May and June Meetups too! Thanks!
under the tent at the Meetup
July Main Meetup?
Moroccan Camel Festival
In case you missed it here is the recap!
John Martins was transformed into a mini Morocco, tent and all for our Moroccan Camel Festival!
Sitting under our tent was our guest of honor, Miami Bellydance Meetups? Mascot, Hasib! He did make it out of the tent for a little mingling and nosh.
Denise Marino put together an incredible show of camels with selections of music she has gathered through the years. She really knows how to make a camel smile!
After the movie we played the Moroccan quarter game of course with incredible prizes including henna painting by the queen of henna, Adeela!
The Moroccan quarter game heated up once members saw the beautiful henna work by Adeela!!!
We drew camels for our beloved member and 2006 Member of the year, Mamoose.
Our raffle was on fire with a donated costume by Joharah!
And lets not forget about our drum circle!
Lena, our official vender for the evening has fantastic deals including $5 purses that flew off the table!
A big thank you to all t
hat made this a great July Meetup!
For more photos go to:
http://bellydance.mee...
Don't miss a minute! Watch our short Meetup Movie!
let the movie load up, then re-play for smooth viewing
Miami Bellydance Meetup's Mini Movie Member Highlight
Genie 2006
A big thank you goes out to Babloo and Poonam
for their great presentation on Holi.
Poonam made some yummy ice cream!
Thank you Arielle for your beautiful performance!
Thank you Elias and Babloo and Poonam for vending!
Click here to see photos from this Meetup!
Meetup Sponsors
Thank you Babloo and Poonam
for sponsoring our 2007 May, June and July Meetups!
TALK ABOUT IT!
Maybe you have or have not ever celebrated Holi! Just click this link, scroll to the bottom of the page and click Add A Reply to Talk about Holi:
http://bellydance.mee...
Check out this video of Holi!
Check out this video of a classic Indian movie!

On Behalf of The Miami Bellydance Meetup Group
THANK YOU!
Simbiya
ALL THE FANTASTIC DANCERS
Venders..Jeanette and Babloo & Poonam
Elviza and Portia
Brad and Denise
Uva /Jamal and Tamara
Also, thank you to everyone that put a little something in our donation box! Tonight we earned $17. OK not too much, but it will go to our group for future fun things!
Please stop by our MySpace Page and see the carousel of photos I have added!!

http://www.myspace.co...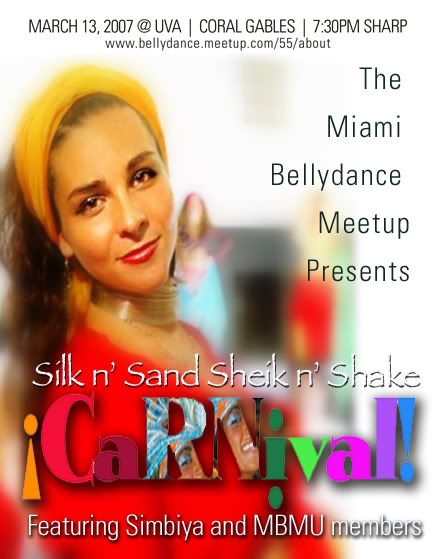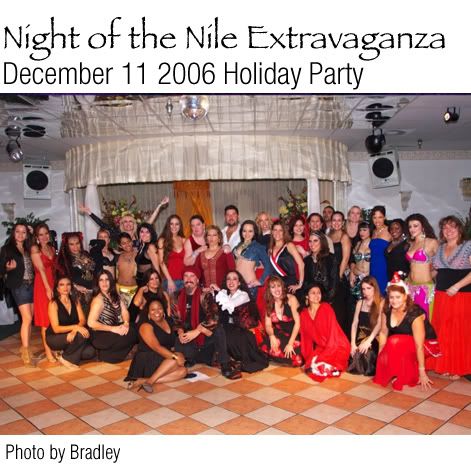 A BIG Thank You goes out to Nathalie for being our December Guest Speaker!
Thank you to our vendors Moon Light Diva, Elis and BellyMotions!!