Announcing a new Meetup for Milwaukee Company of Gamers!
What: Play Republic of Rome
When: Saturday, May 29,[masked]:00 AM
Where:
Superhawk's Game Garage
Private Location
Muskego, WI 53150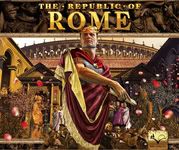 Please Note: This is an in-depth, advanced game that is scheduled to run up to 4-6 hours. Please do not sign up for this event unless you:
1. Are able to stay the duration of the game
2. Are an advanced player or have played this game before
The goal is not to create an exclusive situation, but to ensure all who play will have a good time. If you are not an experienced gamer capable of this playing game without help you will not have a good time during these 4-6 hours. Any questions regarding the above please do not hesitate to ask me.
Now that I've scared you all away.....
Prior experience with Republic of Rome is not required; Kurt will be running the game and he knows it well. If you have not played RoR before and can browse the rule before coming that would be helpful, but it isn't required. We will be playing the Valley Games edition.
There is only room for 6 but there will be a waiting list so if you see the game is full please RSVP anyways to get a spot on the waiting list. The waiting list has worked very well in the past - if someone drops off (as happens from time to time) the next person will be added to the event.
So if you've played some epic games before and would like to get your Senate on, this is your event!
The ACTION! games event is immediately after this event so sign up for that as well.
Learn more here:
http://www.meetup.com/milcog/calendar/13391478/