Announcing a new Meetup for Milwaukee Company of Gamers!
What
:
Learn Defenders of the Realm
When
: Saturday, July 31,[masked]:00 PM
Where
: Superhawk's Game Garage
Private Location Everyone says "Its a lot closer than I thought" when they arrive the first time.
Muskego, WI 53150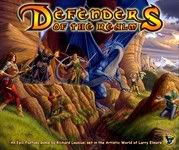 More than fantasy-Pandemic.....This is Eagle Games newest release - In fact it is not even released to the public yet! I've fully enjoyed the few plays I have on my copy so I thought this would be a good event for the meetup. This is a learning game. I expect it to take 2.5 hours or so.
This event occurs during the July Game-a-thon. If you intend to do this event you still need to RSVP to this event to save you a space even if you already RSVP'ed to the Game-a-thon. I will have a waiting list available for this so if it is full sign up for the list and if there are enough people we can do multiple runs.
If you like Pandemic you should give this a try. I find that while it is Pandemic-like, to say it is just a re-themed Pandemic is totally not true. There is a lot more going on in this game than Pandemic. Defenders is much less Euro than Pandemic and there are just more things going on with more interwoven dynamics to be concerned with. "Pandemic on steroids" fits for part of the game, but there are different things going on here than just "more of the same" going on here.
?Our Liege is in desperate hour! From what grievous cause have these accursed races arisen? Orcs, Dragons, Demons and the Dead make haste towards Monarch City. The King and Countryside of Monarch City is in need of valiant Heroes!?
Will you answer the King's call?
In the ancient Citadel of Monarch City, the King calls to arms the finest Heroes to defend against a Darkness that engulfs the land. You and your allies must embark on a journey to defend the countryside, repair the tainted lands, and defeat the four creature factions before any of them enter the City. And they approach from all sides! Fast populating Orcs! Fierce Dragons! Undead that bring Fear! And Demons! All tainting the land in their wake. There are several paths to defeat, but only one path to victory, and only the most valiant Hero will be named King's Champion.
Defenders of the Realm is a cooperative fantasy board game in which 1-4 players take a role as one of the King?s Champions (Choose from Cleric, Dwarf, Eagle Rider, Paladin, Ranger, Rogue, Sorcerer and Wizard). You, as one of the King's Heroes make use of strategy, special abilities, cooperation, card play and a little luck in Defenders of the Realm for a unique experience every adventure. But be forewarned! There is never time to rest. As each Enemy General is struck down in battle, the remaining dark forces only grow more difficult to vanquish and their march to Monarch City gets faster with each Hero victory!
RSVP to this Meetup:
http://www.milcog.com/calendar/14089928/