The Flux night meetup will start at No Mas Cantina at 7PM. If you come later or get separated from the group I suggest following #AtlArtsAndCulture on Twitter.
I've attached some great info from Bomb SheDevil on Flux.
Flux Projects presents thier annual Castleberry Hill Arts District takeover. The FREE evening stages projects neighborhood wide in streets and empty spaces. The MUST-SEE event includes building-size projections, dance, performance, music, multimedia, sound & light installations, parades, and more. Starting at 8 pm with a parade celebrating Castleberry's former red-light district, projects continue until midnight, ending with a performance and after party at Elliott Street Pub.
CLick & Download free FLUX NIGHT iPhone App
CLick here for Google map of FLUX NIGHT 2012
CLick here for Parking Marta Info
Projects or Performances Click here for FLUX NIGHT interactive list of projects/Times
Krewe of the Grateful Gluttons: Jazz Funeral for Snake Nation
Jacob Abramson + Suzette Guy: Digital Graffiti
Aphidoidea: Sound Cloud Forest
Evereman, Catlanta, Kenn Twofour & Ted Murphy: Free Art
Nicole Livieratos: Turn the Page
Stefani Byrd + Wes Eastin: TROLL
Eli Keszler:Parking Generation
Dorothy OConnor: Ceiling of Blackbirds
Emily Kempf: A Loving Universe 12am Afterparty
The art organization produces exceptional and surprising temporary public art to galvanize Atlanta's cultural curiosity. Since it's first project in February of 2010, they have commissioned 58 works that have taken place in 18 neighborhoods across Atlanta and involved over 300 artists. These diverse projects have explored the variety of public spaces within the city and engaged people during the course of their daily lives. The highlight of the organization's year is Flux Night, which like all of our projects is free to the public.

Take a detour at this delicious opening at Granite Room!
Five nationally known artists based in the south and specialize in photo manipulation, dark imagery & surrealistic portraiture.
Opening reception: FLUX NIGHT Atlanta - Oct 6
Artist's reception: Castleberry Hill Art Stroll- Oct 12
Special Thanks to Trinity Productions!
Featured Artists:
Jeffery Scott (AKA 1019) This creator's photographic images stretch boundaries and redefine standards. His photographic works are powerful juxtapositions of light and darkness.
Dividing Me Photography (Rusty James) This North Carolina based Artist specializes in dark, whimsical emotive imagery. His work is often timeless in its historical placement and ambiguous in its intention.
Thomas Dodd This Atlanta-based photographer/ digital artist blurs the line between photography and classical art. He has pioneered and popularized a method he calls "Painting with Photography". His work displayed in galleries around the world.

John Santerineross This (Athens) artist refiuses to classify or categorize himself; he prefers to let the viewer decide and define his work. He has been called "the world's leading Neo-symbolist photographer" by Germany's leading photography magazine, PROFIFOTO.

The DornBrothers (Atlanta) This brother team's conceptual and imaginative work titers towards the lighter side of imagery. Always dramatic, their portraits often seem like they were cut from a old Hollywood movie or a Far Side Cartoon.
art show teaser from john santerineross on Vimeo.
Another Castlberry Hill Gallery to Pass thru that night!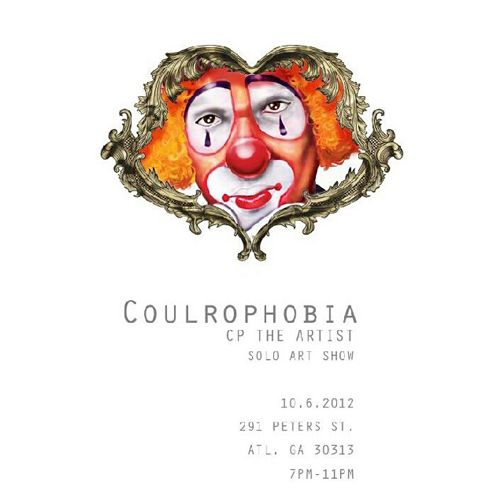 Coulrophobia, the fear of clowns, is a metaphor for the juxtaposition or being inauthentic on the outside, while insisting upon transparency from oneself and others. What lies underneath? What are we really afraid of? The pieces in this special collection symbolize "the disguises I had to wear to conform into being someone I really am not," claims CP.Coulrophobia is the fear beneath the feigned comfort in the social faces we wear.