I have managed to secure some free tickets (worth £10) for the UK première of his heart-rending classic Children of Fate, from multi-award-winning Chilean playwright Juan Radrigán.
Translated and directed by Robert Shaw, Children of Fate exposes with tenderness, humour and infinite love the devastating effects of Thatcherite ideology on the forgotten lives of millions dispossessed and brutalised by years of the Pinochet dictatorship.
Fee: The tickets are free, but the usual admin fee of £3.50 applies, to cover the costs and expenses of running the group.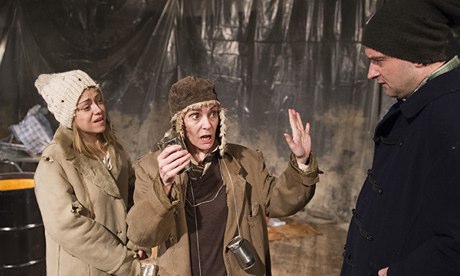 Much like Las Brutas, Radrigan's powerful play that received critical acclaim at Theatre 503 in September 2011, Children of Fate speaks not only for the marginalised and oppressed in Chile but represents communities all over the world who are struggling against the odds to survive.
Children of Fate follows in the footsteps of the Royal Court's vibrant Peckham Soap Opera, belong by Bola Agbaje and The Westbridge by Rachel De-Lahay in staging its UK premiere in London's most cutting-edge venue The Bussey Building in Peckham.
Juan Radrigán was born in Antofagasta, Chile, in January 1937. He never went to school; from a very young age he had to work. He has written 42 plays. For many years he was a textile worker and became the president of several trade unions. In 1980 he wrote his first play, Testimonio de las muertes de Sabina. His plays have been performed in communities traditionally seen as marginal, as well as in professional theatres. In October 2011 he was awarded the National Prize for the Performing Arts in Chile
this event is organised by Curious Kat's Adventure Club, so if you would like to see who else is going, please follow this link: http://www.meetup.com/Curious-Kat-Adventure-Club/events/151207572/.