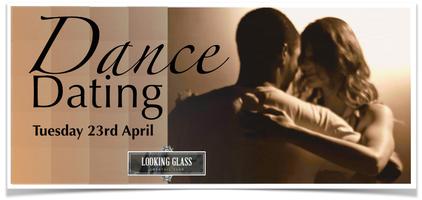 Fed up with club scenes and smoky basements but still like the idea of learning to dance and meeting some other like-minded singletons?

Come and join us for this brand new dating event to blast you into dating heaven, whilst learning some very useful dancing skills.

We start with a full hour of silly, fun, crazy, wild exercises to teach you the basics of dancing in pairs..whilst getting to know the other daters, in style.. 
No experience necessary, nothing required apart from your good selves.
We start with a full hour of silly, fun, crazy, wild exercises to teach you the basics of dancing in pairs..whilst getting to know the other daters, in style.
Price: £15
Age range limits: 20s and 30s
The evening...
Guests gather in the splendid looking glass cocktail club in East London, sneaking a quick peak at each other before being devilishly separated by their cunning hosts Andy and Julia.
At the first bell, the call is to come forward and embrace the dating platform - at the centre of the room. Nervous twitches and sheepishness apply. But not for long.
What follows are a series of structured rounds, some of which are fairly serious and some of which are really quite silly, though each with a briefing on the objectives and instructions on how the group are to be arranged.
Clear guidance ensures the lovely ladies proceed methodically around the group, undertaking a wealth of harebrained challenges, sharing thoughts and laughing ferociously, whilst learning the basics of dancing in partners in order to become better acquainted with the fine array of eligible bachelors.
By the last bell the group are no doubt a little closer. They are a tad giggly and quite clearly feel far more comfortable than they did at the start.
Each has had the chance to delve a little deeper into the others minds and they are dancing as if they have danced before, almost like pros.
The action and entertainment has been epic, and the guests are all really quite thirsty now, which is jolly good because they are assembled in a beautiful bar serving a wealth of deliciously tempting cocktails and refreshments.
FAQs
Do I need to bring a partner?
No. We make sure that there is an equal number of men and women so the important thing is to just bring yourself. Of course, if you want to come with a friend we offer a double booking discount.
Do I need to be able to dance?
No. Well actually you can dance, maybe you just dont know it. Dance Dating is aimed at people who have little or no dance experience. We create a safe environment to start realising your potential with a lot of fun thrown in.
Is it like speed dating?
Yes and no. We ensure that you get time to meet everybody at the event, but you dont need to fill in any forms, make any decisions or be under any pressure. We encourage people to stay after the event and continue chatting wtih the people you connected with.
Can I arrive late?
Im afraid not. The event is structured with various stages. You dont want to miss the warm ups!!
What if I am outside the suggested age?
Our age limits are 20s and 30s. Our age limit is 20s and 30s. If you are not within that limit you will not be allowed to take part in the event.
Who can I contact for more information?
Please send us an email to [masked] and we will get right back to you.
Host: Please note this is not a hosted event, so you will not have a dedicated host, however Julia who runs the night assured me that you will be made feel welcome and comfortable.
Please note this event is organised by Single Professionals UK and to secure your place you have to join it via this link:http://www.meetup.com/singleprofessionalsadventures/events/185439932/ . Please note that only once you RSVP and pay the paypal fee on the main site your place will be confirmed.