Register for FREE ENTRY before 10 pm here:
http://prashantkakad.com/?p=3357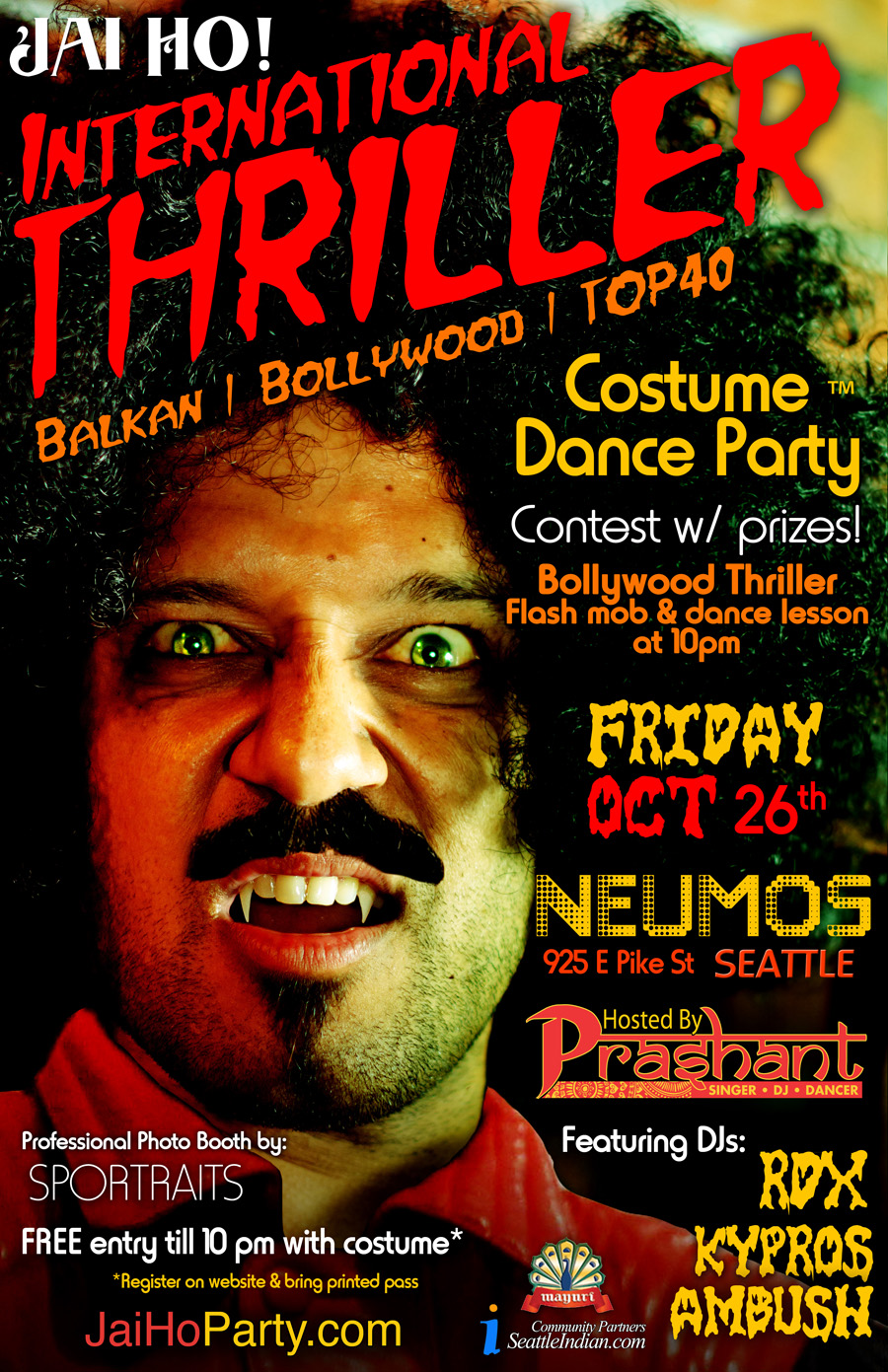 * * * * * * * * * * * * * * * * * * * * * * * * * *

After the grand success of this one of a kind Halloween dance party in Portland last year, it's time to have some wicked fun in Seattle! Bollywood Dreams Entertainment presents the biggest International Halloween dance party in Seattle:

Jai Ho! - INTERNATIONAL THRILLER
Halloween Costume Dance Party

Friday October 26th 2012

At the best sounding venue in Seattle:
NEUMOS
925 East Pike Street
Seattle, WA 98122

Hosted by celebrated Bollywood entertainer:
Prashant - Singer, Dancer, DJ

Balkan, Bollywood & Top 40 music featuring:
DJs Ambush, Kypros & RDX

Got some questions? Let's get started:
Is there a quick video that will give me a good idea of what to expect?
Absolutely! We have prepared a special promo video that is fun to watch & gives out all the details.
Watch it & share it with your friends:
http://youtu.be/YqP42dLdW9U

What is this Jai Ho! Dance Party?
Started in 2010 by Prashant, Jai Ho! is a dance party where this exuberant and charismatic entertainer performs for the audience and even leads the crowd in dance routines, all of this while he is spinning electronic Indian dance music seamlessly. It makes for an experience that is well beyond just a dance party.
With dance lessons, performances & LIVE singing, Jai Ho! is as close as you can get to being in a Bollywood musical!

That's cool, so where can I go & join the fun?
While the one time Halloween party is happening at Neumos on Friday October 26th, typically Jai Ho! kicks it every 3rd Saturday at Chop Suey in Seattle & every last Saturday at Holocene in Portland.

Ok so how is the event at Neumos different from other similar Dance Parties?
Take the best DJs in Seattle, playing International dance music on the best sounding system, a two level venue that has been transformed into a spooky Thriller set & you already have a recipe for an amazing party... But wait... we are just getting started ;)

Dress up to get in for FREE!!
We like to instigate fun for all, so we are going to make it real easy for you to party with us... On a tight budget &/or want a deal? Visit our website www.JaiHoParty.com, register for the FREE before 10PM ticket. So as long as you are:
1. Wearing a costume & are
2. At the door with printed ticket by 10 pm, your entry is on us!

Now that you have entered the party with that terrific costume, enjoy:

Professional photo booth:
We knew you are going to look your best in those costumes, so we have hired Sportraits ( http://sportraits.com/ ) so you can remember this amazing night for eternity. Our very own professional photographer Micah ( http://MicahMedia.com ) will also be taking photos all night long!

Costume Contest with prizes:
We will facilitate one of a kind costume contest to reward your creativity with some cool prizes from our local community partners. Dress to impress & win $$$!

Bollywood Thriller Flash Mob:
Always wanted to be a part of a flash mob? Join our mailing list at www.JaiHoParty.com as we will be sending "how to" videos for Prashant's Bollywood Thriller choreography, to be performed live at midnight by everyone!

Drink Specials:
Have you ever tasted a Killer Kareena, how about a Hrithik Smash or a Superhero SRK or Robot Rajni?? Come check out the crazy drink specials we have designed for you.

There's food too?!
We are happy to announce that IWantCurryNow will be serving up its irresistible desi dishes from their truck right outside the venue! Hungry now? Check out their menu and location http://iwantcurrynow.com/

* * * * * * * * * * * * * * * * * * * * * * * * * *

Awesome, I am looking forward to party, what next?
Spread the word about this amazing party, bring your friends & dance all night at the most memorable Halloween of your life!
Send your friends to www.JaiHoParty.com
Meet the DJs who will keep the party hopping ALL NIGHT LONG:
AMBUSH
In January 1991, Ambush's aspiration for music changed when his family moved to Seattle and he listened to a Friday night mix show for the first time. The DJ seamlessly mixed songs that propelled his passion for music to become the best DJ performer. The first live show that started his DJ career was that February.
In 2004 Ambush began to perform for nightclubs and large events. Through his ability to network, he was able to establish a performance with Club Bonzai. During that year, Ambush expanded his musical talent to remixing. In 2005, he produced his first remix album. During that year, he was able to grow his performance schedule to the All American Bar & Grill where he met DJ RDX. Since then Ambush has soared to great heights performing and also producing. Ambush has released a total of nine albums.
http://soundcloud.com/dj-ambush
http://www.facebook.com/bootcutking
KYPROS
DJ Kypros (aka NickPresents.com) bringing premier european & international nightlife across the pacific northwest. From Vancouver BC to Portland Oregon he will keep you dancing to the hottest euro tracks new & old.

RDX
After honing the art of spinning from the age of 15 in the Big apple, DJ RDX has been enthralling audiences in the Pacific Northwest with his own brand of Bollywood music with strong Electro-Trance influences for the past 8 years. With over 80 Bollywood parties under his belt, This is one DJ who knows how to make people dance!
PRASHANT
Celebrated as one of the most exuberant & energetic Bollywood Entertainers of North America, Prashant has moved masses, from kids to elders across both coasts of America including in New York City, Washington D.C., Bay Area, Seattle and Portland.
https://www.facebook.com/DreamPrashant/
We could not have done this without our Community Partners:
www.SeattleIndian.com
Bringing the community together!
Mayuri Family of Business
Seattle's favorite business for all things from Indian Culture