Weather permitting, ride your bike because it's easier to park. Otherwise drive/car pool.
Remember, GroupRides has very nice deals and discounts going on.
(I) First, you can get $3 off from your on-line purchase of 1-day tickets by using GroupRides code.


Discount applies ro Adult 1-Day Advanced General Admission.
Here's how : CLICK HERE.

when you see blank screen like this ....

Enter your order, then type grouprides in discount code box, then click APPLY:


Your $3 discount is deducted:
(2) Now the next deal ..... Custom Ear Plugs and Speakers
Many of you have seen Marilyn at the Int'l Moto Shows and/or at the Races. She is the earplug lady behind "PlugUP" brand name. Marilyn is a certified audiologist who knows her stuff and makes superbly comfortable and high quality ear plugs. I have been using her ear plugs for 6 years.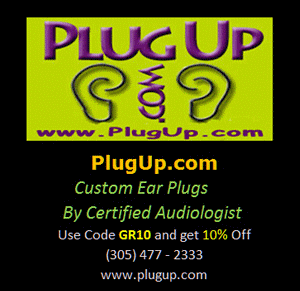 Marilyn will be at 2012 IMS in San Mateo (Nov 16-19, 2012). If you are serious about getting a custom earplug, pre order on PlugUp.com web site using discount code "GRSM" which means "GroupRides price for San Mateo IMS". You'll get a fantastic price on one the most comfortable custom earplugs or speakers there is. I own other brands as well, some costing 2x, but PlugUp makes the most comfortable custom ear plug. Believe me, when riding, a comfortable fit is everything.

Here's how to pre order:

Visit : www.plugup.com


Select the custom product you want (earplug, speaker, S Plug). Fill in order form.
When submitting your order, use code

GRSM

, see example below. Click APPLY.

That's it.




At IMS show in San Mateo, show your ID at Plugup.com booth. Get an impression of your ear. Then go and enjoy the show. You're done. Your custom earplug product will arrive in the mail. S Plugs orders can be picked up at IMS show :-)





Why pre-order? Pre orders save Marilyn processing time and paperwork during a show and because of it, she gives special incentives to have all the order processing done earlier, and NOT on the show floor. You'll save money and time as well.
Below are special pre order prices for 2012 IMS in San Mateo.
Tax is included and shipping is free for GroupRides pre orders


CUSTOM EAR PLUGS: $50



CUSTOM EAR PLUG SPEAKERS: $200


THE AWARD WINNING S PLUG: $120.
IPhone S PLUG: $135




Marylin will have S plug demos to try at the Races. The S plugs can also be upgraded to customs at any time. The wires are reused and a credit is applied towards the upgrade.

Not sure about getting a custom ear plug right now? Go ahead and get an impression of your ear. It's free. You'll have 5 fives years to place an order.

Web Site and Info: www.plugup.com