Back by Popular Demand
KICKING OFF THE HOLIDAY WEEKEND WITH A BANG!!!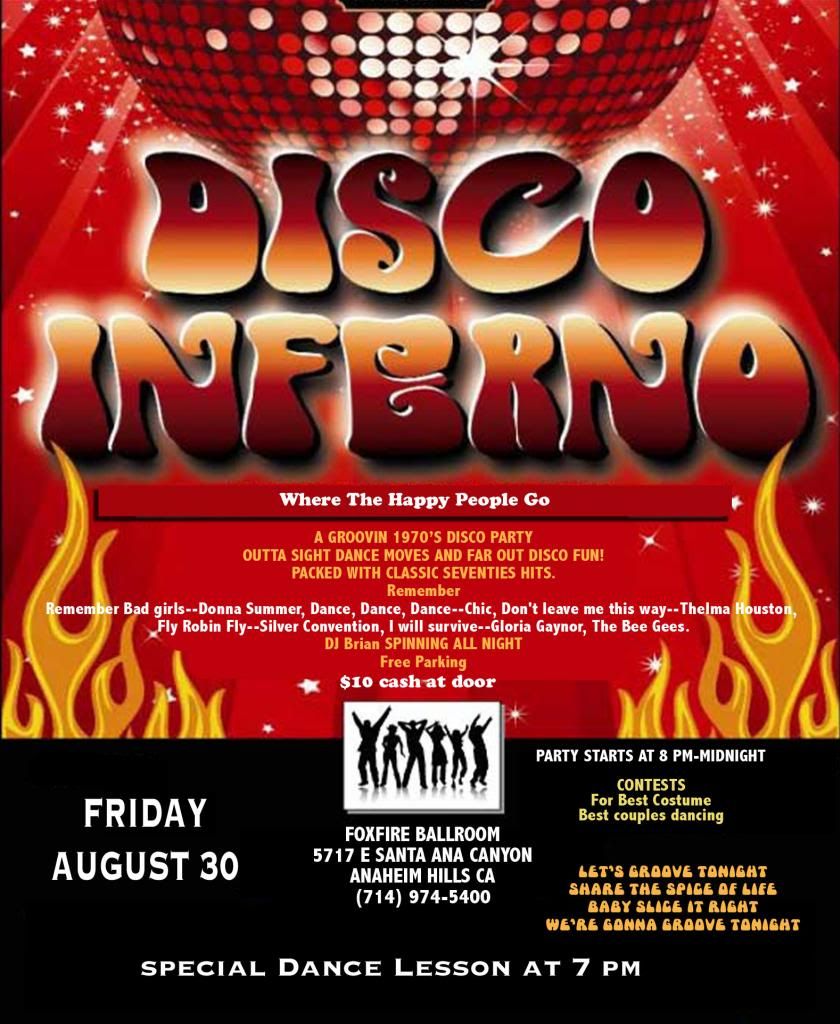 We are going on a journey and back in time.  Setting is the Space Odyssey Club,[masked]th St., Bay Ridge, Brooklyn, NY, it's 1977.  Wear your disco favorite clothes to get into character.  We will have a constume contest for best disco outfit.  Also bring your moves for the best couples dancers. We are with our tribe in the neighborhood.
Saturday Night Fever is a 1977 American dance film directed by John Badham and starring John Travolta as Tony Manero, an immature young man whose weekends are spent visiting a local Brooklyn discothèque; Karen Lynn Gorney as his dance partner and eventual friend; and Donna Pescow as Tony's former dance partner and would-be girlfriend. While in the disco, Tony is the king. His care-free youth and weekend dancing help him to temporarily forget the reality of his life: a dead-end job, clashes with his unsupportive and squabbling parents, racial tensions in the local community, and his associations with a gang of macho friends.
Movie clip from Saturday Night Fever
http://www.youtube.com/watch?v=sT2daisxdvA&list=FLwjqY6yQlbE5xd8ueFd88bQ&index=1 
Disco Attire is appreciated.  Think late 70's early 80's.
Dance lesson 7-8p
 Dance Contest  930p
Free Parking
DJ BRIAN rockin' the house
MY LAST DISCO PARTY VIDEO.  We had so much fun, remember?
http://www.youtube.com/watch?feature=player_embedded&v=FciX_7dz7Es 
Think Disco, wear something light weight and dancing shoes because  you will be dancing all night.  Brush up on your swing, hustle, partner dancin g, limber up those hips and get those legs ready, we are going to party.No jeans, please. Think Farrah Fawcett hair, shiny clothes, platform dance heels, mini skirts, bell bottom pants. 
http://www.ehow.com/video_4757625_what-wear...
Place:
Space Odyssey 2001 Club
802 64th St. Bay Ridge, Brooklyn, NY
When Pete Pedone was a top dee-jay back in the late 70s, when the music was at its peak, he was the main-man-with-the-aqua-green-van, the disco dude who got 400 phone numbers in the single calendar year of 1979. The world belonged to him and he was unstoppable, sauve, smooth-talking and he had a steady gig mixing wax and 8-tracks for Brooklyn's hottest clubs. He was on fire, he was a supernova and the future was so bright it hurt to stare into it.
Pete Pedone used to see Tony Manero around. They ran the same circles. Manero wasn't much, a scrawny guy who kept mostly to himself in the corners of club Space Odyssey 2001, nothing like the macho dance floor Casanova played by John Travolta in the movie "Saturday Night Fever." The real Tony Manero drank tequila sunrises.  Everybody drank tequila sunrises. That was the style in Brooklyn 1977. Sure, Manero could dance, he was the Godfather of Bay Ridge. Every guy was  wearing polyester pants as tight as a prophylactic and took the joint over, directing the dancing like a traffic cop. 
The Brooklyn night clubs were a neighborhood thing, a place among friends. You came with your tribe but you were only in competition with yourself: how well you could dress, how smooth you could dance, how sweet you could talk. Everybody knew each other. Anything outside the neighborhood wasn't Brooklyn anyhow, not to the Italians.
Everybody has a chance at the disco. It's a place of alcohol and dim lights, a fantasy land of sex and make believe where the clock stands still and responsibilites don't exist. In the disco Pete Pedone is still a heart throb frozen in time. There are no warts, no pumpkins. Everything is possible. 
                   ANOTHER CLIP FROM THE MOVIE TO GET YOU IN THE MOOD! 
http://www.youtube.com/watch?v=Cvl0iKbdV6A&list=FLwjqY6yQlbE5xd8ueFd88bQ 
Love Disco!!!  Save the Date. 
Disco was my favorite.  So I wanted to share this important time of dance with you.
Dress Code is always UPscale Casual (Classy in otherwords)
No baggy clothes
No athletic sports apparel
No flip flops
No baseball style caps
No T-shirts, tank tops
No shirts without collars or sleeves