This group has more opera events than any other Meetup of its kind.


Contrary to popular misconception, opera isn't stuffy or snobbish, and most people who attend it are anything but those things.

Today's opera singers are not only not the fat and/or high-maintenance divos and divas of cliche. Many are very attractive and are also excellent actors. This has been true for several decades. See the video below of Placido Domingo:




SCROLL DOWN TO READ ABOUT US / FAQ
Welcome, opera lovers!
Meet with other people in the New York area who enjoy attending the opera, vocal/choral performances or the symphony, and having fun together while making new friends. Join other local opera enthusiasts for social gatherings, to attend opera performances or cultural events together, to share information on our message board, and to learn more about this fascinating art, like..... did you know it has its roots in the ancient world?
OUR GOAL
Our ultimate goal is to make younger generations more familiar and enthusiastic about the Opera and Vocal music world. This is so needed today, so this group is open to members of all ages and all levels of experience. We are not just a group "to go to the Met Opera together", we do have a variety of events related to Opera/vocals and Classical Music and some are entirely social to get together.
WANT US TO MAKE AN EVENT FOR YOUR CONCERT?
Please read --->
HERE
DO I NEED TO KNOW ABOUT OPERA TO JOIN THIS GROUP OR ATTEND EVENTS?
No, you don´t! Whether you are a complete beginner or an opera expert, you are very welcome to join us and become part of this fantastic group of people. We are a friendly group who get together regularly and share the same passion. If you are a beginner, you might like to take a look at a short article on Opera
HERE
.
We currently are planning events for beginners in the art of opera! Watch these pages for more news and keep your e-mail notifications on.
IS IT EXPENSIVE TO GO TO THE OPERA?
It doesn't have to be.
Tickets to opera performances don´t have to be expensive at all: there are many seats for Met Opera performances sold for $20 and $25 and they are easy to get
as long as you buy them in advance.
It is also recommended that you purchase tickets in advance for smaller opera companies. which this group is committed to supporting and with whom we often have discount ticket privileges.
For most of our events,
you take care of purchasing and picking up your own ticket in any section you want
, we meet before the performance for either dinner or a drink, and during the intermissions at a meeting point.
Please carefully read each event description and you will know how the event you attend works.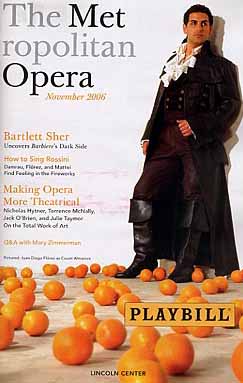 HOW MUCH DOES IT COST TO BE A MEMBER?
There is a 30-day trial membership period for new members. To support event organization, promoting our group, and covering meetup.com monthly fees, we kindly ask you for annual dues in the amount of $25 or quarterly dues of $10. We really appreciate and need your support to continue creating great events for you.
HOW DO WE ATTEND OPERA TOGETHER/HOW DOES THIS WORK?FOR ALL MET PERFORMANCES, YOU BUY YOUR OWN TICKET.
Event dates are always announced to all members very early in the season, when tickets of all prices are available. If you don´t buy tickets early, you might not find cheaper tickets when we get closer to a particular performance.
For most opera events, we try to get together at a restaurant for a light pre-opera brunch, cocktails, or dinner, and we go together to the opera.
As everyone has a different seat preference and budget, you buy and take care of getting your own ticket directly from the Opera house, anywhere you want.
During intermissions, we get together inside the opera house at a meeting point clearly specified in each event description webpage. Unfortunately, the Metropolitan Opera does not offer, by policy, any kind of group discounts with terms that work for us. For some rare concerts/recitals, we might buy tickets for the group and offer you to pay us online through a link in the event page, but this is rare. Some non-performance events might require payment via PayPal to attend, please be aware of this.
WE STRONGLY
recommend you get a free PayPal.com account or be familiar with paying online using a credit card, this is important in any internet-based community like us.
IMPORTANT NOTES:
-
RSVPs:
Your RSVP as YES for an event
does not
reserve a spot for you for an event, or a ticket for the opera - YOU MUST TAKE CARE OF BUYING AND GETTING YOUR OWN TICKET. RSVP as YES just tells the organizer and your fellow members you plan to attend - Only purchasing your ticket from the opera house will guarantee you a seat.
-
Additionally, if you RSVP "Yes" for an event with limited space or available discount tickets, please purchase the tickets quickly, preferably before clicking the "Yes" button. If you do not do so and there is a waiting list this is not fair to members on it. If you realize you won't be attending the event for any reason, please change your "Yes" to a "No" prior to the deadline so someone from the waiting list has a chance.
It is also highly recommended that if you discover you will not be attending an event for any reason that you change your RSVP so the host(s) will know how many people to expect.
- EVENT RATINGS:
After an event, you will receive an email giving you the chance to rate it. Event ratings should NEVER be related to quality, liking or disliking of a particular performance but to event organization and organizer´s work. This is, event ratings at meetup.com rate meetup events (organizer´s work) and
NOT
the Met Opera production, the singers or any other performance/s qualities.
- LIABILITIES:
Each person attend events at his or her own risk. We are not responsible for any losses of property, any injuries or any form of damage that would affect you or your property during an event. Attending an event means you clearly understand you can not make organizer/s or the group liable for anything.
Minimum age to open a meetup.com account is 18 years old.
Hence, you can not be a member of any meetup group if you are under 18.
Marian Anderson, the first Black soloist at the Met
WHAT OTHER KIND OF EVENTS/ACTIVITIES DOES THIS GROUP DO?
Our events include not only regularly attending opera performances, but also entirely social events such as dinners to get the chance to meet people with who share the same interest. We also attend recitals, choral music concerts, lectures, museums and other cultural events related to our topic.
SHARE OPERA INFORMATION - DISCUSS OPERA - FIND OTHERS TO ATTEND OPERA PERFORMANCES WITH YOU!

We have a message board and you are encouraged to post and share information about upcoming performances and concerts, ticket discounts and promotions, discuss about opera and, of course, find others who would like to join you for a particular performance you want to attend and is not a group event!
On the Rush Ticket page or an event page you can also offer on sale a ticket you are not going to use. Please check the page covering this procedure, as the message board is not the best means to display such offers.
You will definitely have a lot of fun with us; please join us for our next event!
Sheila, Nestor, Steve, Milton
Leadership Team
And now for a beautiful clip of James Morris as Wotan and the late Hildegarde Behrens in the farewell scene from
Die Walkure: