This class is offered on an ongoing basis. Registration is currently open for May 26, with 2 spots remaining available.Intro to Studio Photo Shooting
D. M. Gremlin Studios, Long Beach CA
Thurs May 26, 2011 ~~ 7-10pm
Registration by advance payment of $60 class fee; limited to four participants
Please email studio@dm-gremlin.com or call 866-334-4364 for further information or to register.
Before you can get creative in the studio environment, you'll need to have a basic comfort level with the lighting and equipment you'll be using to shape your shots. This class is designed to meet that goal, whether you're coming into the studio just starting in photography, or having previous experience shooting outdoors/in available light.
The classes will be presented/demonstrated using D. M. Gremlin Studios' complement of AlienBees strobe lights and Pocket Wizard wireless transceivers. However, the information covered applies to a wide range of studio lighting equipment, whether you're shooting here or elsewhere.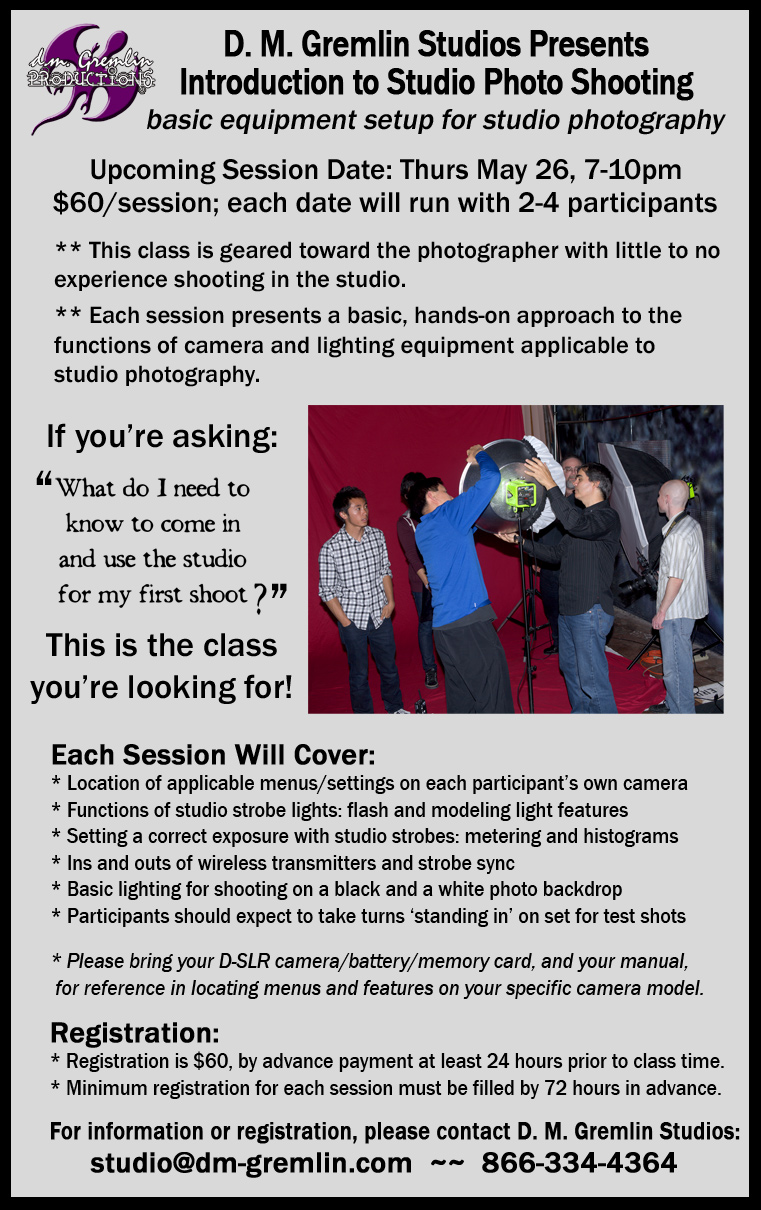 Edited by wynnesome on May 18, 2011 2:49 PM
One spot paid/confirmed, one spot pending payment for this session.

Two spots are now confirmed for this session, with a third spot spoken for and pending payment. That leaves just one spot un-spoken for.

New session date will be announced either when this class fills up, or right after the class runs.

Class went great last night, and the new date is set for June 28. Now posted to its own thread!