Hi Folks: I thought we should have a thread for people to share recent work. It can be images for critique, and if you want other people's thoughts on the image, feel free to mention that. Otherwise, just ignore what people have to say! We'll give it a try and see how it works. Here's a recent cell phone image to start things off.
Approaching Storm
by
wolfnowl
, on Flickr
Now, as to how to post images in a thread here, it depends on where they are. The images have to be posted online, either in a gallery here in the meetup group, or on a site like 500px, Flickr, etc. At the top of the compose window for your reply there's a little picture icon (to the left of the Happy Face)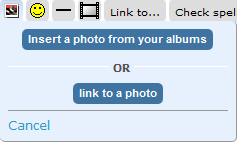 When you click on that, if your image is in a gallery here, you click on "Insert a photo from your albums", select the gallery and the image you want, and you're good. If your image is on a site like 500px, go to the image page (in a separate tab) and copy the URL, then come back here, click on where it says "Link to a photo" and paste the URL where it says "Image URL" in the little box.
If your image is on Flickr, things are a bit different. You go to the image page, but if you simply copy the URL then it won't display the image. Go to the Flickr page that has the image and click on where it says 'Share'
Click on 'Grab the HTML/BBCode', and at the bottom, click on BBCode rather than HTML. Choose a size (medium is probably fine for here), and then click in the box with all of the funny looking code. When you click there, the entire box of text will be selected, so simply copy it, then come back here. You don't have to click on the little image icon, just paste the code directly into the reply window. You're done! Now, the Meetup won't allow you to JUST post an image link so you'll actually have to add some text as well.
Looking forward to seeing your work!
Mike.