Only 20 free tickets remaining! Register here before they're all gone: http://startupsuncensored41-eorg.eventbrite.com/
This month's Startups Uncensored will be a fireside chat with Return Path  Co- Founder & CEO, Matt Blumberg hosted by Docstoc CEO, Jason Nazar.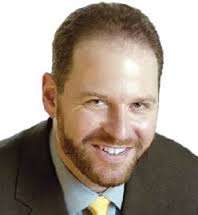 Matt Blumberg founded Return Path in 1999 because he believed the world needed email to work better. Matt is passionate about enhancing the online relationship between email subscribers and marketers so that both sides of the equation benefit. It is with great pride that he has watched this initial creation grow to a company of more than 325 employees with the market leading brand, innovative products, and the email industry's most renowned experts.
Before Return Path, Matt ran marketing, product management, and the internet group for MovieFone, Inc. (later acquired by AOL). Prior to that he served as an associate with private equity firm General Atlantic Partners and was a consultant with Mercer Management Consulting. He holds a B.A. from Princeton University.
SPONSORS
Startups Uncensored is sponsored by Cornerstone OnDemand (best cloud-based talent management),Grandpoint Capital Inc. (best business bank), TriNet (best HR & employee benefits), and Moxie Group (Best PR firm),                                                                 [img src="https://evbdn.eventbrite.com/s3-s3/eventlogos/423161/moxiepr.htm.jpg" alt="" width="100" height="43" >         [img src="https://evbdn.eventbrite.com/s3-s3/eventlogos/423161/trinetlogo.jpg" alt="" width="125" height="64">            
PAST STARTUPS UNCENSORED EVENTS:  
#40 - Fireside Chat with Cornerstone OnDemand CEO, Adam Miller
http://premium.docstoc.com/video/160926077/Startups-Uncensored-40-With-Adam-Miller-CEO-Cornerstone-OnDemand
#39 - Fireside Chat with Get Satisfaction CEO, Wendy Lea
http://premium.docstoc.com/article/160129903/Chat-with-Wendy-Lea-CEO-of-Get-Satisfaction-Video-and-Top-Takeaways
#38 - Fireside Chat with oDesk CEO, Gary Swart
http://premium.docstoc.com/article/159555792/oDesk-CEO-Gary-Swart-Fireside-Chat-Video-and-Top-Takeaways
#37 - Firside Chat with Venture Hacks and Angellist co-founder Babak Nivi
http://premium.docstoc.com/article/158573728/Fireside-Chat-with-AngelList-and-VentureHacks-co-founder-Babak-Nivi
#36 - Fireside Chat with SurveyMonkey CEO, Dave Goldberg
http://premium.docstoc.com/article/154272260/SurveyMonkey-CEO-Dave-Goldberg-Fireside-Chat-Video-and-Top-Takeaways
#35 - Fireside Chat with 99deisngs CEO, Patrick Llewellyn
http://premium.docstoc.com/video/150231561/Fireside-Chat-w-99designs-CEO-Patrick-Llewellyn---Startups-Uncensored-35
#34 - Fireside Chat with Box CEO, Aaron Levie
http://premium.docstoc.com/video/147036111/Aaron-Levie---Startups-Uncensored-34
#33 - Fireside Chat with LA Council member Eric Garcetti
http://www.docstoc.com/video/142997129/eric-garcetti---startups-uncensored-33 
#32 - Fireside Chat with Kara Swisher of All Things D
http://premium.docstoc.com/video/136081197/Fireside-Chat-with-All-Things-D-Co-Executive-Editor-Kara-Swisher
#31 - Fireside Chat with Venture Capitalist David Hornik of August Capital
http://www.docstoc.com/video/133652518/fireside-chat-with-david-hornik-startups-uncensored-31
#30 - Fireside Chat with Seach Engine Land Editor-in-Chief, Danny Sullivan
http://premium.docstoc.com/video/132769269/Fireside-Chat-with-Danny-Sullivan-Startups-Uncensored-30
#29 - Fireside Chat with EventBrite Co-Founders Kevin & Julia Hartz
http://www.docstoc.com/video/130970187/fireside-chat-with-eventbrite-co-founders-kevin-and-julia-hartz-startups-uncensored-29
#28 Fireside Chat with Startup America CEO, Scott Case 
http://www.docstoc.com/video/131935145/scott-case-founder-of-startup-america-startups-uncensored-28
#27 - Mastering Public Speaking with Comedian Ben Gleib
http://www.docstoc.com/video/125732685/mastering-public-speaking---startups-uncensored-27
#26 - How To Pitch Investors with BeachMint Founders Josh Berman and Diego Berdakin
http://www.docstoc.com/video/121374150/pitching-to-investors---startups-uncensored-26
#25 - 10 Strategies for Startup Success with @JasonNazar
http://www.docstoc.com/video/118889124/10-strategies-for-startup-success
#24 - Advanced Affiliate Marketing with ShoeMoney
http://www.docstoc.com/video/113407954/advanced-affiliate-marketing-with-shoemoney---startups-uncensored-24
#23 - Fireside Chat with Michael Arrington
http://www.docstoc.com/video/108525187/startups-uncensored-23-with-michael-arrington
#22 - Building Bigger Businesses the Second TIme Around
http://www.docstoc.com/video/116754891/startups-uncensored-22---building-bigger-businesses-the-second-time-around
#21 - How to Build a Great Internet Company
http://www.docstoc.com/video/116755398/startups-uncensored-21-how-to-build-a-great-internet-company
#20 - Online Subscription Businesses 
http://www.jasonnazar.com/2011/02/15/online-subscription-businesses-startups-uncensored-20/