Join us for the
6th Digital Workshop
& Photo Contest
at Scuba Club Cozumel
Sun, Aug 10 - Fri, Aug 15, 2008 The workshop is FREE to all guests of Scuba Club Cozumel this week. The rest of you will be able to watch from the
SCUBA CLUB WEBCAM! No camera is too big or too small! You'll also learn all about how to improve your underwater photography by shooting better and improving on what you've captured by using Adobe Photoshop. Your instructor and host is Bonnie Pelnar, author of "The Digital Workflow for Underwater Photographers", part of a series of courses available at
www.TheUnderwaterPhotographer.com. Bonnie has made 30 trips to Cozumel and she knows where and how to find the best Cozumel has to offer and can show you how to capture it with your camera. In addition to the presentations, slide shows and seminars, Bonnie will be available to dive with you each day. This year we will set up a special photographer's boat, so if you wish to dive with the rest of the shooters, you are welcome to come along.


INON America has join in the fun and will be providing a variety of INON strobes and lenses that will be available for your use during this workshop. This year H2O Photo Pros will also be joining us and will be offering demo cameras from Olympus and Light & Motion.
Please contact Bonnie well ahead of time so we can be sure to bring along the correct adapters for your housing! This is another great opportunity to try new products and accessories before buying! With the addition of an external strobe to your digital housing, you'll get GREAT SHOTS!

On August 16th there will be a full moon over Cozumel!!
We'll be staying on for a couple of extra days to do a legendary full moon night dive on Saturday, followed by an even more legendary full moon Cozumel margarita party.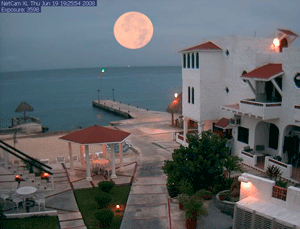 The above picture is a Photoshop stimulation! Check out our photo galleries for pictures from previous workshop in
February
,
August
2007, and
March 2008!
For a more information and a complete schedule of events and presentations please visit
the Scuba Club Cozumel website.
Slideshow from our Workshop at Scuba Club Cozumel - Mar. 08

Cost:
$1039 per person in a single room $835 per person double occupancy $785 per person triple occupancy (two double beds + couch bed)
included:
5-day photo workshop seven nights accommodation five days of two tank morning boat dives breakfast, lunch and dinner daily tanks, weights & weight belt private locker to store your gear (bring your own lock) unlimited shore diving
not included:
all beverages, Mexican sales tax, airport transfers, gratuities, airfare
extra nights:
$120 per person in a single room $145 per person double occupancy $110 per person triple occupancy
extra dives:
two tank boat dive: $60 per person one tank night boat dive: $45 per person two tank twilight boat dive: $65 per person one tank wreck dive: $45 per person Airlines that fly directly into Cozumel are Continental, American, Mexicana, Delta, Aeromexico, US Airways, Northwest and United. It just depends on where you're coming from. If you need an agent to book this workshop for you and airfare call Donna at South Pacific Island Travel at[masked]-4846.
PLEASE NOTE: YOU MUST CONTACT SCUBA CLUB COZUMEL OR SOUTH PACIFIC ISLAND TRAVEL TO BOOK YOUR ROOM. PRICES SUBJECT QUOTED HERE ARE SUBJECT TO CHANGE.
Also, you do need a passport to get into Mexico.