NOVEMBER 15?
.
Sent from my ASUS Pad
Gail Fuller <[address removed]> wrote:
Hi There,
Come and join us at our Singles Snowflake Dance at Nuchie's in Bristol on Friday, November 15 from 8 pm to 12 am.  Dance to the music of our live band "The Instigators", dress to impress.  This will be a great dance for you and your friends to enjoy.   There will be a delicious buffet from 8 to 9 pm.  I am including a discount coupon at the bottom of this email for you and a friend.  The admission is $17 and the coupon will get each of you in for $15.  If you are a dues paying member, the admission is only $12.  If you have any questions, please call me at[masked].
See you at the dance, Gail
*****************************************************************************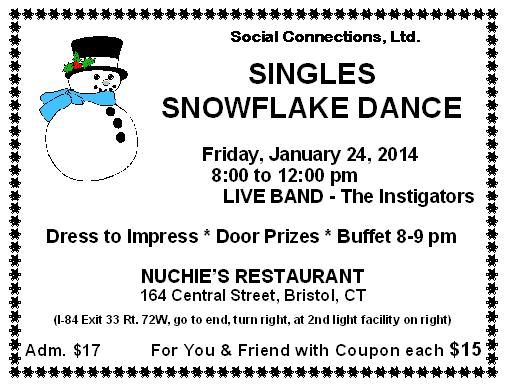 --
Please Note: If you hit "
REPLY
", your message will be sent to
everyone
on this mailing list ([address removed])
This message was sent by Gail Fuller ([address removed]) from
Singles Social Connections
.
To learn more about Gail Fuller, visit his/her
member profile
To report this message or block the sender, please
click here
To unsubscribe from special announcements from your Organizer(s),
click here
Meetup, POB 4668 #37895 NY NY USA 10163
| [address removed]