HAN SOLO: Bespin Outfit
Custom Action Figure and Photo by Roberto Williams
PROBLEM:
I actually felt (and still do) that the Vintage Kenner Bespin Han Solo (1980) had a terrific general shape and build that I liked very much. Obviously, the facial likeness of that old vintage Han Solo was unacceptable by today's standards, so a modern face sculpt was definitely needed. In contrast, the POTF II Han Bespin (both versions) (1996) were overly bulky with a strange face sculpt. POTJ Han Bespin Capture (2000) was a VERY nice figure with some nice added articulation. However it was just NOT neutral enough in its posing for my taste. I mean, even his jacket has a pre-posed sculpt, with a strange, bulging "hump-back" design!
GOAL:
It took a LOT of experimentation to come up with the final recipe that I used to create HAN SOLO in his Bespin Outfit. Of course, my goal with this figure was to reflect the cocky, cynical demeanor of the scoundrel star pilot who reluctantly joins the Rebel Alliance. Also, he had to be correctly scaled in relation to the rest of the STAR WARS action figures in my collection (including other Customs).
"You like me because I'm a scoundrel. There aren't enough scoundrels in your life."
RECIPIE:
1) POTJ Han Solo Death Star Escape: (Head, Pelvis (with slight re-sculpt in crotch) )
2) POTJ Han Solo Bespin Capture: (White shirt torso)
3) Vintage Kenner Han Solo Bespin: (Arms, Legs, Torso (hollowed-out jacket only)
4) POTF II Comm Tech Han Solo: (Left hand)
5) POTJ Rebel Trooper: (Right hand)
6) SAGA Han Solo Hoth Rescue: Holster and gun belt, Blaster pistol, Lightsaber hilt (as cylinder detail on gun belt)
7) "Chrome" paper from a "plated" letter on a magazine cover (Used to create Chrome belt buckle)
8) Brown Satin Ribbon-Fine (Used to create holster leg strap)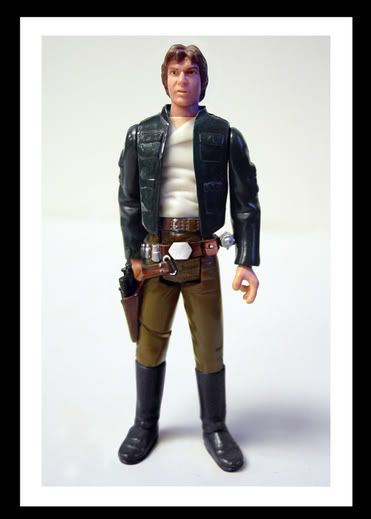 ***UPDATE***
I have slowly been updating most of my custom STAR WARS Action Figures to be Super-Articulated in keeping with Hasbro's improved articulations.
Han Solo in Bespin Outfit is one such figure whose upgrade has been completed, but I do not yet have an actual photo of him. Last month, when I was in the planning stages of this figure, I used Photoshop to map out the body parts I planned to use to ensure that they were compatible.
As luck would have it, my finished figure turned out EXACTLY like my previsualization:
Here's the recipie:
1) HEAD: POTJ Han Solo "Death Star Escape" (hollowed out for ball joint articulation)
2) NECK: SAGA I Captain Antilles
3) TORSO: SAGA II Han Solo: Pit of Carkoon
4) PELVIS / HIPS/ UPPER LEGS: SAGA II Han Solo: Pit of Carkoon. Note the crotch on the pelvis is "filled out" a bit with sculpey to get rid of an un-sightly "gap" inherent in the sculpt.
5) KNEES ARTICULATION: VSC Endor Han Solo
6) BOOTS: EVOLUTIONS Count Dooku
7) BLUE JACKET: Vintage Kenner Bespin Han Solo (Torso hollowed-out to leave jacket only. Overly simple pockets sanded away)
8) JACKET POCKETS: TAC Han Solo Bespin Torture
9) ARMS: TAC Torture Rack Han Solo
10) RIGHT HAND: POTJ Rebel Trooper
11) GUN BELT / HOLSTER: (pictured) VOTC Han Solo. However the final custom figure wears the original gun belt and holster that I fashioned from the SAGA I "Hoth Patrol" Han Solo belt which I believe to be a superior sculpt.
12) DROID-CALLER CYLINDER (on gun belt): POTF II Luke Skywalker Blast Sheild Helmet (cut Lightsaber handle).
13) HOLSTER STRAP: Thin Brown ribbon.