Third Tuesday is back with another blockbuster speaker: President of the Treasury Board, Tony Clement.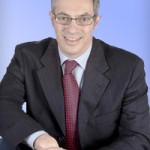 Tony Clement is well-known as a politician who maintains an active Twitter presence, sharing what is on his mind and what he's doing, and engaging in conversations with Canadians.
Tony Clement is also the President of the Treasury Board of Canada. That puts him in charge of Canada's public service and makes him responsible for setting the standards and rules by which social media is being introduced into the Government of Canada.
As a Minister, Clement has pushed forward with initiatives to enable Canada's public servants to use social media in the workplace and a broader initiative to introduce open government principles to the Government of Canada.
In just the past three months, Mr. Clement
- unveiled the Guideline for External Use of Web 2.0, the reference document that will be used by Canadian Public Servants in determining whether and how they should use social media in the workplace.
- announced that completed access to information requests now will be posted online.
- announced the addition of 4,000 data sets to the Open Data Portal.
- initiated a public consultation on Open Government. (The consultation closed in mid-January and the Treasury Board site promises that a final report on the findings will be posted in March 2012.)
- participated in a Twitter Chat on Open Government to give people a chance to raise issues, ask questions and engage with him online.
That's a lot of action in a short period of time. But, what's happening now? How are the Web 2.0 Guidelines being applied by Canadian public servants? What did Canadians tell the Minister during the consultation? What's on the agenda for 2012?
Third Tuesday participants will get a chance in February to ask these questions and talk directly to the Minister when he appears as our featured guest.
If you're interested in open government and the use of social media by government, this session will be of real interest to you. I'm looking forward to a great morning of discussion with a man who has matched his actions to his convictions. I hope to see you there.
Thank you to our sponsors
Third Tuesday is a community-oriented, volunteer-driven event. And we wouldn't be able to bring great speakers to Third Tuesdays across the country without the support of some like-minded sponsors. We've been lucky to have some great companies step up over the past several years to help us make Third Tuesday happen. Big thanks are due to CNW Group, Rogers Communications, Canadian Internet Registration Authority, Radian6 and Cision Canada for making the 2011/12 Third Tuesday season possible.
Student Admission
We want students to be able to participate. So, if you're a student, simply present your valid student ID at the registration desk and we'll refund your admission fee. Courtesy of Thornley Fallis.