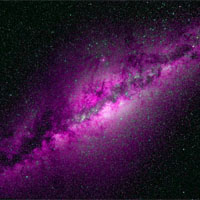 Join us on a starry night for a talk:
"The Milky Way as a Dark Matter Laboratory."
Then, catch a star of your own in the Star Party that follows.

More than 80% of the material universe consists of stuff we don't understand. This "dark matter" gravitates, but it does very little else; in particular, it doesn't emit, reflect, or even absorb light. Over the next decade, a combination of astronomical observations and particle physics experiments holds great promise to finally shed light on the nature of dark matter.
This lecture will be followed by a guided tour of the night sky provided by Paul Salazar, the Urban Astronomer. Then, true space cadets are invited to walk to the nearby Rock Spring parking lot to peer through big telescopes of the San Francisco Amateur Astronomers.
Michael Kuhlen, Postdoctoral Fellow at the Theoretical Astrophysics Center, UC Berkeley
Co-sponsored with Mt. Tam Astronomy Program
Admission: FREE

More Info: http://wonderfest.org/dark-matter-lab/