Variety is the spice of life. Encountering new joys and new challenges is how you manifest continued personal development.
Although growth and change may seem like frightening prospects when you're in stasis, that perspective shifts so quickly once you start shaking things up for the better.
Trying new things is a great way to have more fun—but the benefits of doing so are much deeper than that alone. Striking out into unknown territory takes no small amount of bravery, and harnessing that courage will help you lead a more confident life. Plus, when you experience things differently, you start to think differently, too. You may find social situations that used to cause you great anxiety—like meeting new people, or branching out into unfamiliar activities—become much easier to handle.
Overall, making a habit of trying new things leads to less boredom, less complacency, and more happiness. So dip a toe into the sea of possibility! One small commitment on your part has the potential to change your entire life's journey. You could develop a powerful new skill that improves your career, discover a burning passion or new favorite hobby, and connect with people who turn out to be true friends. Follow the tips below and you'll be well on your way toward new beginnings.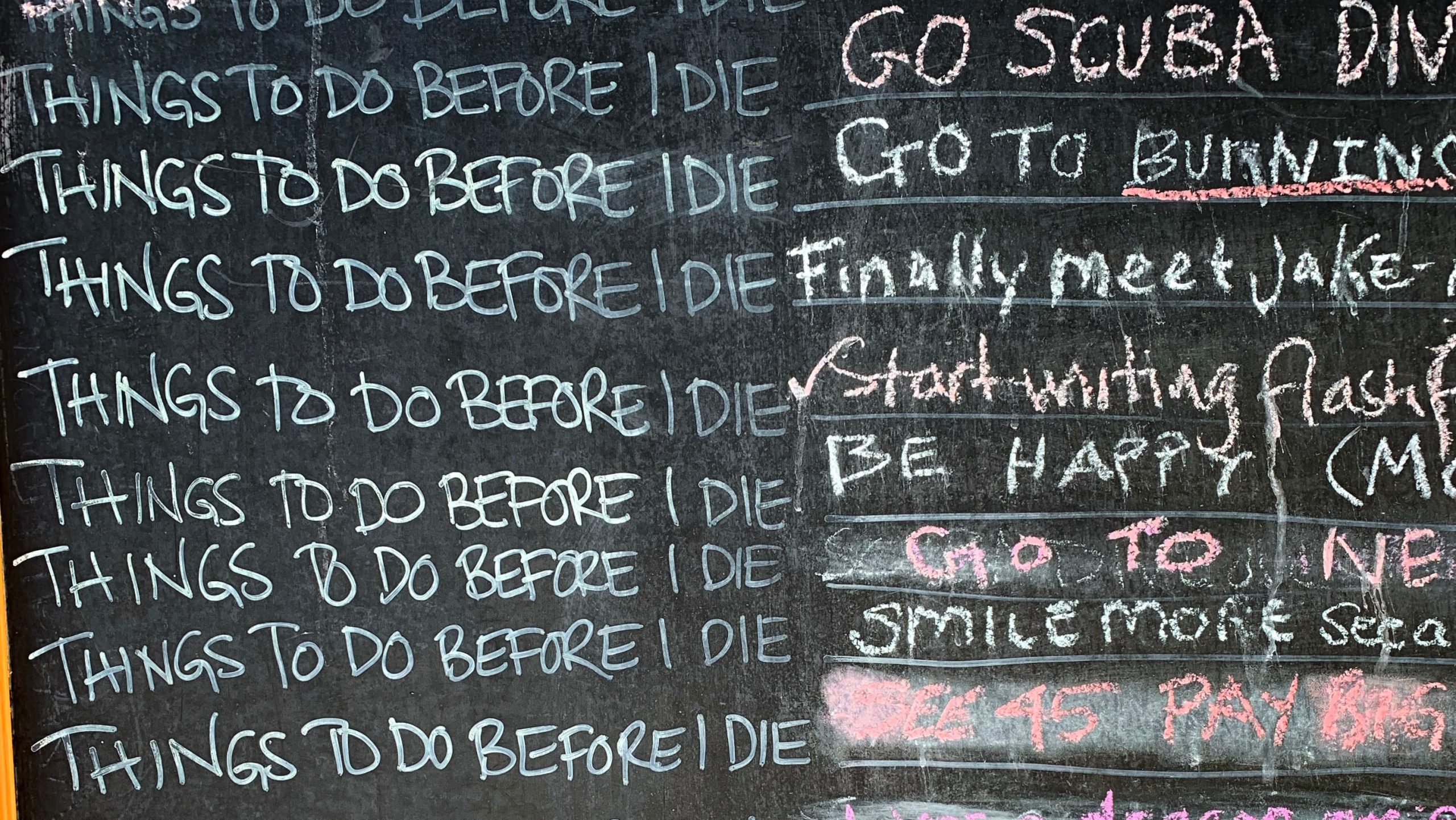 Make a bucket list
This is a simple, straightforward method of thinking about the things you want to do before you "kick the bucket." Because bucket lists are unique to each individual, they require a bit of soul-searching. But there's no need to be overwhelmed—your bucket list could (and probably should) change and grow over time as you do. You don't need to itemize every single goal in life—just get started with whatever comes to mind!
Remember, bucket list items can be both active and experiential. For example, Learn how to sail would be as valid an entry as See the northern lights. Take a few moments for honest reflection without getting too far ahead into the planning stage. The point isn't to immediately route a course toward checking off every bucket list item, but rather to look down at your bucket list and learn what it reveals about yourself and your priorities.
Search for activities by time and location
If you've ever been to a restaurant with a massive menu, you may have experienced the sensation of being overwhelmed by too many good options. Pursuing new activities in life can be a similar experience. When you ask yourself what you want to try, it's both a blessing and an obstacle to be confronted with limitless possibilities.
Sometimes imposing a few basic limitations can actually help keep you grounded by providing some structure. In cases like this, the old adage less is more rings true. To prevent choice paralysis, you could try using Meetup's event search map to find events that are taking place near you, then choosing from that pared-down list.
Instead of feeling the need to isolate one perfect event that'll rocket you toward a new hobby or skill, you can just choose an event that's decently intriguing and easy to get to! If you attend and realize that the group is a perfect fit for you, that's great! And if not, you'll have taken a really big step on your journey of self-discovery.
If you're struck by sudden inspiration, you can use the "Starting soon" filter in Meetup's event search to find activities (both in-person and online) happening right now! Follow the just do it principle by picking something—anything—that's taking place today. You might be rewarded with an awesome experience. No matter what, you'll definitely deserve to feel proud of yourself for giving it a shot.
Grab the bull by the horns
Another method is to pursue exactly the activities that've intimidated you in the past. Taking a challenge head-on is all the more rewarding when it's one that really speaks to you—perhaps one that you've been avoiding for a while.
If you've secretly got the acting bug, take the plunge with a group like Acting Workshops for All Ages. To help yourself finally write the first paragraph of your novel, you could join a motivation session with a group like Shut Up & Write!® Miami. Even if you're a total beginner in fitness, you could join a group like Dashing Whippets Running Team that often hosts easy workouts tailored to newcomers. And if you're a language lover, don't let being bilingual continue to be a pipe dream—find a group like Free Spanish Classes – San Diego, and improve your skills one day at a time.
Bring a friend
You don't have to go it alone. Bring a buddy when trying out a new activity with new people, so you have that social anchor. You can even create your own Meetup group dedicated to new activities, and invite friends, relatives, coworkers, and other people in your community to join you on the adventure.
Last modified on February 27, 2023