Ticketed events have always been a great resource for organizers. Selling tickets to special events can help offset organizing costs. Beyond recouping some of the funds you spend on basic overhead, the proceeds from ticket sales may increase your potential for hosting dynamic and engaging events that will draw bigger crowds in the future.
By taking advantage of a new revenue stream, you could raise a budget to hire incredible guest speakers. If your group is starting to expand, you might use that money to book a bigger venue. Or maybe you'll strengthen your community ties by designing some custom group merchandise.
Ticketing also helps avoid some of the most common hassles that organizers often deal with. For example, people who RSVP to your ticketed event are more likely to show up if they've already paid before the date of the event. With a sophisticated ticketing system, attendance management becomes a breeze.
For all of these reasons, Meetup has revamped the in-house ticketing system, so organizers don't have to worry about trying to manage a third-party platform alongside their group pages. More than just a sleek redesign, this advanced Meetup ticketing feature comes with an array of new capabilities, like early bird sale options, promo code offers, a PayPal integration, and more. Best of all, there are no event ticketing caps or event limits on Meetup.
A breakdown of new ticketing functions
Follow this simple guide to understanding Meetup's ticketing system, and you'll be on the cutting edge of organizational possibilities.
Early bird ticketing
One of the tried-and-true methods for increasing the buzz around an event is to offer a discount on ticket prices for early buyers. This encourages people to buy tickets in advance, and the momentum from there is like a snowball rolling downhill. More members will be persuaded to join as they see RSVP numbers growing. With Meetup's new early bird ticketing function, you can set a discounted price, end date for the special deal, and a maximum number of early bird tickets available.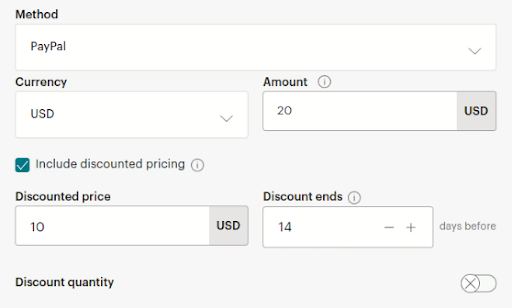 Let's say you're hosting a meet and greet for people interested in the journalism industry. You've determined that the regular price for tickets should be $20 to cover venue, food, and guest speaker costs. To generate hype for the event, you could create an early bird window where tickets are available for $10 until a few weeks before the date of the event. If you're expecting around 100 attendees, you might limit your early bird availability to around 20 or 30 tickets, striking a happy medium between effective marketing and revenue maximization.
All of this can be easily accomplished with just a few clicks! Then, the system will manage those parameters while you're free to focus on other things.
This feature is now available on web and will be coming to the Meetup for Organizers app in the near future.
Promo codes
If you want to provide discounts to a select group of people, but not everyone, using a promo code is the simplest method. For example, you could help attract new members by offering free tickets to anyone attending their first event with your group.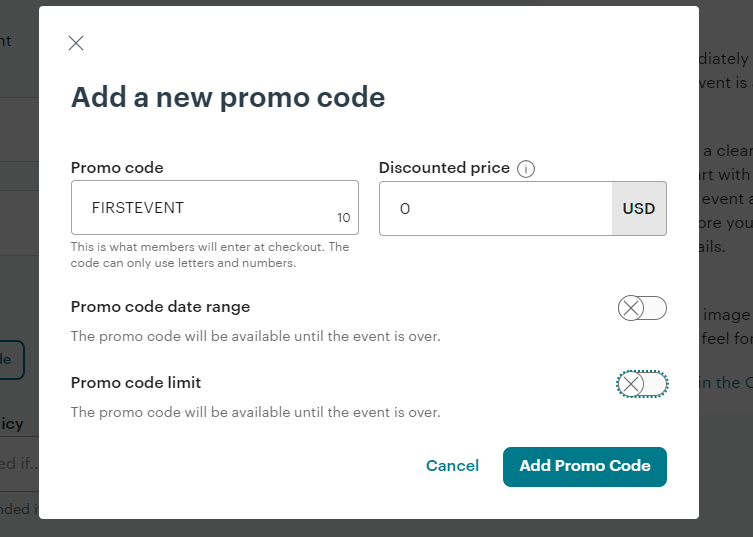 All you need to do is set a unique keyword, a price, a date range, and a quantity limit. So in the above case, you might create a promo code FIRSTEVENT with a ticket price of $0, a total number of 10 discounted tickets available, and a date range running all the way up to the morning of the event. In addition to your FIRSEVENT code, you might offer a VIP code that friends and family can use for half-off tickets.
This feature allows you to run multiple promo codes for the same event, so you can market the event in all kinds of ways to different crowds. You can also use promo codes to track the success of various ad campaigns. If you promote your event through a Facebook ad and a TikTok video, you could create unique promo codes like FBSALE and TIKTOKSALE. Meetup will register how many times each one gets used, helping inform your decision about the most effective places to market your group.
This feature is now available on web and will be coming to the Meetup for Organizers app in the near future.
PayPal integration
To make ticketing easier for everyone, Meetup has a PayPal integration that creates a streamlined experience with more ways to pay. Like any other e-commerce checkout, this system lets people pay by debit or credit card, with the added option of paying via PayPal or Venmo (for U.S. members only). Funds from ticket sales will be automatically deposited into the organizer's bank account.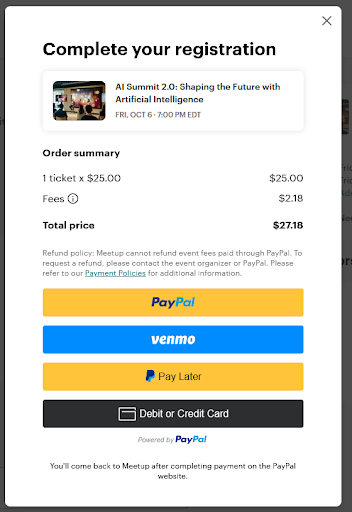 This new feature removes the need for organizers to manually process and track payments. And because you'll be collecting payments at the time of RSVP instead of at the event itself, the integration also helps maintain attendee show-up rates.
Skip the headache of arranging a third-party ticketing platform—simply sign into your PayPal account (or make a new one) from the Payments page.
Check out your revamped Money Page
As part of this overhaul of Meetup's ticketing functions, the Money Page received more than just a new coat of paint. The smoother interface will allow you to keep a clear picture of your group's finances in detail.
Your Money Page will automatically keep track of your revenue, subtract your expenses, and determine your net funds available. You can even see a breakdown of how much money is coming in from each unique source, such as event ticketing, membership dues, fundraising, and group sponsorships. You can also sort your finances by time period.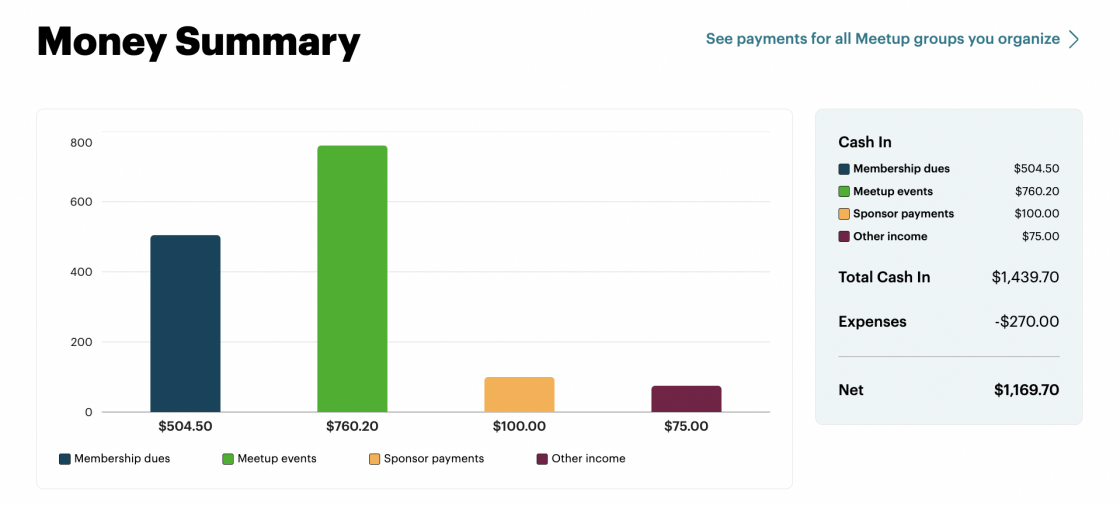 Finally, organizers will be able to export their transactions into an editable spreadsheet file. This way, you can manually add in any expenses or revenue sources that don't fit neatly into one of the categories previously mentioned.
Take advantage of Meetup's powerful new ticketing system today. Start organizing a ticketed event, and try setting up some promo codes or early bird specials. Create a PayPal account and you'll be ready to collect ticket sales in the easiest way possible. Then, discover the insights your Money Page provides.
All of these features are included in a standard Meetup organizer subscription at no extra cost. Try them out by hosting a ticketed event!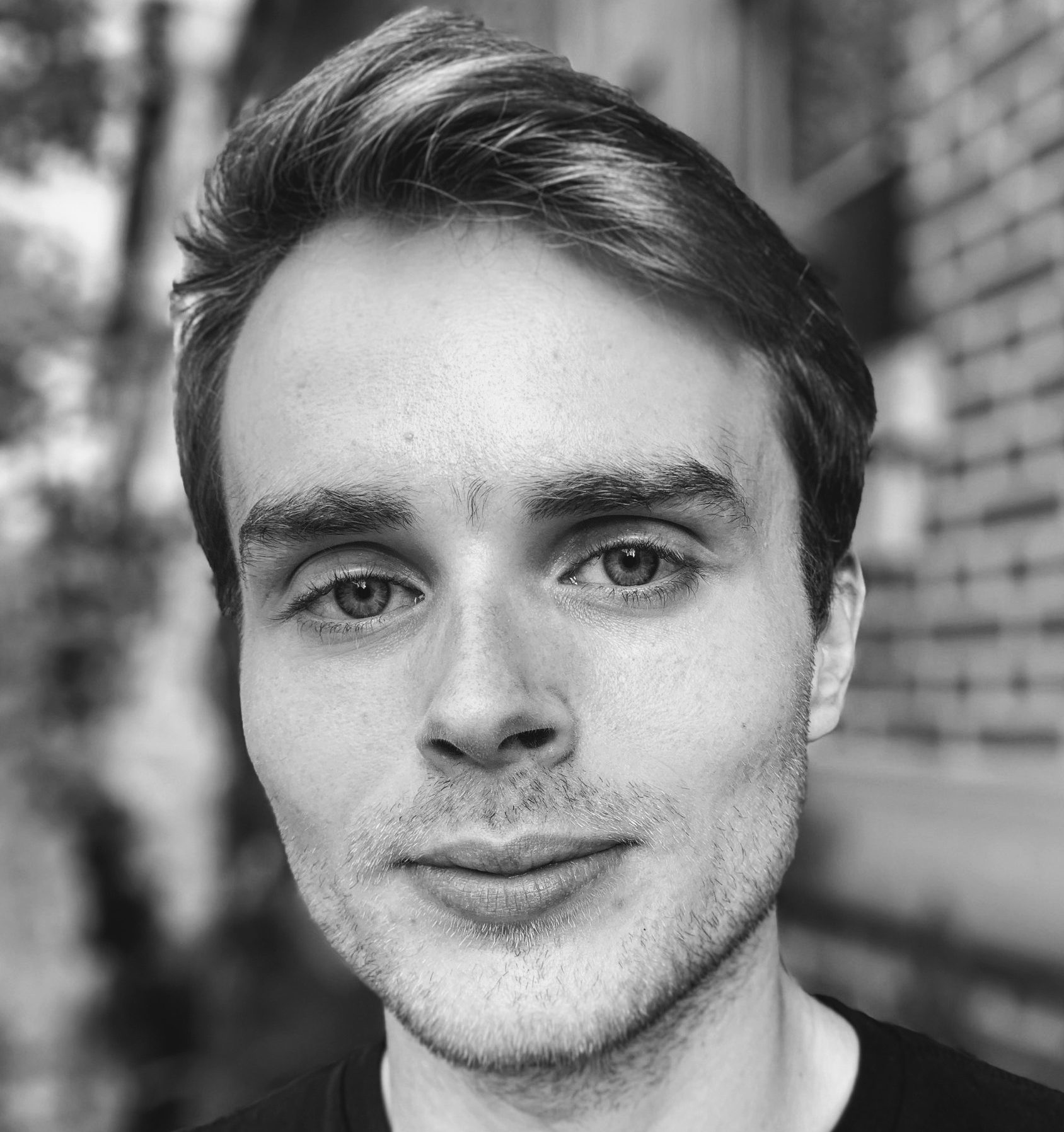 James Quigley is a writer, editor, and educator whose work has received Pushcart Prize and Best New Poets nominations. James was born and raised in New York, where he lives and works as a freelance writer. See more of his writing here.
Last modified on November 30, 2023