Read Product Updates for Online Events (Part 2).
Last updated: March 20, 2020
In a few days, we're rolling out product improvements that will make it easier for organizers to host online events. Our top priority is the safety of our customers. And in the midst of this worldwide public health crisis, we think that means organizers, in accordance with the guidelines set by the U.S. Centers for Disease Control and Prevention and advice from the World Health Organization, should switch in-person events to online events.
You'll soon be able to indicate that your event is happening online and include a featured link to your video conference, Livestream, or webinar for members to access.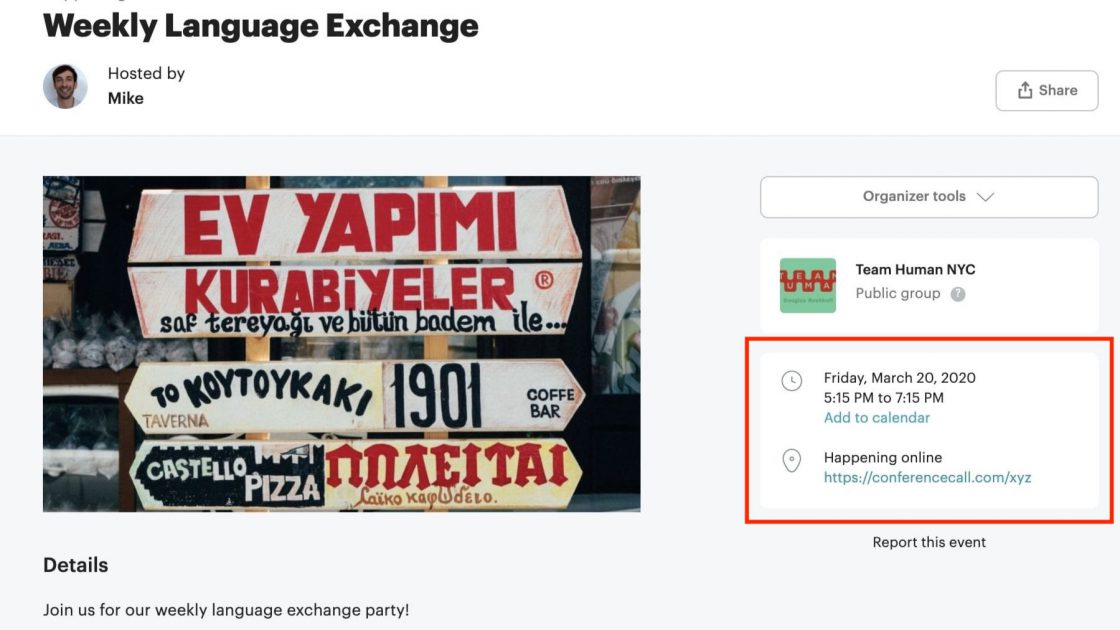 Once we release this feature, we'll share specific instructions and best practices to make it easier than ever for communities to stay connected.
Like you all, we hope that people can start gathering together in person as soon as possible, but first we must weather this storm. If you have an upcoming in-person event, we strongly recommend that you convert it to an online event with one of the many video conferencing solutions available.
We're happy and proud to see Meetup groups keeping their communities connected and thriving online. We've learned a tremendous amount from this and are here to help our Meetup groups as we all come together to help our greater community.
Last modified on March 23, 2020