One of the many benefits of being a Meetup member is the opportunity to make genuine connections that will stand the test of time. Sometimes, those friendships that begin from sharing a common interest blossom into something more! As Valentine's Day approaches we thought you'd enjoy the stories of two couples who met through their shared Meetup group.
Matt Smith and Stacey Braund
How did you two meet?
Matt: It was Cinco de Mayo in 2016. We were at a Meetup event for the West Michigan Geeks group celebrating the holiday at a Mexican restaurant. I was a regular in the group at that point and Stacey was coming to her first meeting with the group. We didn't get much of an introduction to each other as we ended up at opposite sides of the table for most of the Meetup event, but I think we both noticed each other.
When did you become a couple?
Over the next couple of weeks, we saw each other at other Meetup events. One event was laser tag where we joked that we were going to take each other out (for the record, I am the better laser tag player!) and a Meetup event for brunch, which was the first time we really sat down and chatted. During our conversation, Stacey was trying to get me to see the movie Warcraft. At that point, it was clear there was a spark. We started dating shortly after that. Four years later, we got married! We've been married for six months.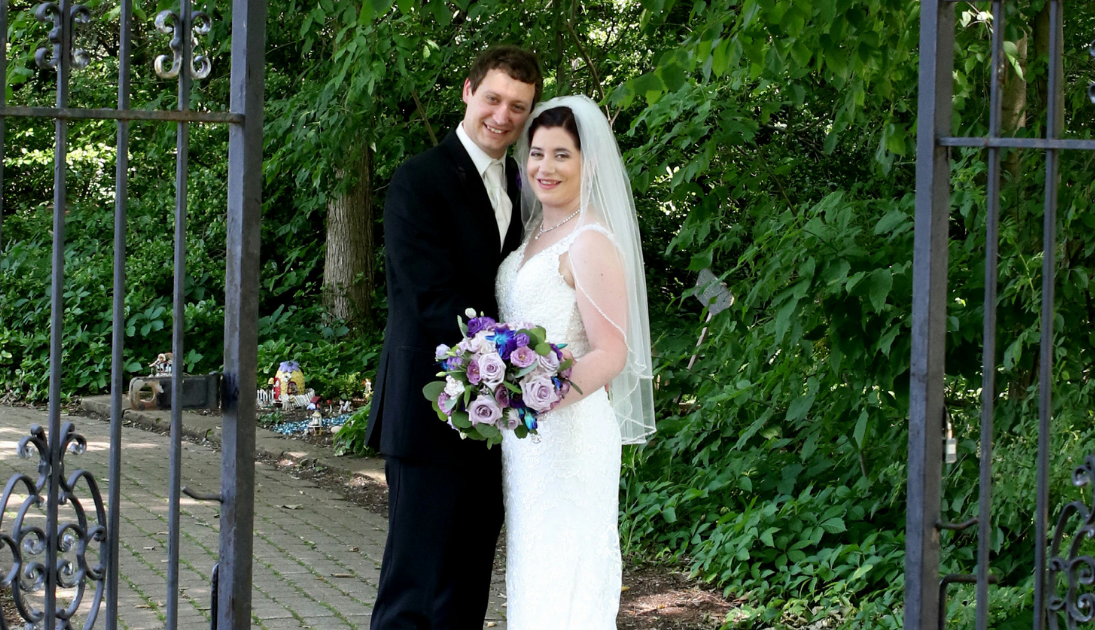 Do you have an interesting or funny part of your meeting?
I mentioned just now that Stacey was trying to get me to go to Warcraft at brunch. We were both interested in spending time with each other, so I was open to seeing a movie, but I had already decided that I didn't want to see Warcraft. I joked about how I wasn't going to let her boss me around and make me watch this movie—something we still joke about today! Over the years together we've struck a deal: We'll watch Warcraft together when I turn 60.
What attracted you to your partner?
I love Stacey's laugh and sense of adventure. I love that she supports me, puts up with me, and still surprises me every day.
"I don't know how our paths would have crossed without Meetup."
What would you say to others who are reading your story, and hoping to find love?
I'd recommend being open-minded and not trying to force anything. Neither Stacey nor I were actively looking for love through Meetup, it just came our way, and we're so happy it did!
Amanda and Brandon Cilla
How did you meet?
Amanda: We met at a West Michigan Geeks and Nerds Meetup event at a local sushi restaurant. I remember thinking that Brandon was a fascinating person who had a number of interests outside of our usual group focus on films, video games, tabletop games, etc. Brandon thought that I stood out from the rest of the group because I was a Classics major in college. We had many interests in common.
When did you become a couple?
We started dating on January 17, 2016, about a year after the Meetup event—we'd been hanging out as friends before then. We were married on August 9, 2020.
Do you have an interesting or funny part of your meeting?
We were both late to the Meetup event, which was how we first met! We also were interested in each other just from seeing each other's profile pictures, which is something we found out later once we knew each other better.
What attracted you to your partner?
I was attracted to Brandon's intelligence and kindness, and I love that he can talk about any subject and make it interesting. He is the sweetest man I know.
He was attracted to me because of our shared interests, plus my background classics made it so we were able to have long, interesting conversations. He loves that we can "nerd out" together, how we care for each other. And it doesn't hurt that we are close in height (shorties unite)!
We both love how we can make each other laugh—we have a similarly goofy sense of humor.
What would you say to others who are reading your story, and hoping to find love?
Take a chance and take your time. Get to know others as people, rather than as a romantic partner—that's the best way to find a fulfilling relationship.
—
This Michigan-based Meetup group has quite a track record for bringing couples together: its events and activities have led to four different marriages and dozens of close friendships. You can learn more about this impressive group by listening to an interview with the organizer, David Good, in episode 4 of the Keep Connected podcast on Wednesday, February 17. In the episode, David Good shares his experience helping introverts feel empowered to meet new people. 
Did you meet your sweetheart at a Meetup event? Share your Meetup love story with us on Facebook, Twitter, or Instagram using the #MeetupLove hashtag!
Last modified on February 16, 2021