Cooking and baking are rewarding hobbies you should consider taking up this time of year. With soup weather upon us, you can warm your home and fill it with the lovely aromas of the autumn harvest. But more than that, learning how to make your own food (and how to enjoy doing it) will benefit you physically, emotionally, and financially.
Studies have shown that people who cook more often maintain healthier diets overall. Restaurant dishes and take-out foods are typically higher in sodium and saturated fats. Plus, when you're preparing your own meals, it's much easier to control your portion size.
Cooking and baking are also perfect examples of mindful activities that cause you to feel more aware, engaged, and reflective. Psychologists believe mindfulness is one of the best ways to combat anxiety and depression. This stress relief you feel from preparing your own food will only grow when you realize that, on average, cooking at home is five times cheaper than ordering delivery from a restaurant.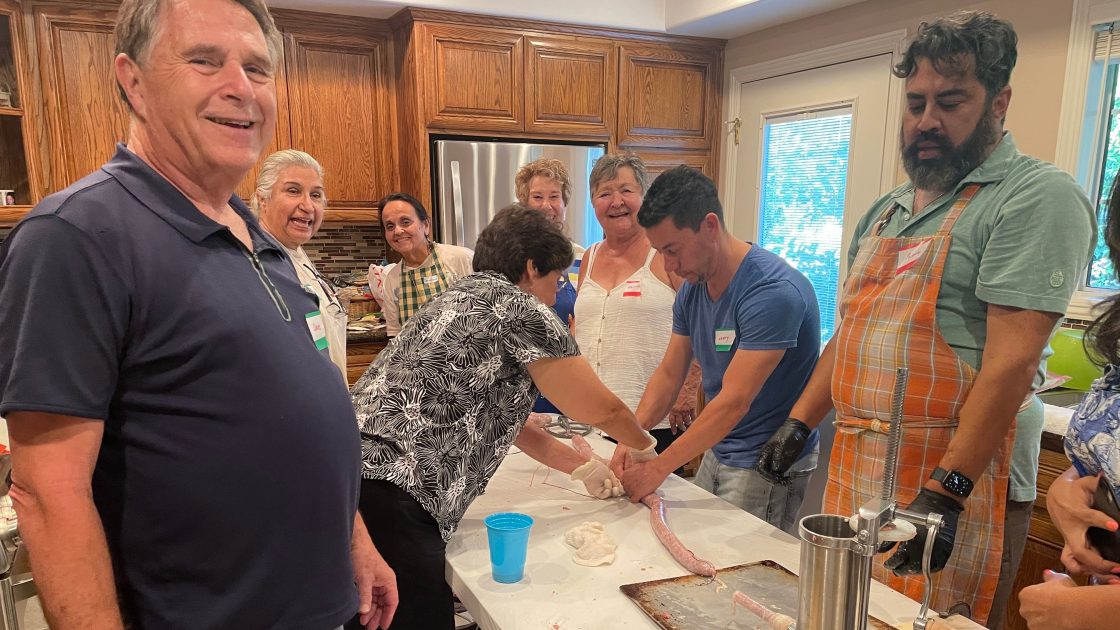 How to get started with your new cooking and/or baking hobby
So you've decided to try cooking or baking—that's wonderful! But where will you begin? There's a whole world of cooking utensils, recipes, appliances, techniques, and ingredients out there. It can be daunting to dive in, especially if you're doing it on your own. Here are a few simple ideas that will make your new culinary quest less intimidating and more enjoyable.
Find your footing with some seasonal favorites

Right now is the sweet spot for aspiring cooks and bakers who want to start out with familiar dishes. We've got Thanksgiving, Friendsgiving, Hanukkah, Christmas, and New Year's around the corner, just to name a few of the upcoming holidays! On Thursday, November 11, you can tune into a Meetup Live demo where we'll be whipping up vegan holiday treats.
You can practice a stuffing recipe before the big day, or bake ginger snaps for the office holiday party as a test run for your family celebrations. Baked goods also make for great presents that won't break the bank!
Make a routine and stick with it

Transitioning from ordering delivery most nights to cooking at home can be difficult. Start small by committing to cooking once or twice a week on specific days. Having a set schedule will make it easier to avoid slipping off track.
As you gain experience, you'll even start to look forward to your home-cooked meals as an opportunity to take your mind off things, eat healthy, and feel proud of yourself for creating something delicious.
Find a cookbook that interests you and work your way through it

Sometimes the biggest roadblock in the way of a fruitful cooking or baking hobby is a lack of inspiration. You may feel ready to get to work in the kitchen, but you don't know what you want to work on.
Cookbooks are an amazing resource for both beginner and established cooks and bakers who want to be exposed to exciting new cuisines. You can cross geographical and cultural borders with cookbooks such as:
Discover a cooking community to share your new passion with

The benefits of your cooking or baking hobby will only be compounded when you share them with like-minded people working toward the same goals. You can learn tips and tricks from more experienced peers and be challenged to try dishes you otherwise wouldn't. More importantly, you'll form genuine bonds over mutual interests with new friends. Your community will help you feel empowered both in and outside of the kitchen.
Try connecting with Meetup groups like Cooking Adventures for casual home cooks or Chez Francois French Cooking Classes for more of a studious approach. If you can't find a cooking group in your area, or you want to form a community that specializes in a unique aspect of cooking, you can easily create your own Meetup group and invite others to treat their taste buds with you.
Mary Garcia (she/her) is Meetup's Content Manager and editor of the Community Matters blog. When she's not writing, Mary organizes a swamp fiction book club on Meetup. Find her on LinkedIn.
Last modified on November 14, 2023