Exact address and directions will be sent later.
Join us for all inclusive Easter break in the Lake District National Park.
A region of lakes, waters and mountains found in North West of England. The area consists of a number of lakes, innumerable mountain tarns and streams, and a range of mountains rising to a height of over 900 metres in four points. The Lake District extends 50km from north to south and 40km from east to west. Lowlands occupy the northern, southern and eastern borders of the county, with agriculture being very important, in particular sheep raising and dairying.
This time it is going to be a new destination for us - The region of South West of the park: Eskade, Wast Water; we will have a chance to climb the highest mount in England - Scafell Pike from the West.
There is a choice of hikes right from the hostel door.
The Lake District became famous after a group of British poets made it their home at the beginning of the 19th century. The most famous of these poets are William Wordsworth, Samuel Taylor Coleridge and Robert Southey. These poets were described by critics as the Lake School of poetry and from then on they were referred to as the Lake Poets.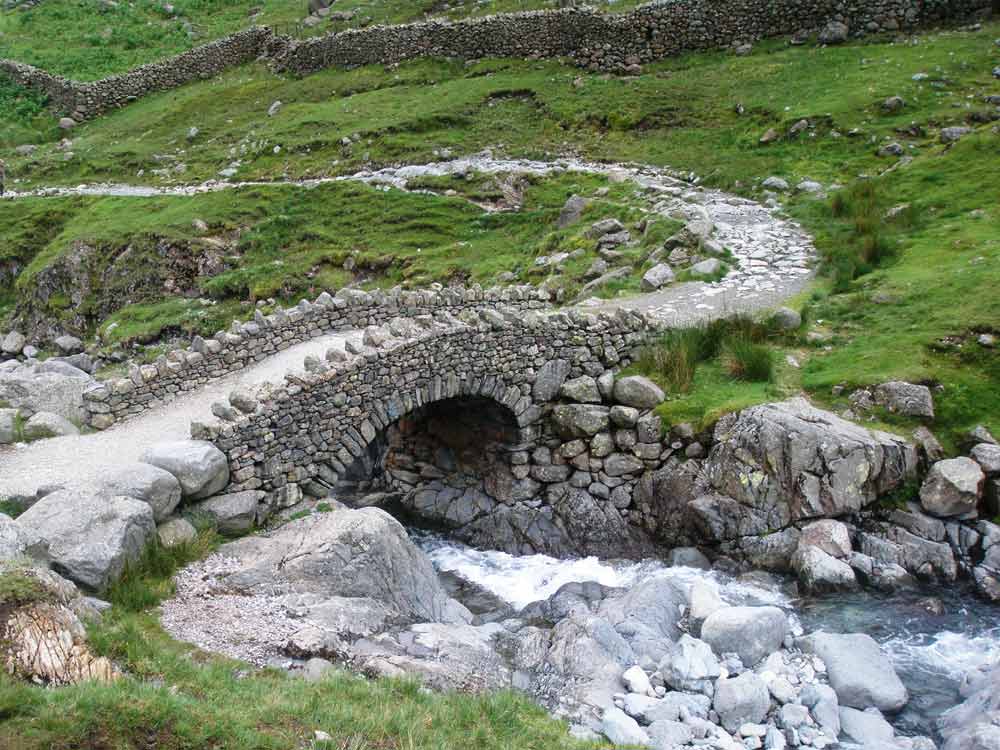 The Lake District and Cumbria is the country's biggest adventure playground and it's breathtaking. With England's five tallest mountains and the deepest and largest lakes, Cumbria's rich natural environment is simply unique.
Also many children's authors have drawn inspiration from the landscape, such as Beatrix Potter, Arthur Ransome and even the creator of Postman Pat.
Another hugely influential writer on the Lake District is Alfred Wainwright, author of many guides to the area.
The English Lake District is England's premier National Park and a designated World Heritage Site. It. offers the most dramatic and contrasting scenery in England from its rugged mountains and wild fells, to its green lake-bejewelled valleys, from the old world charm of its small communities, to the bustle of its market towns and climbing centres. Here you will find a variety of experience and scenic beauty second to none in Britain.
The Lake District National Park has walks for every ability from ambles around lakes to high ridge walks, with a bit of scrambling - climbing over rocks without a rope.
We are going to have at least 3 hike leaders on this trip.
The walks/hikes will be planned according our abilities, fitness and weather of course. Every day there will be 4 hikes on offer to choose from. The route decisions will be made on the day before or in the morning on the day.
We can not tell you the plans now, a lot depends on the weather.
Safety first!
We rented high quality group accommodation privately for three nights just for our group.
This purpose built granite building offers comfortable accommodation in the Eskdale Valley. Nestling among the fells it's a good base for those seeking to explore the rugged western summits or the more tranquil west Lakeland fells.
Set in 15 acres of grounds, the property offers peace and solitude in beautiful, wildlife-rich surroundings.
Price of £165 includes:
3 nights accommodation,
Financial Consumer Protection according Package Holidays and Tours Regulations 1992,

guided hikes by Mountain Leader trained at Plas Y Brenin ( The National Mountain Centre http://www.pyb.co.uk/... ) guide, and certified First Aider
and all meals 
(AAA aims for home-made healthy food, catered for vegetarians, vegans and anybody else. Meat we use for our meals is always Halal)
 but NOT transport.
ONLY PAYMENT CONFIRMS YOUR RSVP!!!
After you RSVP yes, to secure your place you will need to make a bank transfer of £165 to
Account Name: AAA LG
Sort Code[masked]
Account[masked]