The Ruby Crest Trail, located in NE Nevada, is a 4 day backpack, running through glaciated, alpine terrain. Its 40 miles long, and its altitude ranges from 8,000-10,000 feet:
http://www.backpackingintherubymountains.info/rubycresttrail/rubycresttrail.html
This is one of the most beautiful and least traveled trails in the Mountain West. It won Backpacker Magazine's reader's choice award in 2010, but this mountain range sees only 2000 visitors per year. Backpacker even compares to Yosemite. If you do one backpacking trip this year. this one should be it. There is a good chance that after the first day we may not see anyone else, except mountain lions, deer, bighorn sheep, and the fabled Himalayan snowcock (which can only be found in the Himalayas and Nevada...go figure).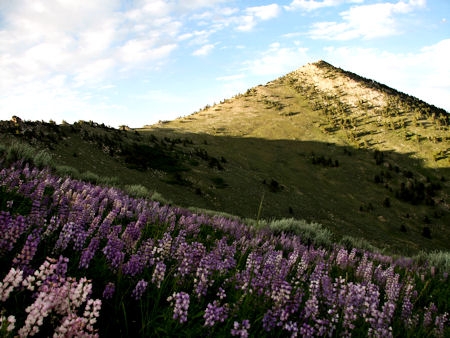 Right now, I am planning on 2 days to drive up (12 hours from Phoenix to Elko, Nv, then 80 mountain miles to set up the car shuttle). The backpack is 4 days, and 1-2 days getting back. I'll decide on meeting places and car pooling as the date approaches and we see where everyone lives. I scheduled it over the July 4 holiday, so you can save vacation time.
Everyone will be placed on the Waiting List until I learn about your experience/fitness level.
Maps: Ruby Mountains and East Humboldt Wilderness, Forest Service
USGS 7.5 minute topos: Harrison Pass, Green Mountain, Ruby Dome, Franklin Lake NW, Franklin Lake SW
Day 1: ~6 mi Lamoille TH- Castle or N. Furlong Lk
Day 2: ~ 12 mi to Overland Lake: No water until camp, long day @ high altitude
Day 3: ~ 10 mi to McCutcheon Creek: No water until camp
Day 4: ~ 10 mi to Harrison Pass TH
carry at least 1.5 gallons of water